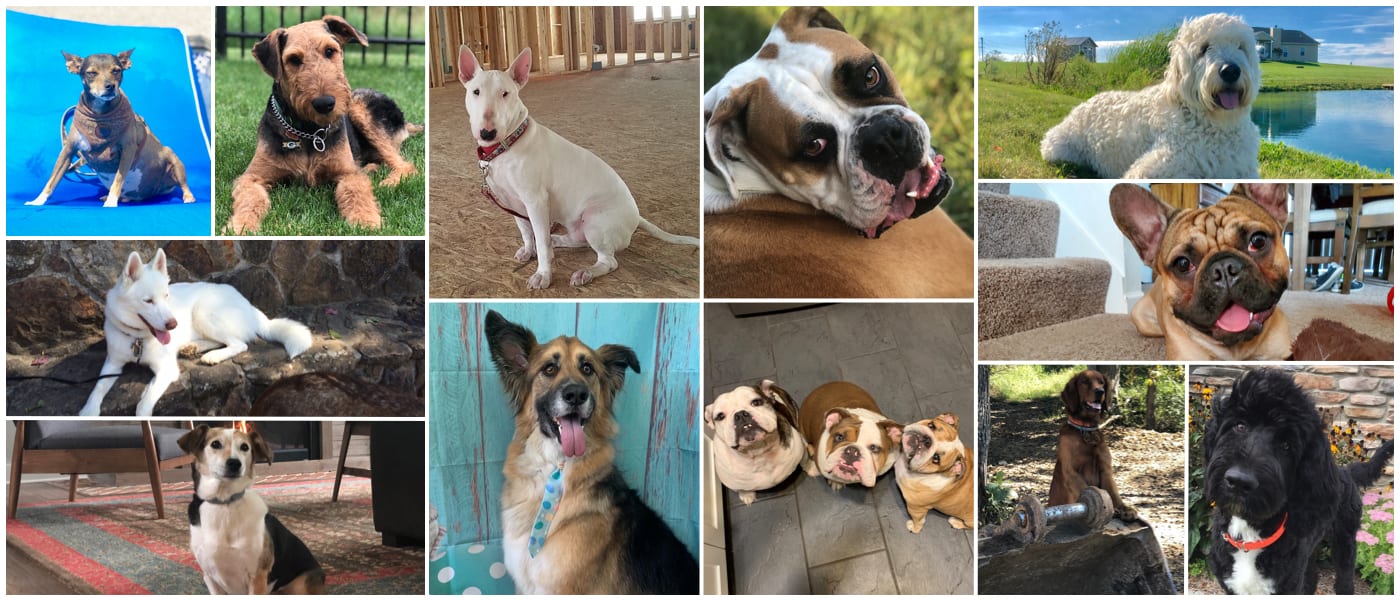 Home for the Howlidays - The 2020 Dogs of Wayne
It's the most wonderful time of the year…the time when we highlight the furry members of the Wayne Homes family in our annual Dog Calendar!
There's no denying that our furry friends are a huge part of what makes a house a home. Each year we ask our Wayne Homes family—those who have built a home with us or are currently building a home with us—to submit photos of their canine companions. We think it's safe to say this year's entries are–paws down–the cutest we have seen yet.
It's a tough (and also adorable) job…but someone's got to do it. Our team loved going through all of the entries to select the finalists. So, without further ado, we're thrilled to share the results with you.
Here are the Wayne Homes Dogs of 2020:
Cover – Cabernet and Chardonnay (Boxador and Mutt)
January – Scrappy-Doo (French Bulldog)
February – Hops (English Bull Terrier)
March – Jonathan, Hank, and Penny (English Bulldogs)
April – Maverick (German Shepherd)
May – Beluga (Newfypoo)
June – Bettis (English Cream Golden Doodle)
July – Camo (Rat Terrier)
August – Tex (Golden Retriever)
September – Lambeau (Airedale Terrier)
October – Loki (Husky)
November – Trigger (Boxer/Bulldog)
December – Sophie (Jack Russell/Corgi Mix)
Secondary photos featured:
January – Toby (Doxle)
February – Luna (American Staffordshire Terrier)
March – Ariel (Mini Goldendoodle)
April – Coco & Cinnamon (Pomeranian mix)
May – Cooper (Boxer)
June – Dozer (Labrador Retriever)
July – Hank (Labradoodle)
August – Katie (Havapoo)
September – Minnie & Mickey (Labradoodles)
October – Shug & Maggie (West Highland Terrier and Labradoodle)
November – Wiggles (Mini Dapple Dachshund)
December – Boomer & Tex (Australian Shepherd and Golden Retriever)
To view all of the dogs, take a look at our photo album.
Thank you to everyone who participated in this year's Dog Calendar Contest. We love our Wayne Homes family, and this is just another of the ways we keep in touch with the families that have become extensions of our own. We value each and every one of you…and that's the doggone truth.
If you requested to have a calendar mailed to you, they are at the printer and will be on their way soon! If you'd like one, please contact us. Quantity is limited!
About Wayne Homes
Wayne Homes is a custom homebuilder in Ohio, Pennsylvania, Michigan, and West Virginia (see all Model Home Centers). We offer 50 fully customizable floor plans and a team dedicated to providing the best experience in the home building industry. For more information, Ask Julie by Live Chat or call us at (866) 253-6807.