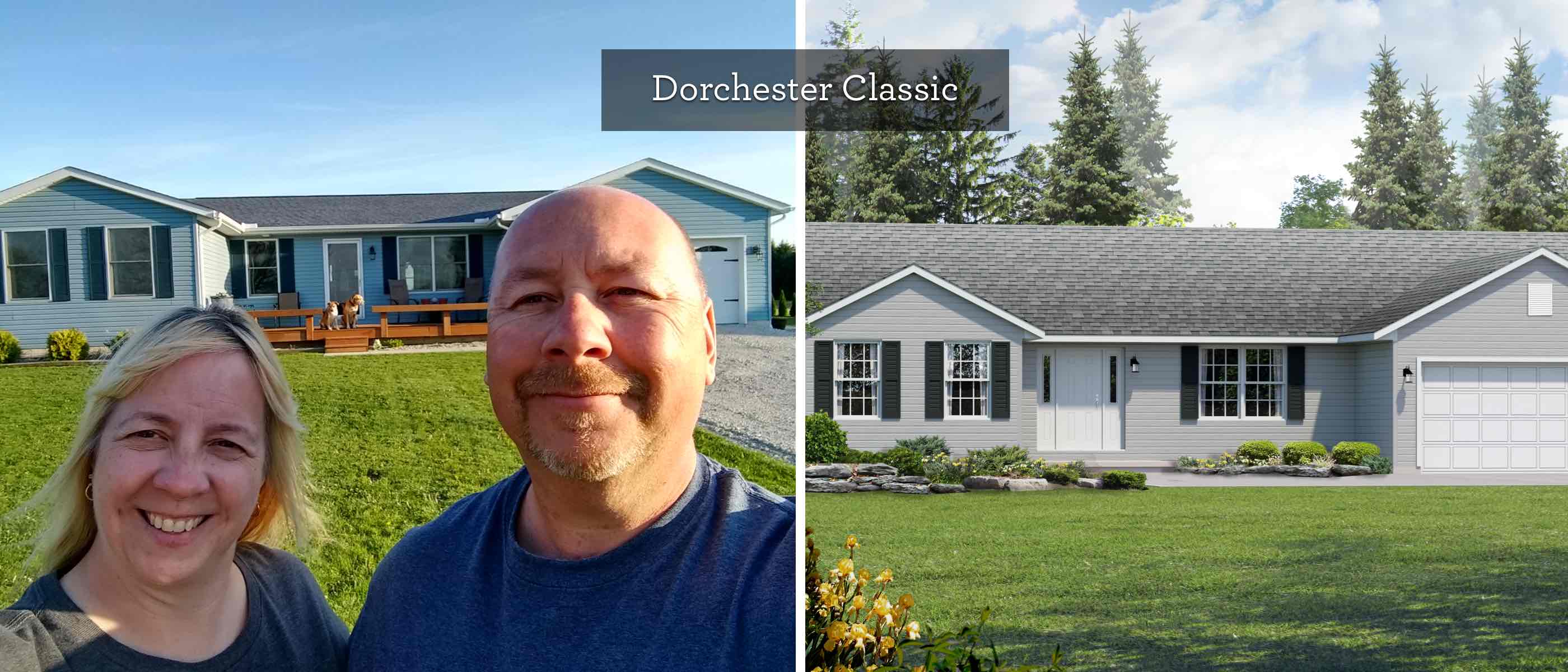 Raving Fan of the Month: Scott and Beth Jaegly
This month's Raving Fans are the Jaeglys. Scott and Beth Jaegly built a Dorchester Classic with our Bowling Green office in 2015. Read their Wayne Homes review.
Why did you choose Wayne Homes as your builder?
My brother-in-law builds homes for a local builder, and they were supposed to build our home. However, last-minute they backed out because we were not spending a million dollars. Wayne Homes was there for us and made us feel like we were building a million-dollar home. They stepped up and made our dream come true!
What's your favorite feature or room?
Our great room with the vaulted ceiling is our favorite room because you can be at the dining room table and still be a part of most activities in the kitchen or living room.
What would you tell a friend about Wayne Homes?
If you are having doubts, unsure of what you want, or just don't know anything about building a home, contact Wayne Homes and they will make your dreams come true. You'll be treated like family the entire way!
Who at Wayne Homes makes a difference?
That's not a fair question because everyone we have had contact with throughout the homebuilding process and even to this day almost 5 years later has made a difference in our homeownership. From the day we first visited the model homes to the guys working the spring home show that we stopped and chatted with at the Toledo Seagate Center this March!
What was the best part of building your Wayne home?
Seeing the home built from plans to move in and being treated like royalty during the process. Everyone there knew us and could answer questions about our build, which was nice. We never had to wait for someone to get back to us. If we called whoever answered the phone that day took care of us and did not pass the buck.
How would you describe your style? Warm and traditional? Cool and contemporary? Funky and eclectic? Rustic Farmhouse? Craftsman Lodge? Something else?
Warm and traditional with a bit of style.
What would you add to your home if money were no object?
We would add a brick exterior and a sunroom for my beautiful wife…and a finished basement with bar and 1/2 bath.
Thank you, Scott and Beth, for sharing your Wayne Homes review with us! When prospective homebuyers are looking for Wayne Homes reviews, it's always better to hear from homeowners themselves. After all, they've walked in shoes very similar to yours and can tell the tale better than we can.
Would you like to build a home with Wayne? Contact us today to find out our process, our plans, and our pricing. We look forward to speaking with you!
---
About Wayne Homes
Wayne Homes is a custom homebuilder in Ohio, Pennsylvania, Michigan, and West Virginia (see all Model Home Centers). We offer over 50 fully customizable floor plans and a team dedicated to providing the best experience in the home building industry. For more information, Ask Julie by Live Chat or call us at (866) 253-6807.