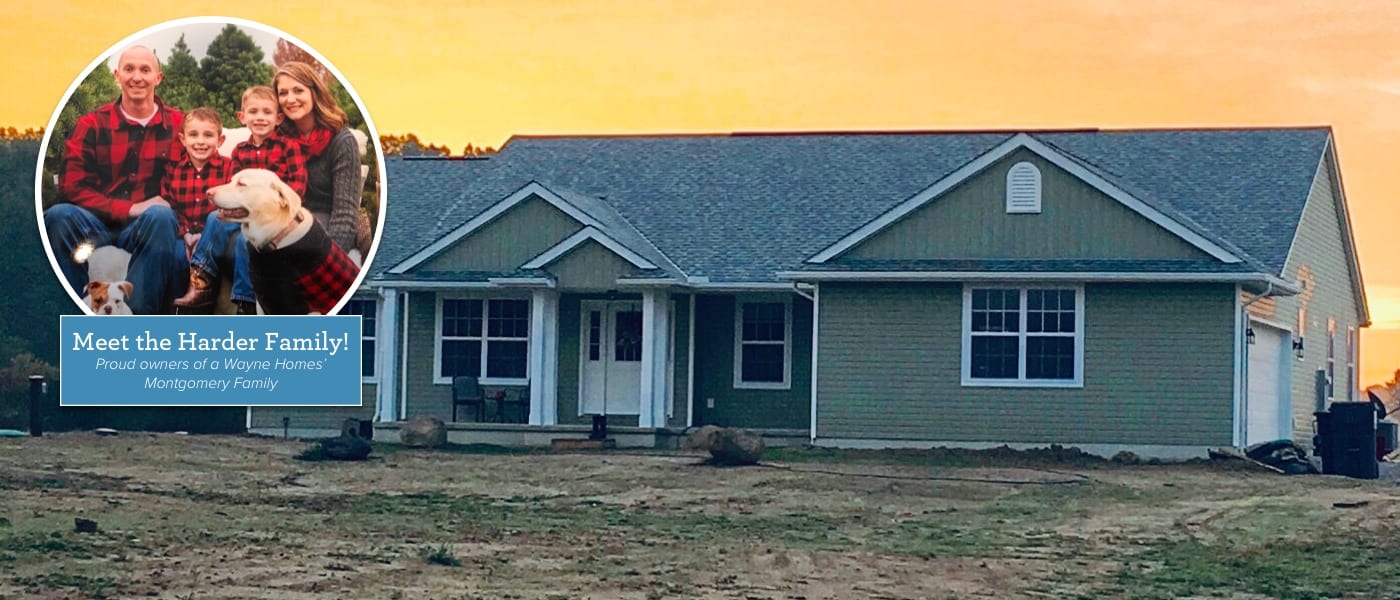 Raving Fan of the Month: The Harder Family
This month we are shining the spotlight on the Harder family as our Raving Fans of the Month. Nichole and Talmadge Harder built their custom Montgomery Family home with our Sandusky office last year in Berlin Heights, OH. Let's hear from them about their building experience with Wayne Homes and the choices they made during the process.
Why did you choose Wayne Homes as your builder?
We met with Wayne Homes first, then went to meet with another builder, as we had the misconception that this competitor built a higher-quality home. We quickly learned that, while the base plan of what Wayne offered may not be what we wanted exactly, we were allowed to customize to our hearts' content, both in building materials and design, which made both my husband (design materials) and me (layout/design) happy!
Which Wayne Homes floor plan did you choose?
We went with the Montgomery, though our final plan looks so much different than the original Montgomery.
What's your favorite custom feature?
There's so much to choose from…I really like the center of our home! We totally reconfigured the kitchen and living room to be an open concept and even added on an eating area to easily adapt our home for larger get-togethers so that everyone can eat at one extended table rather than having to set up tables apart.
How do you and your family spend time in and around your home?
It's almost funny. While we built, we lived in our camper and the running joke was that we didn't really need 2,400 square feet, we only needed 8! Well since we've moved in, our inside joke has continued. No matter what, we all seem to gravitate towards one another. One of the reasons I redesigned the kitchen the way I did was so I could be cleaning up after dinner at our sink in the island while still being a part of what's going on in the living room. Instead, my kids now line up at our eat ledge island while my husband and I clean up. So all we still really need is 8 square feet (I'm totally joking – I wouldn't give up our huge master suite, walk-in closets or my own office for anything!).
What was the best part of your Wayne homebuilding experience?
Everyone made it so easy! It was a difficult time of transition, obviously. But considering what it could have been, it was a breeze. Melanie Ritz fielded all of my odd-hour requests and questions and so did Tim Rush when it came time to make it become a reality. He really helped us push our timeline up, and we were in our house within 14 weeks from the date we started our dig, which I believe Tim said was one of his top timelines. 🙂
What would you tell your friends about Wayne Homes?
To check them out…and I have. I've also begun shopping for people as a side job and our build with Wayne has come up on at least two separate occasions when I go to deliver their groceries. The options are limitless and won't break your budget (within reason obviously). I can truly say these things because I did meet with the competitor and quickly realized that Wayne was the way to go. There was no question for my husband and I. We had a 3-hour drive home from the meeting with the other builder, but we both agreed by the time we left their parking lot that I would be making another appointment to go back to Wayne.
How many kids in your family and what are their ages?
We have two children, ages 5 and 7 now. We built our home with an extra bedroom with the intention of filling it through adoption though, so hopefully, in the next couple of years, I'll be able to add another number to that list.
Do you have pets, and if so, what are their names?
We have two dogs, a lab named Belle who's 10 and a bulldog named Zeke who's 5 months!
Do you or anyone in your family have any special talents or hobbies?
I'm not sure it's considered a talent, but I definitely have a heart for volunteering. And apparently I don't know how to say no to anything that's asked of me. I've been involved with the Milan Melon festival committee for 9 years, recently became a den leader for my sons Cub Scout pack and have taken on a leadership role with the Family Readiness Group for my husband's Army Reserve unit. Likewise for my husband, his devotion to the U.S. Army is what makes him special. He's been doing it for 19 years and will be for the next 23. It's something he thrives in. We've been through three deployments together, and he is currently the First Sergeant of his unit.
Thank you Harder family, for sharing your story with us!
Inspired to begin your journey with Wayne? Contact us to get started.
About Wayne Homes
Wayne Homes is a custom homebuilder in Ohio, Pennsylvania, Indiana, Michigan, and West Virginia (see all Model Home Centers). We offer 50 fully customizable floor plans and a team dedicated to providing the best experience in the home building industry. For more information, Ask Julie by Live Chat or call us at (866) 253-6807.