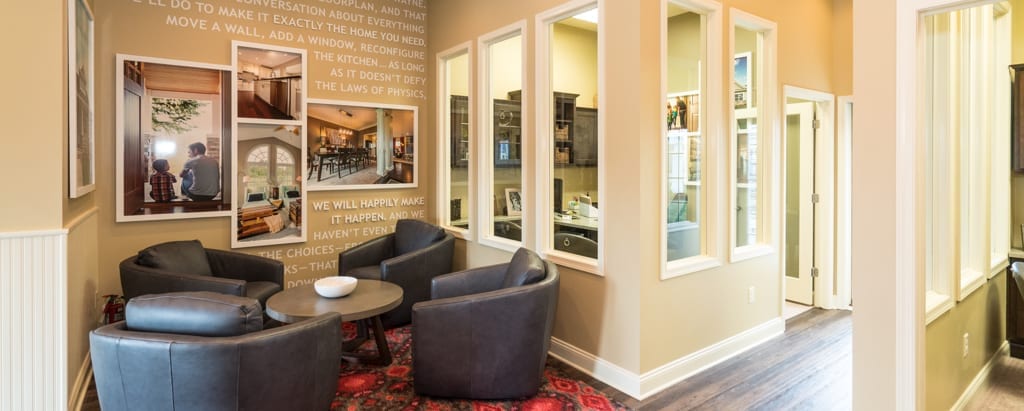 What our customers are saying: Sales team edition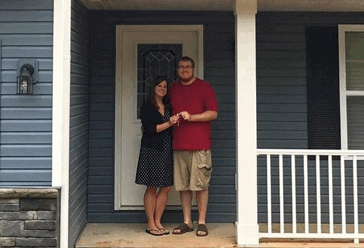 We aim to make the entire homebuilding process, from start to finish, a custom one for each of the families we work with. That means not just making the building and design process unique; it means rethinking the entire sales process too. We've revamped our sales process as compared to many other builders, and are constantly tweaking it to make it better for our customers, many of whom appreciate our unique approach.
You can learn more about the sales process in a blog post we wrote about the topic. It goes something like this: before your purchase agreement meeting, you'll take a look at the homes on our website and stop by a model center to tour a model or chat with a new home consultant. You don't need to be approved to buy land, (we'll help with that). You and our team will talk about your family, your living situation, your needs, and then we'll prepare a quote and discuss it with you.
Once you've signed a contract to build with us, we'll have a purchase agreement meeting. We'll review the various documents that make up the legal agreement we're entering into, to ensure everyone understands the process.
We've asked some of our customers to share their thoughts on the process, so you know we're not just tooting our own horn! Here's what they had to say:
"Jeanette (Lengyal of Belmont) was the best! She was all about "us" and not focused on selling the most expensive house. She was focused on the home builder and our wishes."
"Our experience was absolutely perfect! We visited the Bowling Green office and Kristi Eynon (of Bowling Green) was by far more helpful than we could have imagined. My wife and I can't stop talking about how great our experience went."
"Wayne Homes was outstanding to work with. I cannot say enough good things about Julie (Baumker of Delaware) and the rest of the staff. They were wonderful! My biggest reason for going with Wayne over competitors was the ability to completely change the floor plan. Love, love, love our new home!"
"We lost our home to a fire in March 2016. I tell you this because of the compassion and care that was given to us through the whole process. It was very difficult to make even the smallest decision but with the help of Whitney (Martin of Pittsburgh), she made our dreams come true and helped us to move forward. We are extremely happy with our new home."
"Your team is awesome starting with Anne (Fowkes of Belmont), who helped us pick out the house we wanted. Our home turned out to be everything we wanted and more. The quality that Wayne Homes provided us was second to none. Wayne Homes is the only way to go when building a new home."
"Julie Hurtt (of Delaware) is great! We connected with her right away and enjoyed every meeting with her. She was responsive during the process and is a Wayne Homes advocate."
"We picked out our forever home and it's AWESOME! Stacie (Stizlein of Ashland) was amazing, intuitive, and considerate of our wants and needs, plus Informative and had a wonderful sense of humor. There is so much to do and so many choices to make. We can't wait to go back for our next visit!"
"If it weren't for Melanie (Ritz of Sandusky) and the way she greeted us and walked us through the model, I would have walked out. I walked into the model home in Sandusky and knew I found home."
"Scott (Warner) at the Portage Office went above and beyond to assure that we were satisfied. Overall we are pleased with Wayne Homes and would use Wayne Homes again."
And here are some thoughts from our friends on Facebook!
"We've been in our new home for six weeks, and it feels like a dream! We were looking at several builders when we began our process, and a friend was building with Wayne Homes. We visited their build during construction and liked what we saw. The Belmont office was our next stop, where we talked to sales consultant, Alana. The staff at the Belmont office was so professional! They are also very responsive to emails and phone calls. Alana, Mary, Anne, Amy, and Rick worked as a team to walk us through the construction process, and when there was a hitch in the process (and there will be hitches – it's a big process!), they responded quickly and resolved all issues to our satisfaction. We haven't found one thing in our home that we would change! We send out a big "Thank you!" to the Belmont, Ohio staff.
I've read reviews where people complain about hidden costs. We went into Wayne Homes with a budget, and we upgraded several features and stayed within our budget. All costs were clear to us as we worked with Alana. We were able to customize our floor plan, and Alana and Mary (design consultant) made some valuable suggestions that added beauty and functionality to our home. It was also helpful to visit Wayne Homes open houses, read customer blogs, and spend some time on the Wayne Homes website. That website is unreal! Tons of photos to help inspire, as well as interactive features to let you play with designs.
You've got to go and visit Wayne Homes, even if you are only just thinking about a new home. They can help you narrow in on what you want in a home, inspire you with designs, and inform you of opportunities. We are happy customers! Thank you, Wayne Homes!"
It's words like the ones above that make everything we do at Wayne worthwhile. We can't wait to hear what you think about your Wayne Homes experience!
As soon as you get started building your home, you'll be on your way to being a Wayne Homes fan. We can't wait—get in touch to get things moving.
About Wayne Homes
Wayne Homes is a custom homebuilder in Ohio, Pennsylvania, Indiana, Michigan, and West Virginia (see all Model Home Centers). We offer nearly 50 fully customizable floorplans and a team dedicated to providing the best experience in the home building industry. For more information, Ask Julie by Live Chat or call us at (866) 253-6807.