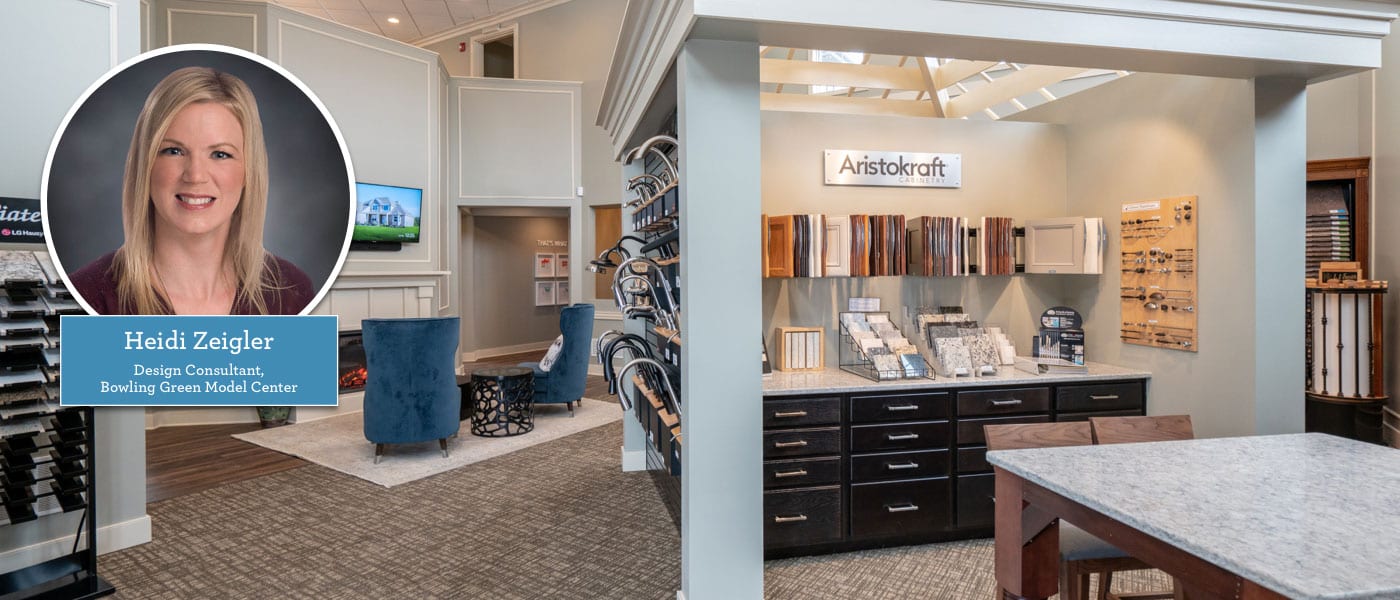 Meet the Designer: Heidi Zeigler
Our Design Consultants are an amazing asset to our team and an invaluable resource to our customers. They are here to answer all your design questions and help you make critical decisions as you plan your dream home with Wayne. Our Meet the Designer series is a way for you to gain access to the creative minds of our Design Consultants, so you can get the scoop on the latest in home design straight from the expert.
This month we are featuring Heidi Zeigler, Design Consultant at our Bowling Green Model Center. Heidi has been with us for over 20 years and was kind enough to share some of her favorite design tips and tricks.
How long have you been with Wayne Homes?
I just celebrated my 20 year anniversary with Wayne on August 1st. I have been a Design Consultant since 2009.
What is your favorite interior style and why?
My favorite interior style is "transitional style". This style speaks to me the most because it combines a mix of both traditional and modern furnishings and features. It gives a little more freedom to design because you aren't limited to one specific style. It can make a home feel comfortable and relaxed, while it also gives a mix of contemporary, modern and antique features. It really allows a person to be as expressive as they like with their home design.
What are your favorite materials/fabrics and why?
My favorite materials and fabrics are corduroys, chenilles, textured woven fabrics, and distressed leather. All of these make for a comfortable, relaxed, casual, and useable space.
What are your favorite paint colors and why?
My favorites from Sherwin Williams are Mineral Deposit, Natural Choice, Ethereal Mood, Outerspace, and Sea Salt. I find these colors to be serene and inviting, they give color to a room without competing with the other items in the space. I also love pops of color like Fired Brick, Haven, and Funky Yellow to brighten up and give character to a space like a Dining Room or a Bathroom.
What is one of your favorite homes you have helped design and why?
Two favorites come to mind, for very different reasons.
The first is a home that we built on the lake. This particular home required LOTS of customization to meet the Homeowner's specific needs. I found this very rewarding because I was able to see from the start all of the time and detail that went into creating this "one of a kind" home, then to see it come together in person just as the Homeowner had envisioned was really amazing.
The second is a home that we had the privilege of building for a fire victim, who recently had a very traumatic house fire. It was difficult for this Homeowner because we knew how hard it had been (losing their home and contents), but then to be able to see how happy they were in their new home after that hardship was super rewarding.
What is one custom feature you have helped design and why?
I love to customize Kitchen spaces! In my opinion, the Kitchen is the MOST used space in a home and to have a hand in designing and customizing a space that fits that person's particular needs is pretty cool. I also typically learn something new in the process, which to me is really great.
Where do you get your inspiration from?
My Dad was a custom home builder for 42 years, so I would like to think that I get some of my inspiration from him. I am also a big fan of Chip and Joanna Gaines and their Magnolia Market (but seriously, who isn't?!? J). I also have an affinity for coastal design, because I have a deep love of the beach and being near the ocean. And last but certainly not least, my family of 5 inspires me each and every day!
---
How inspiring! Thank you, Heidi, for sharing your expertise with us.
Do you have a question for the Design Team at Wayne Homes? Contact us and we'll get back to you!
About Wayne Homes
Wayne Homes is a custom homebuilder in Ohio, Pennsylvania, Indiana, Michigan, and West Virginia (see all Model Home Centers). We offer 50 fully customizable floor plans and a team dedicated to providing the best experience in the home building industry. For more information, Ask Julie by Live Chat or call us at (866) 253-6807.