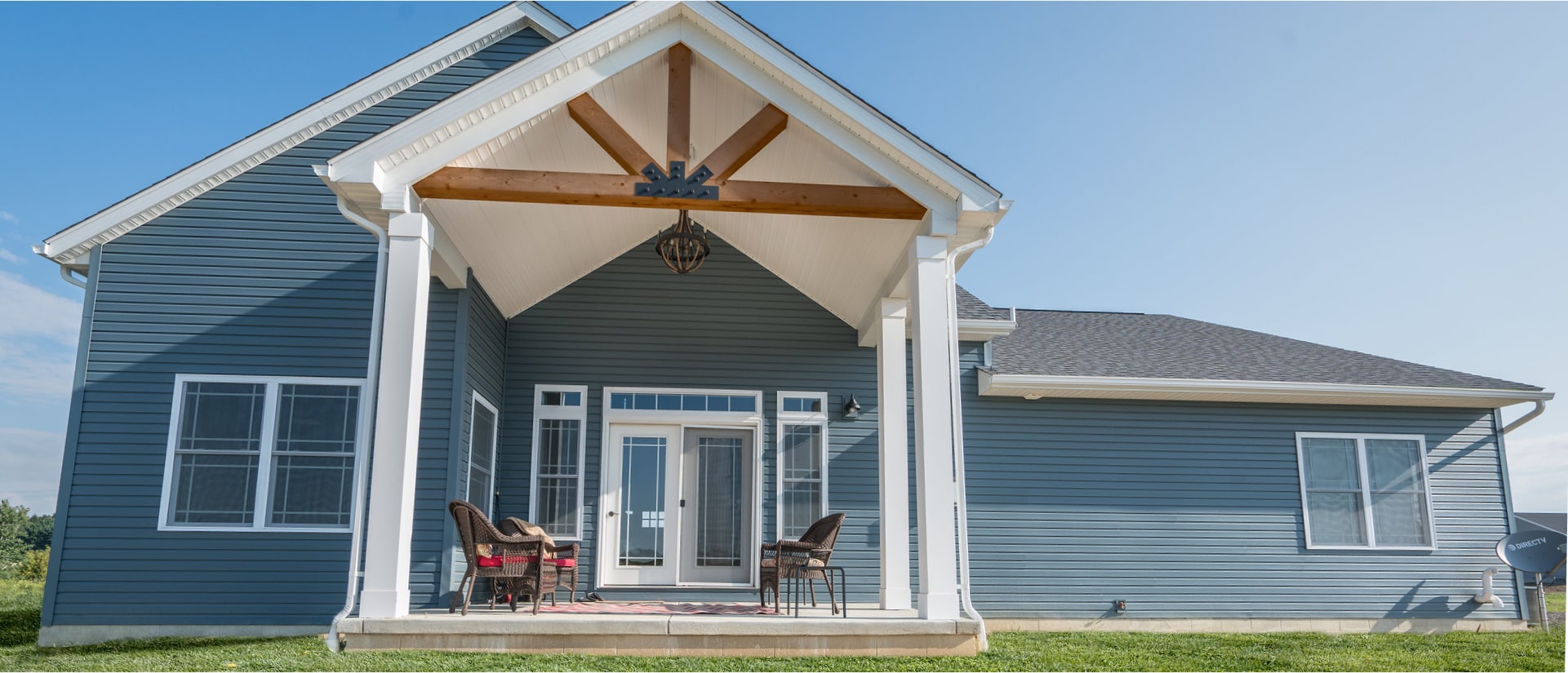 Building on a Budget: Plan for a Porch
Everyone loves a great outdoor space.

In fact, outdoor spaces are one of the top features that homebuyers are looking for when home shopping. Outdoor living became popular during the pandemic and has continued to be a top home trend. A covered porch adds square footage to your home that you can enjoy for 3 seasons, maybe even 4 seasons if you have a fire pit or a heater. Covered porches or decks provide protection from the sun as well as the rain so that the outdoor space can be enjoyed even if the weather isn't ideal. A roof over patio space can extend the amount of time it can be used each year. Porches are also a great way to connect to the outdoors. Starting or finishing your day outside is one of life's little pleasures. Yes, that indoor-outdoor connection in a home is, without a doubt, valuable. But, how much is it worth to you?
You may not know this, but adding a porch or an outdoor space after construction or to an existing home is much more expensive than planning for it during construction.
Pros to adding a porch during construction:
Permits already pulled
Work with the construction team to have in place
Consult directly with the electrician during construction to add outlets, light fixtures, ceiling fans, etc.
Bottom line? When your outdoor space is part of your overall home construction plan, you can save money by being intentional with how you build it, rather than "making it work."
Pitfalls of adding to your home later:
Tying into the foundation and/or roofline of your home after construction is completed could compromise the warranty of the foundation and roof in those areas.
Windows may need to be relocated to allow for the outdoor space
Additional labor costs to tear out portions of the siding, foundation, etc. to tie into it to add a porch later on
When you plan for an outdoor space during construction, you can enjoy the peace of mind that it is covered by the same warranty that protects the rest of your home. It also guarantees a cohesive look rather than an addition that looks different from the rest of the home. Finally, an outdoor space is a wonderful perk to the proud owners of a newly constructed home because it gives you a place to relax outside while your yard transforms from a muddy construction site into your landscaping. After construction concludes, it takes time for grass to grow, landscaping to go in, and for your yard to start looking like a yard. Having a deck/porch/patio built with your home provides you with an outdoor space you can enjoy right away – and can be an oasis to enjoy while your yard and landscaping take shape.
If you have questions about building a home with a porch, let us know! We can help you figure out pricing, features, and more.
---
About Wayne Homes
Wayne Homes is a custom homebuilder in Ohio, Pennsylvania, Michigan, and West Virginia (see all Model Home Centers). We offer over 50 fully customizable floorplans and a team dedicated to providing the best experience in the home building industry. For more information, Ask Julie by Live Chat or call us at (866) 253-6807.
*The details of this blog are accurate as of the publish date but are subject to change.