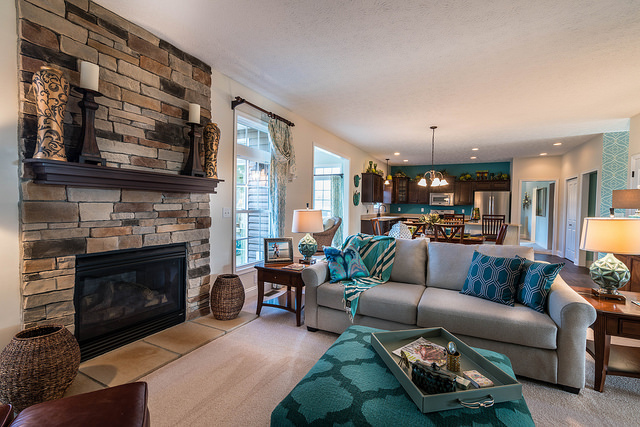 Designing the perfect custom great room
Many of the homes we build here at Wayne Homes feature dual living/dining/entertaining space. It's a widely sought-after feature for many homeowners, who value spending time with their family, friends, and other loved ones in an open environment good for conversation and entertaining alike. It's not so often that we meet a family looking for the more traditional, segmented room style that you find in many older homes.
Thankfully, we can meet these requests easily, as many of our custom floorplan designs feature open concept living areas. Many of those custom floorplans include a great room. Great rooms are multifaceted, multi-purpose areas that often feature specific zones for living as well as dining.
Because "custom" is what we are all about here at Wayne Homes, there are endless possibilities for creating a great room that is truly great for you and your family. With our custom design tools, you can play around with designing a space that's all your own. In the meantime, let's look at how to make this specific space – the great room – perfect for your family.
Lofted ceilings create space
Making a home feel open, spacious and non constraining is a request we often receive from our homebuyers. That's why our custom floorplans give homebuyers the option to include a great room with lofted ceilings, many of which extend into the upper floors. That extra headroom may not be "used" space, but it certainly adds a ton of breathing room to the entire room, and that extends into the open concept kitchen and living areas. If your great room is attached to your main entry, lofted ceilings make for a wide open and grand presentation to your guests.
Custom fireplaces create warmth
Fireplaces naturally create a sense of warmth and togetherness. There's nothing quite so cozy as curling up next to a fireplace to watch a movie, read a book or just enjoy some good conversation with friends. Our fireplace options at Wayne Homes are vast, so you can create a fireplace space that is all your own. Whether you love a traditional stone fireplace that extends high into the second floor, a more modern looking room feature to create contrast, or something uniquely your own, we can help you create your vision. Whatever you choose, a fireplace will add a central focal point to your great room, which is important when you're designing for an open space.
Custom woodwork creates character
Features such as crown molding, ceiling treatments, special wall treatments like wainscoting, and more all bring a distinct sense of character into your home. And, depending on the style you go with, you can create a more formal space, a more relaxed one, or something that bridges that gap beautifully. It's a bit shocking what a simple ceiling treatment can do to create a sense of grandeur in a space! We have lots of possibilities for you to choose from when it comes to adding some character to your own great room.
We've put together a Flickr Gallery to hopefully get your wheels turning about how you can make your great room a perfect fit for you and your family. Whether you prefer a more formal entertaining space, a cozy spot for family get togethers, or a combination of both, our customization options empower you to craft a space that's uniquely yours.
Get in touch today to start brainstorming how your great room could look!
About Wayne Homes
Wayne Homes is a custom homebuilder in Ohio, Pennsylvania, Indiana, Michigan, and West Virginia (see all Model Home Centers). We offer more than 40 fully customizable floorplans and a team dedicated to providing the best experience in the home building industry. For more information, Ask Julie by Live Chat or call us at (866) 253-6807.