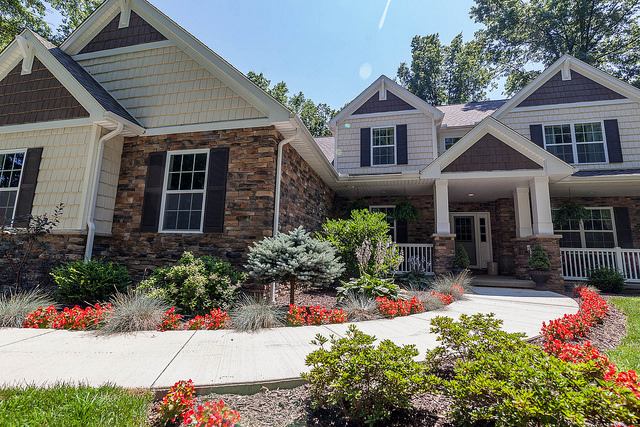 Enter our 7th Annual Landscaping Contest!
Building a beautiful home, the home of your dreams in fact, goes beyond paint colors, cabinetry and flooring – though all of that is very important! Curb appeal, or the outer appearance of your home and the land surrounding it, plays a big role in the look and feel of your home as a whole.
Landscaping is also a ton of fun, for both gardening enthusiasts and amateur green thumbs. That's why we're excited to host our 7th Annual Landscaping Contest, being held May 15 – July 15.
We love asking our fans to roll up their sleeves, get their hands dirty, and show us just how green their thumbs are. To show our appreciation for your hard work, winners will receive a Home Depot gift card: $1,000 for first place, $500 for second and $250 for third. Plus, you have a chance to win the People's Choice Award, which is good for another $500 gift card!
You can also help us find the People's Choice winner by visiting our Facebook page (you have to like us for your vote to count!) and choosing your favorite, once the contest opens May 15.
We encourage any and all budding (no pun intended) gardeners to give the contest a try – be creative, go for a classic look, or craft something uniquely your own. Whatever you do, be sure to send us your best digital photos (no photoshop or editing, please) by Monday, July 15.
Not sure what to do? Check out some inspiration in the form of our 2015 Landscape Contest Winners, or take a look at what past years' winners have done, from 2010 to 2014, here: 2010-2014 Landscape Winners.
Past winners aren't eligible to win again, so unless you placed in a previous contest, there's no reason not to try again (or for the first time)! Who knows? It could mean a big cash bonus to spend at Home Depot – probably for more gardening supplies!
Have questions about the contest? Don't hesitate to get in touch. May the best lawn win!
About Wayne Homes
Wayne Homes is a custom homebuilder in Ohio, Pennsylvania, Indiana, Michigan, and West Virginia (see all Model Home Centers). We offer more than 40 fully customizable floorplans and a team dedicated to providing the best experience in the home building industry. For more information, Ask Julie by Live Chat or call us at (866) 253-6807.