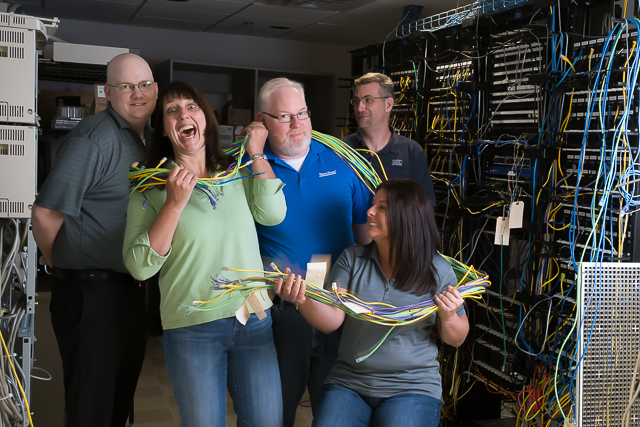 Featured Series: The Wayne IT Department
When we talk about the folks who work at Wayne Homes, it's probably natural that you'd think first about the folks you see, including sales team members, our design team, and even the individuals who do the actual home building. What you might not consider are the integral team members behind the scenes, so today we're going to introduce you to one such team: our IT Department.
Our IT department includes Cheryl, who has 20 years of IT experience and works on mobile device management, helpdesk support, and much more. Amy, with more than a decade of IT experience, also attends to our helpdesk, and works as our Cloud-based phone system administrator.
Brian is our database administrator. He develops reports, and has more than two decades of IT experience. Chris is involved in systems and network administration and uses his 8 years of IT experience to support our helpdesk. Lastly, Mike is our "chief geek and professional worrywart," who uses his 30+ years of experience to oversee our information and communication systems.
Because we know IT professionals love facts and figures, here are some cool ones. The Wayne Homes IT department manages 43 servers, more than 60 networks, 339 workstations, 65 mobile applications, more than 200 phone lines, 10.3 million documents, and more than 700,00 user files – and that's just a snippet of what they do!
Their goals include providing appropriate workspaces for Wayne team members anytime, anywhere. To accomplish that, they have given field employees mobile access to our systems' information resources, have empowered employees to use their personal computers to access the Wayne Homes system from anywhere there is an internet connection, and have even developed the ability to have all phone calls route to the workspace in which they choose to work.
They've installed wireless internet access at all Wayne locations and bolstered our security systems. Their hard work paid off when in 2015, Wayne Homes was named a leader in mobile device management, along with other major employers including Saint Francis Hospital and Aer Lingus. We've even had IT professionals from Australia fly in to see our systems!
All told, this department could be considered the hub – maybe even the brain! – of Wayne Homes, and we couldn't do what we do without them.
The whole team at Wayne works together to create a homebuilding experience that's second to none. Experience that teamwork when you contact us to start exploring how to build your future home!
About Wayne Homes
Wayne Homes is a custom homebuilder in Ohio, Pennsylvania, Indiana, Michigan, and West Virginia (see all Model Home Centers). We offer more than 40 fully customizable floorplans and a team dedicated to providing the best experience in the home building industry. For more information, Ask Julie by Live Chat or call us at (866) 253-6807.