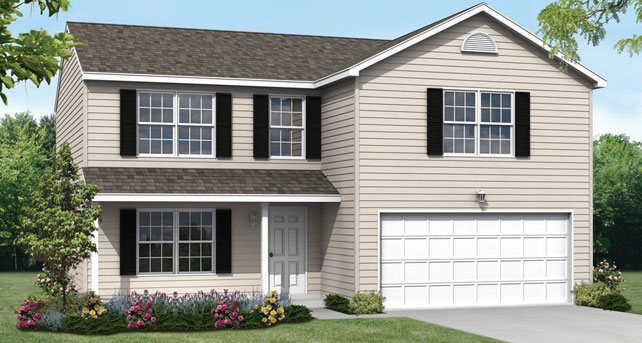 Happy Thanksgiving from Wayne Homes
This is the time of year when we sit back and think about all we are grateful for. At Wayne Homes, we're thankful for our wonderful homeowners and our fellow team members. Our success is built on your happiness, and we are proud to offer the highest standard of customer service to our homeowners. From initial meeting to finishing touches, we are grateful to be with you every step of the way.
A Season of Thanks
Wayne Homes was founded in 1973 and our namesake is in honor of Wayne County, Ohio, where our first homes were built using the simple philosophy of Building Better for Less. Quality and an exceptional customer experience have consistently been driving factors behind our success for more than 40 years. Here are some of the things our valued customers have said about us. You have no idea how thankful we are for you!
"We simply cannot thank you enough for the wonderful way you helped us build our first home. From the very start, you were friendly, accommodating, punctual, and honest. We always felt at ease and never rushed. You truly made our experience exciting and memorable."
Autumn and Jeff, Portage
"To all our friends at Wayne Homes in Delaware, Thank you for the cookies and pumpkin cookie jar. But mostly, thank you for our beautiful home. I count my blessings every day and words can't really say how much we love this home. Everyone who was a part of the construction was great. 'Keep building!'"
Steve and Garnet, Delaware
"Many thanks to everyone from Wayne Homes and Home Savings! Sarah who has been with us from the start has been one of the most pleasant people to work with. I feel by the time we get the keys we will be inviting her and her family to Thanksgiving Dinner! Home Savings has helped us every step of the way loan wise and I can't say enough wonderful things about Brian and Kori! Thank you to everyone!!!!!!"
Anne and Michael, Belmont
Tips for a Homemade Thanksgiving
As our happy homeowners know, there's truly no place like home for the holidays, so here are some of our favorite tips to make your family Thanksgiving special this year…and every year.
Create traditions. If you are hosting Thanksgiving for the first time, you may want to consider creating some traditions to carry on throughout the years. Try passing out a piece of paper to each family member and ask each person to write down something they're thankful for. Fold up the papers and put them in a bowl, asking each person to draw one and read it before the meal.
Channel the spirit of the season. Thanksgiving is about being grateful, so why not give back to those in need? Take the family to a homeless shelter or local charity to donate your time. Not only will it be a bonding experience for you, but also will truly reflect what Thanksgiving is about.
Make your leftovers a meal. Gone are the days of simply microwaving a plate of leftovers. No, no, no…we can do better! Check out some of these great recipes that use your Thanksgiving leftovers to create a spectacular meal of their own.
If you've had visions of your family and friends gathered around a table in your new Wayne home, we invite you to come and talk to us. We'll show you how to make that dream a reality, for less than you think. Now, that's something to be thankful for.
Happy Thanksgiving from Wayne Homes!
About Wayne Homes
Wayne Homes is a custom homebuilder in Ohio, Pennsylvania, Indiana, Michigan, and West Virginia (see all Model Home Centers). We offer 40 fully customizable floorplans and a team dedicated to providing the best experience in the home building industry. For more information, Ask Julie by Live Chat or call us at (866) 253-6807.