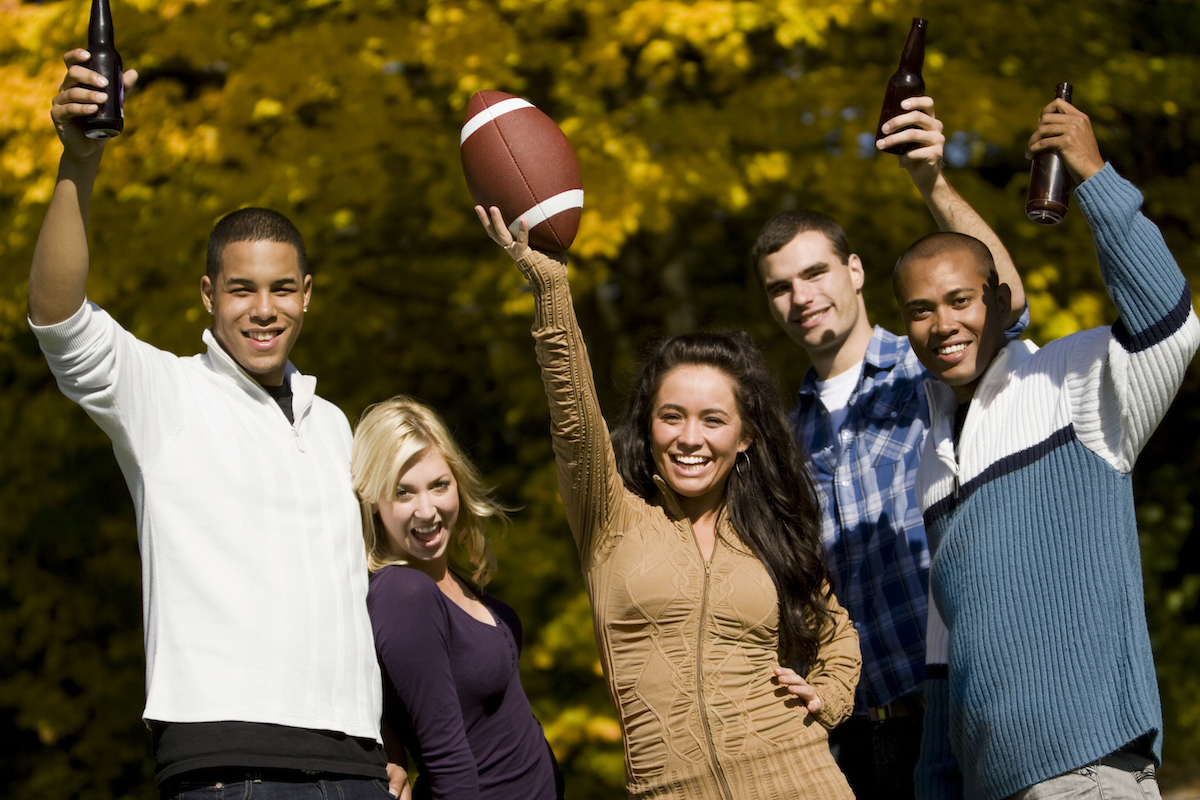 Hosting a stress-free Super Bowl party
Whether your family is rooting for the Denver Broncos, the Carolina Panthers, or you're a house divided for Super Bowl 50, everyone can agree that a good Super Bowl party is a wayto not only enjoy the game, but to enjoy the company of family and friends while snacking on some delicious food. It's kind of like the holidays for football fans!
Hosting a Super Bowl party is no minor task, but with some forethought and planning, it can be a lot less stressful than you'd imagine. Have a great party – and enjoy the game and festivities yourself – with these tips and tricks for hosting a stress free Super Bowl bash.
Utilize your home to your advantage
Living in a home designed by our team here at Wayne Homes means there are probably a few key features you can use to make hosting a party easier. Open floorplans, like you find in the Montgomery, with its massive great room and kitchen combo, or the Yorktown, with its airy kitchen/great room/breakfast nook space, make entertaining not only easy, but fun, because fewer walls and barriers mean party hosts can engage with guests throughout the evening.
If your home has a convenient kitchen island, like you'll find in the Charleston and the Jamestown, that space is prime real estate, and can be used as a buffet-style food serving area for your guests. A finished basement is also a great spot to host a party, as it keeps everything centrally located, and leaves space upstairs for any disinterested teenagers to escape to.
Keep litter to a minimum
Ask any host and they'll probably tell you that their least favorite part of hosting an event or party is the clean-up afterward. But, with a little planning, you can cut this work in half and make the post-party tasks easier. Avoid cluttering up your flat surfaces with plastic cups by giving everyone a tag or sticker to put in their cup so they don't keep grabbing a new one. Use finger foods for your menu to keep dishes and flatware cleaning down, and have multiple spots for people to throw away trash and recyclables throughout the party space. Plan ahead to create doggie bags for folks to minimize the amount of leftovers you have to pack up.
Plan ahead
Speaking of planning ahead, a little goes a long way when it comes to party planning. Instead of creating a big long to-do list that you put off until the last minute, make stocking up for the party part of your weekly grocery shopping list. Don't feel obligated to do it all yourself, either; outsourcing can help a ton, so choose items you aren't as fond of creating yourself, whether it's appetizers, desserts or drinks, and ask a friend or local artisan/baker/caterer to take care of it for you.
Welcome friends and family into your home for any reason is both a joy and a stress, depending on how you go about it. By using your home's layout to your advantage, planning ahead and keeping litter to a minimum, you can decrease the stress factor and increase the joy to host a Super Bowl gathering your friends and family will love. Snag some ideas from our Pinterest board on this topic, and get in touch soon if you'd like to start planning your dream home!
About Wayne Homes
Wayne Homes is a custom homebuilder in Ohio, Pennsylvania, Indiana, Michigan, and West Virginia (see all Model Home Centers). We offer more than 40 fully customizable floorplans and a team dedicated to providing the best experience in the home building industry. For more information, Ask Julie by Live Chat or call us at (866) 253-6807.