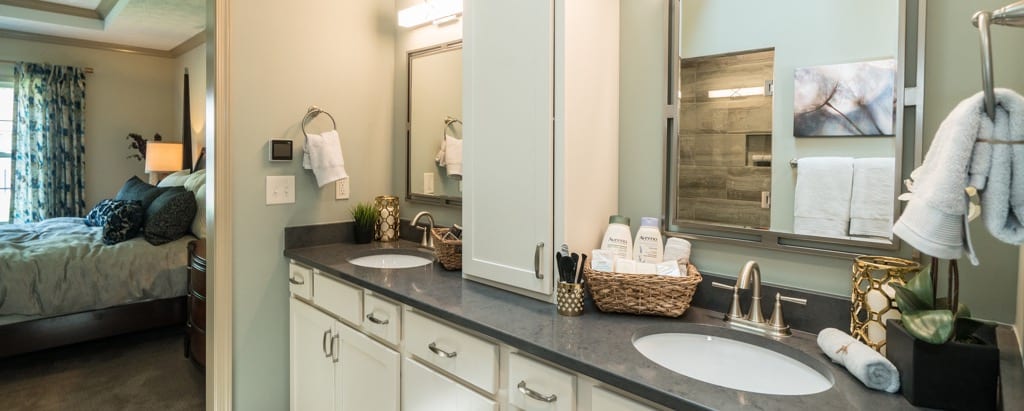 How to create your perfect custom bathroom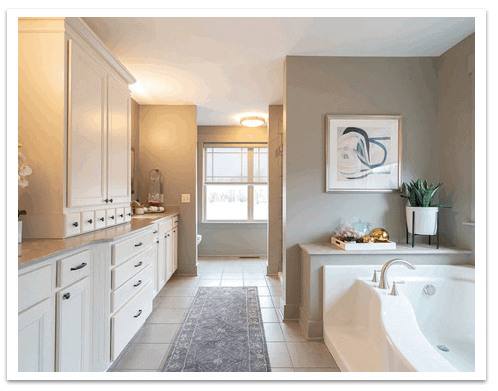 It's often said that there are two spaces in a home that can really set it apart from the pack: the kitchen, and the bathrooms. High-quality fixtures and finishes, the smart use of space, and functionality are all factors to consider when designing these spaces because they are often times the spaces we find ourselves in often. Creating a stunning spa retreat in your bathroom doesn't just make your life better; it raises your home's value as well.
A lot goes into the look and feel of a bathroom, though, and sometimes the endless possibilities are enough to overwhelm even the most level-headed homebuyer. So today, we're breaking it down to help you consider each unique aspect of your bathroom, as well as how to bring it all together for one beautiful custom look.
Tub and shower style:
Your tub, shower, or tub/shower combination is the most distinctive — and sizable — feature in your bathroom. Because of that, it's possible to shape an entire look and style around it. A free-standing tub creates a luxurious, high-end look. A large, garden style tub is great for families with small children… and for tired parents looking for a place to unwind. A simpler design with clean, basic lines leaves more room for ornate, stylish touches elsewhere, whereas a more ornate tub (claw-foot anyone?) makes a bold statement best balanced by more understated accents.
Master suite details:
How do you like to get ready in the morning? That's the question to consider when thinking about the layout of your master bathroom, and how it integrates into your closet and sleeping space. Some people love to make their walk-in closet an extension of their bathroom, while others prefer these spaces be separate. It really depends on the function and flow that works best for you.
Vanity choice:
One vanity or two? How much space between them? How much counter space around them? And then shape — the choices are endless! When considering a vanity, or more than one, for your bathroom, consider your habits and preferences. Do you need an ample amount of under-sink storage? Is your space small, and therefore in need of a more sleek, simple layout? And of the utmost importance is the lighting you choose for above the vanity, both in terms of the light it provides as well as how it looks in the space.
Built-ins and fixtures:
Your bathroom's fixtures can have a huge impact on how the space feels. Do you prefer a more modern look, with cool colors, brushed nickel, or stainless steel? Maybe traditional is more your speed and ornate fixtures in bronze feel best. Whatever style you choose, this small but important detail is worth considering very carefully. Luckily we have a whole host of options for you to choose from.
Extra touches:
There's a lot you can do to add some extra pizzazz to your bathroom. Maybe you love having warm towels on hand; a built-in towel warmer is right up your alley. Or perhaps you'd like to create a dedicated make-up and hair space with a special vanity and mirror fixture. Maybe you love relaxing in a jet-powered tub or multi-head shower with spa accessories. Whatever your dream is, we can make it happen!
Take a look at our Flickr album for even more beautiful bathroom inspiration; we can't wait to hear your ideas!
Spa-like or simple, ornate or modern, we're here to create the look and functionality you want and need in your future bathroom. Get in touch today to talk about the possibilities.
About Wayne Homes
Wayne Homes is a custom homebuilder in Ohio, Pennsylvania, Indiana, Michigan, and West Virginia (see all Model Home Centers). We offer nearly 50 fully customizable floorplans and a team dedicated to providing the best experience in the home building industry. For more information, Ask Julie by Live Chat or call us at (866) 253-6807.