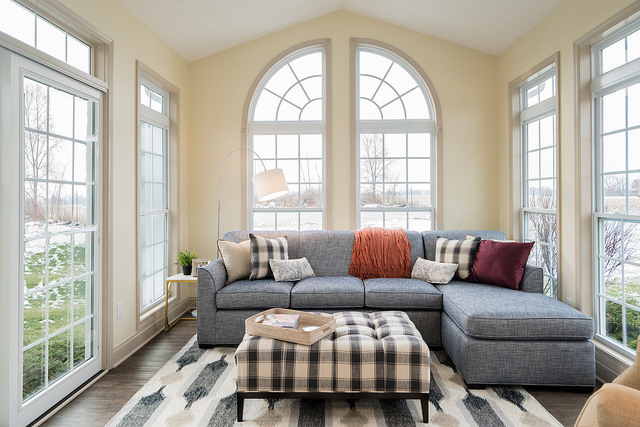 Staying warm all winter long with Wayne
It might be cold outside, but if you're lucky enough to call a Wayne Home, well, home… then you're feeling nothing but cozy warm! And no, we aren't talking about typical keep-warm advice like piling on blankets and layering your socks. We're referring to the steps we take as homebuilders to ensure your home is of the highest quality, and able to keep out the cold to ensure you stay comfortable year round.
The key to building an energy efficient, safe, comfortable home that doesn't drive your utility bill through the roof lies in the quality materials our teams use. Those materials (and corresponding building practices) include:
Pella® or Silverline® low-e windows
Carrier® 96% efficiency two-stage furnace
Carrier® 13+ SEER central air conditioning
R-49 ceiling insulation
R-15 wall insulation
Dow™ insulating exterior wall sheathing or OSB exterior sheathing
Alpha Pro Tech REX™ weather resistant housewrap to further reduce moisture and air infiltration
Insulated 50-gallon electric water heater
LED light bulbs for all fixtures
Wayne Homes has been an ENERGY STAR Partner since 1997, and we've led the charge toward more energy-efficient homes in the areas we serve. In fact, we are the proud recipients of the ENERGY STAR for Homes Leadership in Housing Award. The Wayne Homes Energy Smart Guarantee ensures that you will see the benefits of an energy efficient home. We'll predict home much energy you'll use annually to heat and cool your Wayne Home, and, if you use more, we'll pay the difference for the first two years.
In addition to, well, building a home with us, there are lots of other things homeowners like you can do to ensure your home stays warm during the cold months (and cool during the warm months, but those seem pretty far away right now!).
Let sunlight in during the day. The sun is powerful, and simply opening up your blinds and curtains (on your energy efficient windows!) can let in a lot of warmth.
Close the curtains at night. In addition to banking on those efficient windows and additional weatherstripping you can do, add another layer of defense by keeping those blinds and curtains closed at night to guard against pesky drafts.
Keep the warm air flowing unobstructed by moving all furniture away from air vents.
Reset your ceiling fans to ensure they move clockwise, and in so doing, push the warm air toward the ceiling back down into your home and living space.
Be mindful of doors, and create little mini-saunas in the spaces you use most often (such as a den or office) by closing the doors to that space and locking the warmth in.
Between these tips and your energy efficient Wayne Homes home, you're sure to keep comfortable all winter long!
Feeling left out in the cold in your current home? Get cozy with Wayne! We're here to help.
About Wayne Homes
Wayne Homes is a custom homebuilder in Ohio, Pennsylvania, Indiana, Michigan, and West Virginia (see all Model Home Centers). We offer more than 40 fully customizable floorplans and a team dedicated to providing the best experience in the home building industry. For more information, Ask Julie by Live Chat or call us at (866) 253-6807.