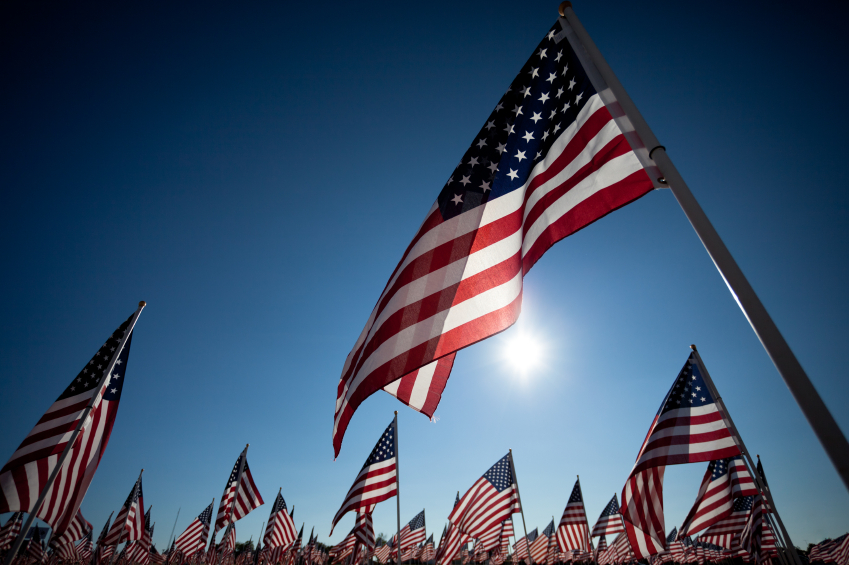 Throwing the perfect 4th of July bash
Owning your own dream home is wonderful year round, but it's especially great during the summertime, when opportunities for outdoor activities and get togethers are more plentiful.
Having an indoor/outdoor entertaining space, such as a sunroom, porch or deck (or perhaps all three!) is an ideal way to get friends and family together for the quintessential summer gathering: 4th of July. This relaxed and patriotic holiday gives you an opportunity to let the outdoor spaces in your home (and outdoor-like spaces, like the sunroom) really shine, while making the most of the best weather of the year. Here are some ideas for throwing a 4th of July bash your friends and family will love.
Festive Decorations – You don't have to drop a ton of money to make your outdoor space, whether it be a porch or a deck, really shine. Patriotic bandanas attached to a string create a simple and festive garland that you can hang on stair railings or the front of the porch. Simple American flags from your local garden store are great adornments for your flower planters and garden. Simple white linens are both festive and uncomplicated, and look crisp and clean on a hot summer day.
Creative Competition – Inject a bit of competitive spirit into your gathering by hosting a variety of simple, easy yard games that everyone can enjoy. Whether it's a horseshoe competition, a friendly game of cornhole, a kids-only cardboard box car race, a cookie decorating contest or otherwise, you'll get family and friends engaging in a fun and unexpected way.
Crafts for Kids – There's nothing better than a family gathering that offers fun for all ages, giving parents an opportunity to unwind as kids occupy themselves with fun DIY activities. So hand out some red, white and blue sangria to the grown-ups, and set up a deckside craft table. Patriotic colored pipe cleaners give tiny fingers an opportunity to twist away, while coloring supplies and glitter let little artists shine. Make sure to check out our Pinterest board for even more ideas!
Prioritize the Potluck – Instead of struggling to figure out how to feed however many folks you're inviting, set up a simple Google form and ask friends and family to sign up for specific items, including appetizers, main dishes, and desserts. Don't forget the flatware and plates too! That way, you can pick a recipe or two you'd really like to tackle, while leaving the bulk of the cooking divided among attendees.
What's most important for a successful party is having a great location, and by using your home's deck, porch, or sunroom (or perhaps a combination thereof, for better flow of traffic), you can keep guests mingling, keep kids safe and occupied, and throw a gathering your guests will appreciate.
Excited to throw a patriotic party in your own custom porch or deck? We want to help you create it! Tell us about your vision and we'll figure out how to make it reality.
About Wayne Homes
Wayne Homes is a custom homebuilder in Ohio, Pennsylvania, Indiana, Michigan, and West Virginia (see all Model Home Centers). We offer more than 40 fully customizable floorplans and a team dedicated to providing the best experience in the home building industry. For more information, Ask Julie by Live Chat or call us at (866) 253-6807.