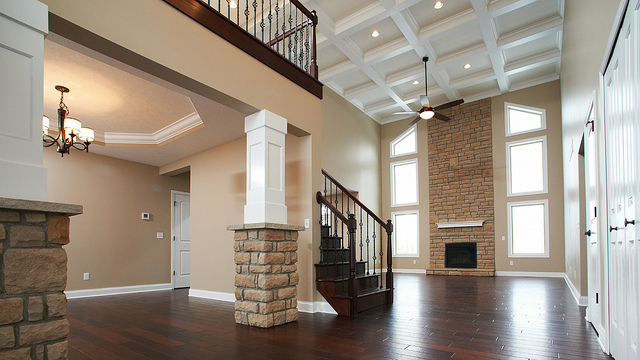 4 Ways Wayne Homes Creates Value for Your Custom Dream Home
When you're looking for the perfect custom home builder to build your dream home, there are lots of reasons to choose Wayne Homes. In fact, we provide 25 reasons why families have trusted Wayne Homes for more than 40 years (see them all).
But perhaps one of the best reasons to choose Wayne Homes to build the home of your dreams is value.
Here are 4 reasons why building your custom dream home with Wayne Homes can mean more value for your family.
Reason #6: Twice the Warranty
Every Wayne Home is built based on the highest quality standards for construction and design quality. In fact, we are the only Ohio home builder to win the coveted National Housing Quality Silver Award… twice. We're so proud of, and confident in, the homes that we build that we offer double the warranty of most builders – a full two years. That means that your family is less likely to be surprised by repairs and unexpected expenses. Learn more about our warranty >
Reason # 8: Craftsmanship and Choices
At Wayne Homes, quality craftsmanship is not a luxury – it's included in every home we build. No matter what your budget is, we offer lots of choices so you can create the home of your dreams today, not someday. Every home features high quality finishes and fixtures that are included in the price. At Wayne Homes, you'll also have an almost unlimited number of customization options to fit nearly any budget. See all included features >
Reason #21: Financing That's Close to Home
At Wayne Homes, we believe that information is power. The more you know about the financing options that are available, the more peace of mind you'll have month after month in your new home. That's why we offer easy access to Mortgage Lending Specialists through our preferred lender, Home Savings. A Mortgage Lending Specialist can make it easy to understand the details of financing a custom home, help you determine a budget for customizations, and estimate your monthly payment. Best of all, you can start the process from the comfort of your own home when you apply online. Apply online now >
Reason #24: Energy Smart Guarantee
At Wayne Homes, we know that value is not just the price that you pay when you buy a home. It's also about a low cost of ownership. Our energy-efficient homes can mean savings for your family every month. With our Energy Smart Guarantee we will predict how much energy you'll use to heat and cool your home. If you use more, we'll pay the difference for the first two years. Read more about our Energy Smart Guarantee >
Visit a Model Home Center today and discover your own reasons to build your family's dream home with Wayne Homes. Not sure where to start? We're here to help. Simply Ask Julie by Live Chat or call (866) 253-6807.
About Wayne Homes
Wayne Homes is a custom home builder in Ohio, Pennsylvania, Indiana, Michigan, and West Virginia (see all Model Home Centers). We offer over 40 fully customizable floor plans and a team dedicated to providing the best experience in the home building industry. For more information, Ask Julie by Live Chat or call us at (866) 253-6807.