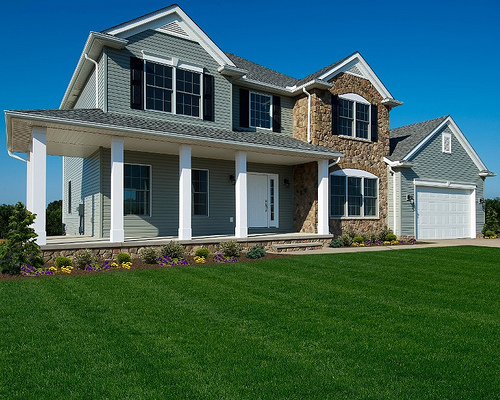 Shopping for a New Home? Here's 6 Reasons to Build a Custom Home Instead
Shopping for a new home, but disheartened by the choices available?
The real estate market continues to heat up, and in many neighborhoods that means fewer choices for homes in the best locations. Even when a home is available, the competition from other buyers can quickly drive the price up and out of reach.
We think there's a much smarter way to find the perfect home for your family: design and build it yourself.
At Wayne Homes, we offer on-your-lot homes of almost every size, and for almost any budget. If your new home search has you feeling discouraged, here are 6 great reasons that now may be the perfect time to consider building a custom home:
1. Location, Location, Location.
When you buy a production or resale home, you're limited to only a few options based on the inventory available. With a custom home, you can build just about anywhere. This can mean shorter commutes, living closer to family, or owning a large lot with lots of views and privacy.
2. You're Special. We Get It.
Have you always wanted a room just for scrapbooking, or a game room large enough to accommodate your collections of 1980's arcade games? When you build a custom home, we start with what makes you special and unique and then build the home that's perfect for you.
3. Sparkling Clean and Shiny New-ness
Ah, that new home smell: no pets, no smoke, no strange odor coming from underneath the fridge. Building a custom home means you never have to live with hand me down appliances or second hand bathrooms. Everything is fresh and clean, and built just for you.
4. Honey Do? Honey Done.
When you buy a used home, there can be a lot of surprises: unforeseen repairs, updating plumbing or electrical, or just replacing the 1970's shag carpet. When you build a custom home, you get the exact home you want on the day that you move in. And our two year new home warranty means that you can spend more time doing, well, pretty much whatever you want.
5. Let the Sun Shine In (Just Not at 6 a.m.)
Love the brilliant sunshine streaming into your breakfast nook every morning, but not into your bedroom? When you build a custom home, you'll work with your Field Manager to decide exactly how to position your home on your lot to maximize views, light, and even energy efficiency (try that with a production builder).
6. It's Way More Fun
There's no doubt about it – designing your own home any way you want is way more fun than settling for an almost perfect floor plan layout or just ok location. And our friendly, hardworking team is here and ready to help you build your home, your way, on your budget.
So if shopping for a new home has got you down, we invite you to visit one of our Model Home Centers today to find out more about how easy, affordable and fun building a custom home can be. In fact, you can start today by browsing more than 40 floor plans and using our interactive floor plan tools to find – and customize – your dream home.
Have a question? Simply Ask Julie by Live Chat or call us at (866) 253-6807.
About Wayne Homes
Wayne Homes is a custom home builder in Ohio, Pennsylvania, Indiana, Michigan, and West Virginia (see all Model Home Centers). We offer more than 40 fully customizable floor plans and a team dedicated to providing the best experience in the home building industry. For more information, Ask Julie by Live Chat or call us at (866) 253-6807.