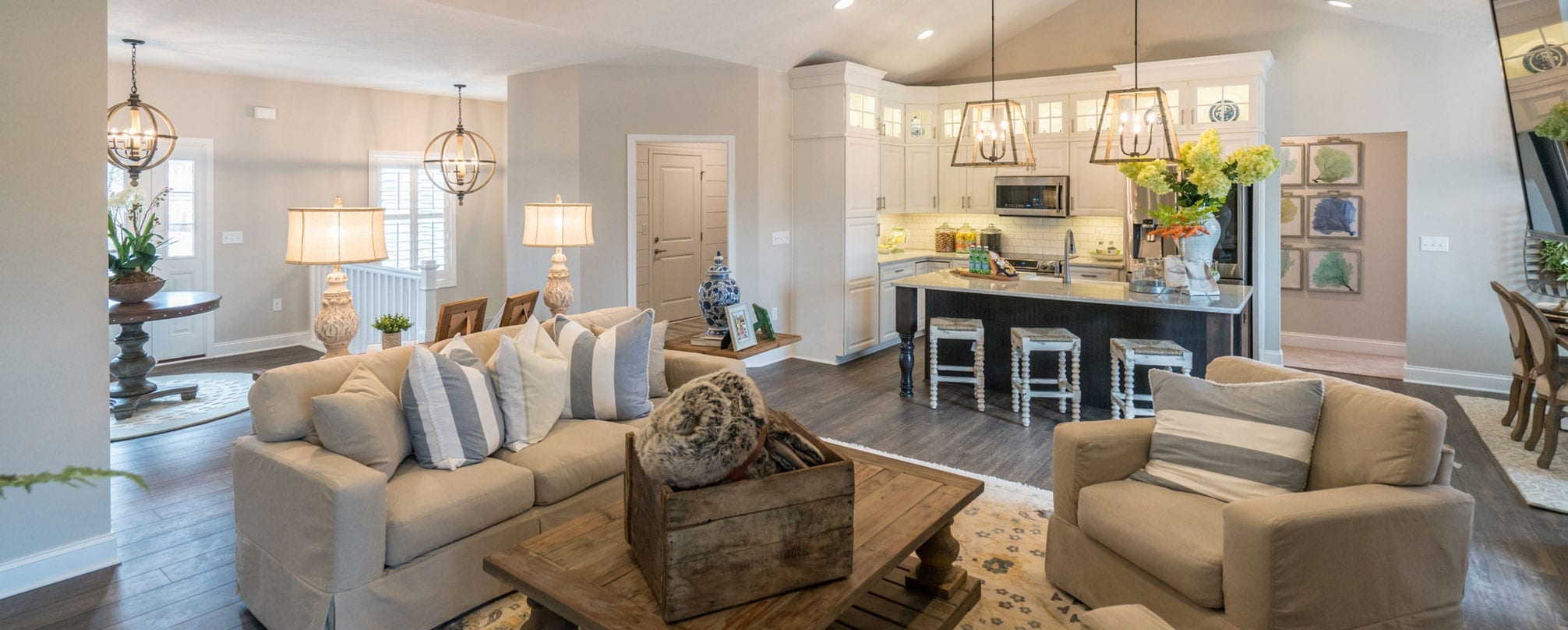 Behind the scenes: Building a model home
If you know anything about Wayne Homes and how we operate, you know one thing above all else: working with Wayne means building a home that is all yours, custom from top to bottom. That means the options for your home's design and layout are virtually endless. And that means that when it comes to building our model homes, the options are endless too!
We follow some guidelines, though, when it comes to deciding what models to build and how to design them. We want to give you a behind the scenes peek at that process, so read on to learn more about it!
First, we have to choose a floorplan. Some of the things we consider are the popularity of specific floorplans, company-wide, as well as within the specific office location for the model. We look for trends in popularity among our open houses and consider what other models we may already have at that particular site. We usually aim to display a model that has the features we think will work best for the majority of our customers and are worth promoting too.
For example, let's look at the Pittsburgh Franklin model. There, we did the following:
Installed porcelain tile master shower with frameless glass shower door
Finished basement done up in Pittsburgh sports themes to create a memory point for visitors
Built in book cases and entertainment center from our cabinet manufacturer to show what's possible with our cabinets
On trend LVT flooring throughout the main living area
Used lots of white and gray to make the home feel larger and open
Added plantation shutters to all the windows providing a cozy, southern beach home feel
Added shiplap to the fireplace face, laundry room and accent wall of great room to soften the "formality" of the design
The goal was to make the home familiar, livable, and most of all, reasonable in price for prospective homeowners.
We also like to think about a theoretical "family" that will be living in the home. Is it an empty nest couple that wants a home with spare bedrooms for guests and grandchildren? Perhaps it's a young family with multiple young children. We use that information to meet with the interior design team and develop a decorating theme for the home, and finish selections from there!
At our Pittsburgh Model Center, we have two different models that showcase two different types of homes suited for different needs. We chose the Lexington floorplan for the first model, because we know a value-packed split level home is a great choice for young families. So when we were deciding on which floorplan to use for our new model that opened this past February, we wanted to feature a never-been-done-before floorplan. That's why we chose the Franklin, a single story ranch floorplan perfect for an empty nester family. We saw this as a wonderful opportunity to show real-life examples of a couple different options that our Pittsburgh homebuyers have only been able to see in photographs.
We like to think of our model homes like a catalog. We rarely build a customer's home that is identical to the model; rather, our goal is to show various features and options so prospective homebuyers can get a better idea of what's possible and decide firmly what they want and don't want. And that, in a nutshell, is how we create the model home experience you know and love!
We want you to experience our beautiful model homes. Stop by one today!
About Wayne Homes
Wayne Homes is a custom homebuilder in Ohio, Pennsylvania, Indiana, Michigan, and West Virginia (see all Model Home Centers). We offer nearly 50 fully customizable floorplans and a team dedicated to providing the best experience in the home building industry. For more information, Ask Julie by Live Chat or call us at (866) 253-6807.