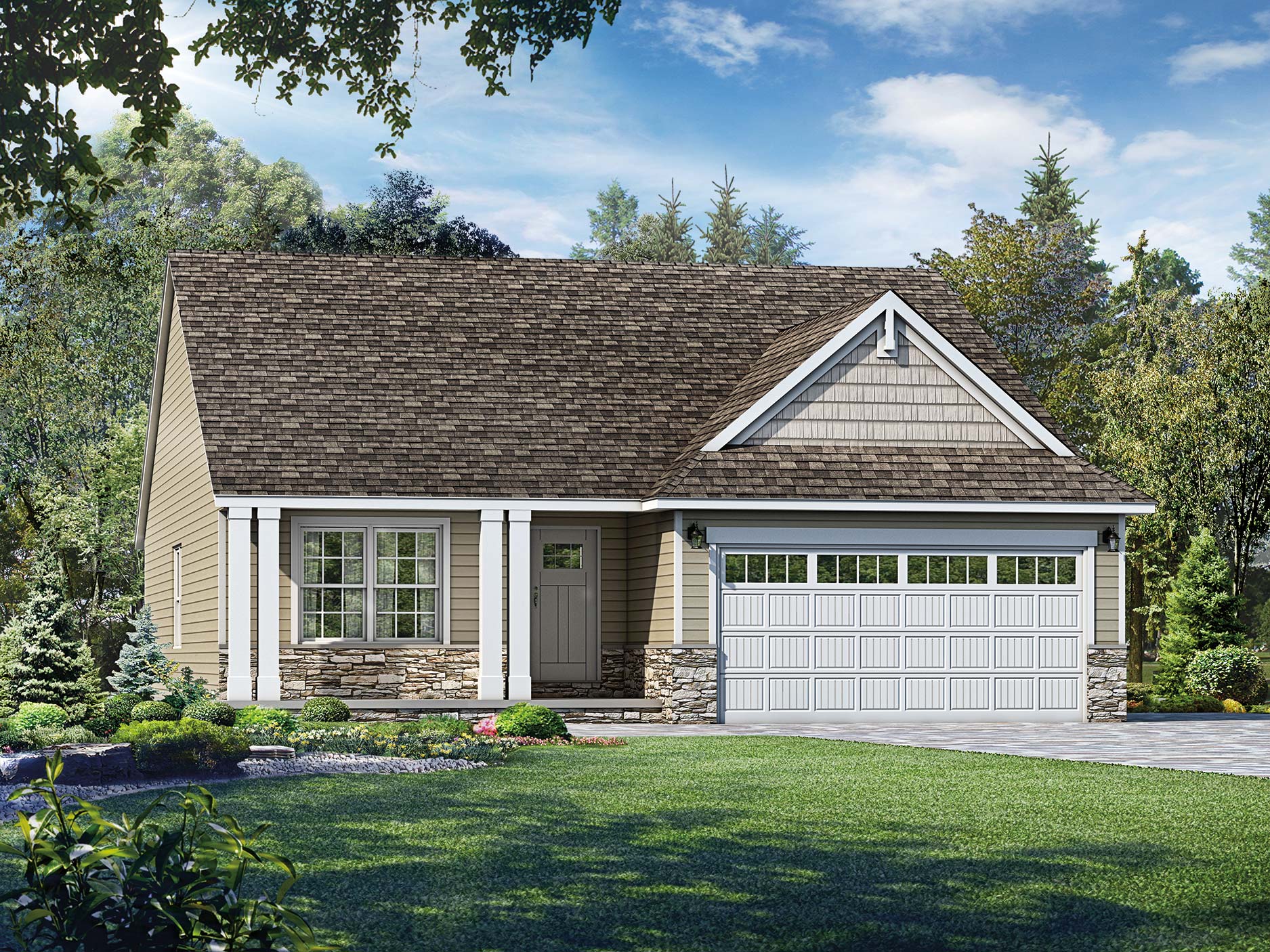 Best Floorplans for First-Time Homebuyers
*We have discontinued the Brighton, Augusta II, and Bennington as a floor plans. However, as a custom home builder, we can take any element of any floor plan and make it uniquely yours. If there's something about these plans that you absolutely love, we can still build it on your land! Be sure to also check out our full list of floor plans.
With our exceptional attention to detail and commitment to making homeowners happy, there are so many reasons to choose Wayne Homes to build your first new home. Over the years, we've developed a system that helps you through the design and build process from start to finish. We like to keep things simple and transparent. And it's a quality first-time buyers really seem to appreciate. One of the first steps in building a new home is finding a design you love, so we're here to show you some of our favorite custom floorplans first-timers choose over and over again.
The Brighton
Brighten your days when you wake up every morning in your stunning Brighton home. This 3-bedroom, 2-bathroom split level home has everything you need to maximize convenience and comfort. Common living areas like the kitchen, living room and dining room are on the main floor while the bedrooms are upstairs. A spacious family room is on the lower level along with an unfinished area for your laundry. And just a few steps down from the family room is an unfinished basement; an excellent space for all your storage needs. Take the Brighton virtual tour and see the interactive floorplan.
The Bradford
The 3-bedroom, 2-bathroom Bradford home is proof you don't need to live in a mansion to have all the space you need. With walk-in closets in every bedroom, laundry room and open concept kitchen and living room, the Bradford's main-floor is living at its finest. We're also excited to announce we've recently added the Craftsman elevation as an option, making this home more customizable than ever before. First time homeowners will find they can have everything they need with this cleverly-designed floorplan. See the Bradford interactive floorplan.
Augusta II
If your dream home has two-stories and a full basement, we'd love to introduce you to the Augusta II—the updated model of our classic Augusta floorplan. This spectacular 3-bedroom, 2.5-bathroom home has just about every amenity you need for your family. With all the common living areas located on the main floor—including a kitchen connected to both a breakfast area and formal dining room—you'll enjoy peace and tranquility when you retreat upstairs to the bedrooms. Browse the Augusta II interactive floorplan.
Bennington
For many first-time homebuyers, the budget is a deciding factor, and with Wayne Homes, you'll never have to sacrifice quality for cost. Even the 3-bedroom, 2-bathroom Bennington, our most cost-efficient (and charming) home, is receiving an updated look soon, so make sure you check back often to lean more. This ranch-style home includes over 1,100 square feet of cleverly designed main-floor living space AND a full basement for even more room and additional storage. View the Bennington interactive floorplan.
Brookline
What better way to welcome guests into your home than having them walk through your front door and into your living room. For many first time buyers looking for cozy and convenient, the Brookline is a dream come true. This 3-bedroom, 2-bathroom ranch-style home, like the Bennington, will be receiving some great updates in the near future, so stay tuned for more details. Browse the Brookline interactive floorplan.
The best part of choosing one of these fantastic floorplans is you get to customize it to make it uniquely yours. Want us to extend a room? Just ask us. How about knocking down a wall for a more open living space? We'd love to! Custom floorplans are our specialty— and so is making customers happy. We currently have more than 40 floorplans to choose from, and the list keeps growing. Be sure to continue checking back with us to see what else we have in store. Or if you're ready to embark on this journey of new homeownership with us, stop by a Model Home Center and see how easy it is to get started.
About Wayne Homes
Wayne Homes is a custom homebuilder in Ohio, Pennsylvania, Indiana, Michigan, and West Virginia (see all Model Home Centers). We offer more than 40 fully customizable floorplans and a team dedicated to providing the best experience in the home building industry. For more information, Ask Julie by Live Chat or call us at (866) 253-6807.