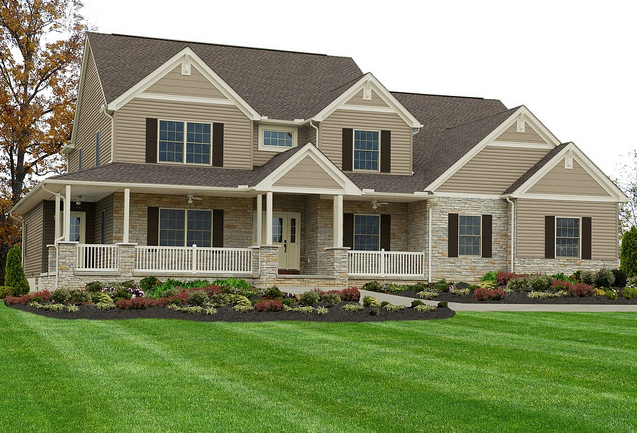 Building a Custom Home: 8 Frequently Asked Questions
Thinking about building a custom home, but don't know where to start? Ask Julie, one of our Wayne Homes Online Sales Counselors! Whenever you have a question, Julie is the friendly voice at the other end of the phone or Live Chat. The Ask Julie team talks to hundreds of families every year, including many who are considering building a custom home for the very first time.
We recently sat down with an Ask Julie team member to find out what questions she hears most often, and what advice she would give to someone considering building a custom home in Ohio, Pennsylvania, Indiana, Michigan, and West Virginia.
Q: How Do I Select the Right Floor Plan?
A: We offer more than 40 floor plans for a variety of family needs and lifestyles, but I know how overwhelming that can be! I encourage people to start with online tools such as our interactive floor plans and virtual tours. From there, I encourage buyers to visit one of our Model Centers and meet with a New Home Consultant to complete a Personal Value List. This helps families narrow down what is most important to them in a new home. Our customers love how much easier this makes the decision process, and it's completely free.
Q: Is Building Custom More Expensive Than Pre-Built?
A: Many of our homeowners are very surprised at how affordable building a custom home can be when compared to a pre-built home. In fact, homeowners have found that their money goes farther with a custom home because they are only paying for the features they want and space they actually use.
Q: I Am A First Home Buyer. Is a Custom Home Right for Me?
A: Absolutely! One of the best things about Wayne Homes is that you never have to compromise in getting the home you want, whether it's your first home or your last. In fact, once buyers discover how easy, affordable and fun building a custom home can be they would never do it any other way!
Q: Do I Need to Own Land Before I Select a Floor Plan?
A: Nope! In fact, about half of our customers do not own land when they contact us for the first time. By selecting a floor plan first, finding the right location can be much easier. I often encourage buyers to try our online tools such as our Neighborhood Finder to find land for sale in Ohio, West Virginia, Pennsylvania, Michigan, and Indiana.
Q: Can I Build on Land I Already Own?
A: Yes! Since there's almost nothing we won't build, we can help you find the right floor plan for your location and your family. We even offer a Complimentary Homesite Evaluation to determine if the Wayne Home floor plan that you've selected is a good fit for your lot. In fact, whenever possible I encourage buyers to have the Homesite Evaluation done once they've selected their floor plan but before they make a final land purchase. Our customers are always grateful for how much time, money and hassle this saves!
Q: How Do I Know If a Custom Home Builder is Reputable?
A: We love this question! Choosing the right builder can make all the difference in making the process of building a custom home as stress free as possible. We're always happy to share experiences from real Wayne Homes customers through our Raving Fans program. I also encourage families to visit our Facebook page where they can read more from our homeowners and even ask questions directly.
Q: What Kinds of Changes Can I Make to Customize a Floor Plan?
A: The sky is the limit! There's almost nothing we won't build, so your home is limited only by your imagination. Even if you're on a tight budget, our team can often find ways to help you personalize your home without breaking the bank.  I often recommend that families visit one of our Open Houses to get customization ideas from Wayne Homes customer that are currently having a home built.
Q: What's Your Best Advice to New Customers?
A: Ask a lot of questions! There's no such thing as a small question, too many questions, or the wrong question. I love my job because I get to help people create their dream home everyday. If I don't have the answer, I can always find a Wayne Homes team member who does. I can help families save time, money and headaches and expand their ideas of what's possible for their home. And that's a pretty good job to have.
Have a question about building a custom home? Ask Julie today! You can reach the Ask Julie team by phone at (866) 253-6807 or by Live Chat.
Wayne Homes is a custom home builder in Ohio, Pennsylvania, Indiana, Michigan, and West Virginia (see all Model Home Centers). We offer 40 fully customizable floor plans and a team dedicated to providing the best experience in the home building industry. For more information, Ask Julie by Live Chat or call us at (866) 253-6807.