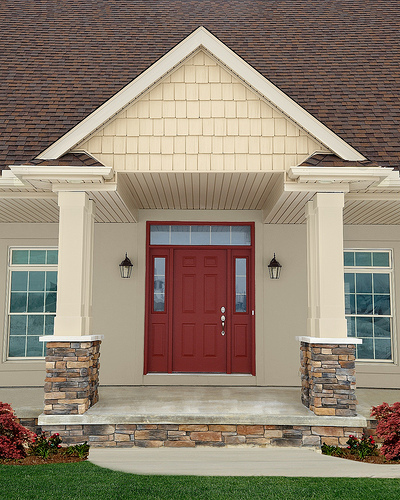 Building a Custom Home? Get Expert Advice Early in the Process
Thinking about building a custom home, but need some expert advice?
Meet Julie, Michelle, and Stephanie: the Wayne Homes Online Sales Consultant team. These ladies are often the first point of contact for customers who are considering building a custom home, but do not know where to start.
Julie, Michelle, and Stephanie are experts at making the overwhelming process of building a custom home both simple and manageable, even if you do not have any idea where to begin.
Our Online Sales Consultant team has helped hundreds of families begin the process of building a custom home for the very first time. We recently sat down with these enthusiastic ladies to ask what advice they would give to someone who was considering building a custom home.
Their best advice? "Call us!" The team explains that contacting a builder early in the process can save customers time, money and headaches and make the experience of building a dream home, well, a dream. We asked what some of the common misconceptions are that customers have when they are considering building a home for the first time, and how the Online Sales Consultants can help.
"It's too overwhelming. I'll contact a builder once I am more prepared."
Julie explains: "Building a custom home is one of the biggest decisions you can make in your life, and it can be very overwhelming. Often people call us and tell us they don't even know what questions to ask. We're here to make it easier. We start with a few simple questions, such as how many bedrooms your family needs or what area you'd like to live in. Even if you only have a vague idea of what a dream home means to you, we can simplify the process and help you find the right custom home floor plan."
"I am still deciding whether building a custom home is right for me. I'll contact the builder once I've made a decision."
Each member of our Online Sales Consultant team agrees: the most rewarding part of the job is giving customers the information they need during the decision making process. "It's ok to start with the smallest question. The more information that customers have, the more options they have. That's why we're here to answer questions including pricing, selecting a floor plan, deciding where to build, understanding the financing process, and more. No question is too small," says Stephanie.
"I'll wait to contact the builder once I've found a lot."
According to Michelle, choosing the right piece of land can save time, money, and headaches during the building process. "Many people who contact us for the first time have never purchased land before and aren't even sure where to start. We help customers find resources for buying land and financing their homesite. Once a customer has selected a floor plan, we'll even schedule a Complimentary Homesite Evaluation. This gives our customers more peace of mind," says Michelle.
"If I contact the builder, I'll get a high pressure sales pitch."
"Although many people who contact us do make a decision within the first 30 days, others need more time to gather information and make an informed decision for their family," says Julie.
Michelle agrees, "We stay connected with some of our customers for weeks or months before they make a decision. We love interacting with customers, building the relationship, and being a resource they can count on for information."
Stephanie encourages anyone who is thinking about building a custom home to ask any question, large or small. "We're here to answer questions seven days a week. Simply call us at (866) or contact us by Live Chat."

Wayne Homes is a custom home builder in Ohio, Pennsylvania, Indiana, Michigan, and West Virginia (see all Model Home Centers). We offer 40 fully customizable floor plans and a team dedicated to providing the best experience in the home building industry. For more information, Ask Julie by Live Chat or call us at (866) 253-6807.