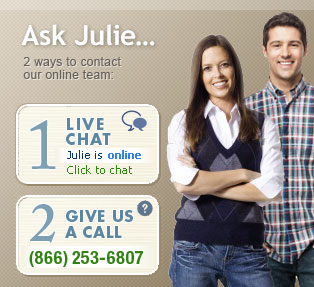 Wayne Homes "Ask Julie" The Online Sales Team
For many Wayne Homes customers, the first step in building a custom home is to talk to our online sales consultant team "Ask Julie", by phone or Live Chat. Our customers think "Ask Julie" is terrific, but with so many families discovering how easy and affordable it is to build their dream home, we're expanding our team to help even more people. Now we are adding Steve to join Julie, Stephanie and Michelle as part of the "Ask Julie" online team.
The addition to our Online Sales Consultant team means that's it's even easier for your family to build the home of your dreams. More team members means more people to answer your questions about selecting, designing, customizing, financing, and building the home of your dreams.
As a closing coordinator for Wayne Homes, Steve has been helping Wayne Home customers with the entire process of their home purchase. In his new role, he'll be helping customers who are more often at the early stages of buying.
Julie recently sat down with Steve for a Q&A about his experience with Wayne Homes.
Julie: Steve, welcome to the team! You've been with Wayne Homes since 2012. What did you do before Wayne?
Steve: I did sales support immediately before, but beyond that I was an emergency dispatcher in an alarm monitoring firm and prior to that I was a 911 dispatcher.
Julie: Wow! I don't think we have many emergencies here at Wayne.
Steve: (Laughs) That's true, Wayne Homes has many processes in place to help customers at each stage. We build a lot of custom homes, and for each family this purchase is one of the most important ones they make in their lifetime. My background as an emergency dispatcher enables me to respond quickly and accurately to any situation while staying calm and collected. I think this helps put customers at ease.
Julie: Staying calm definitely helps! By the way, what did you do at Wayne Homes before taking on this role?
Steve: I was a closing coordinator, so I would work with buyers through the entire home building process, and with the bank at different stages when the Field Managers needed to draw on a loan to go to the next stage of construction. It is always very satisfying to see a home get to completion and for buyers to start their next chapter in a new Wayne Home.
Julie: What's your favorite customization on Wayne Homes?
Steve: I love sunrooms! Especially when winter is as long as it has been this year, a sunroom makes it almost bearable. In fact, I'd like my next home to be the McAllister model with the sunroom added.
Julie: So will we need to have customers "Ask Julie and Steve" now?
Steve: Oh, I don't care about that, Julie. I'm sure that when customers Ask Julie, they will be happy if I can answer their questions!
Julie: Great! Welcome to the team!
For more information about how easy, affordable, and fun it is to build a custom home with Wayne Homes, simply "Ask Julie", our online sales team, by Live Chat or call (866) 253-6807.
About Wayne Homes
Wayne Homes is a custom home builder in Ohio, Pennsylvania, Indiana, Michigan, and West Virginia (see all Model Home Centers). We offer nearly 40 fully customizable floor plans and a team dedicated to providing the best experience in the home building industry. For more information, Ask Julie, our online sales team, by Live Chat or call us at (866) 253-6807.