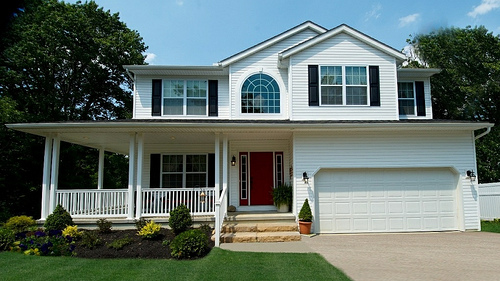 Need the Perfect Location for Your Dream Home? Let Us Help.
Who doesn't dream of building their very own custom dream home? Wayne Homes understands both the allure and the worry involved with the custom homebuilding process. Rest assured that we have helped thousands of families just like yours design and build their dream home.
It all starts with finding the ideal piece of land. With the market heating up, demand for premier home sites in the best neighborhoods is on the rise. Below are some quick tools and tips to help you get started sooner.
Resources for Finding Land
Your dream custom home deserves the perfect location. Use our Neighborhood Finder to help you find the community best suited to your family's lifestyle and needs. We suggest narrowing it down to a few neighborhoods and then visiting them to take in the overall vibe. Are neighbors socializing in the front yards? Do you like the size of the lots? It's always best to see things in person before making any decisions.
Don't forget that we can build almost anywhere. Online listing sites like Zillow, Trulia, Realtor.com or Craigslist can be great resources for available land. You might also get in touch with a local real estate agent or the Recorder's Office to see what's for sale.
Don't be intimidated by this important first step. Over half of Wayne buyers contact us before owning land to build on and we are happy to walk you through it.
Complimentary Home Site Evaluation
You've found the perfect piece of land, so now what? Take advantage of our Complimentary Home Site Evaluation program before you buy to ensure that the land you've found is as functional as it seems. Simply visit one of our Model Home Centers, select your favorite floor plan and a friendly member of our construction team will inspect your site and identify any potential issues or additional costs that may come up later. We can literally save you thousands of dollars up front by enabling you to make an informed purchase decision.
Did we mention this program is totally free of charge? You have nothing to lose and everything to gain by engaging us early enough to inspect your land before you start the custom homebuilding process.
Let's get started
We won't lie to you. Building the perfect custom dream home does take time. A strong real estate market means that it may take even longer to build your new home due to higher demand for desirable land and construction schedules that are filling up quickly.
If 2014 is the year you want to build and move into your Wayne home, we strongly encourage you to get started now. Visit one of our Model Home Centers today and move one step closer to your custom build home.
Wayne Homes is here to make your custom homebuilding experience the best it can be.  Get in touch by contacting Ask Julie by Live Chat or call us at (866) 253-6807.
About Wayne Homes
Wayne Homes is a custom home builder in Ohio, Pennsylvania, Indiana, Michigan, and West Virginia (see all Model Home Centers). We offer over 40 fully customizable floor plans and a team dedicated to providing the best experience in the home building industry. For more information, Ask Julie by Live Chat or call us at (866) 253-6807.