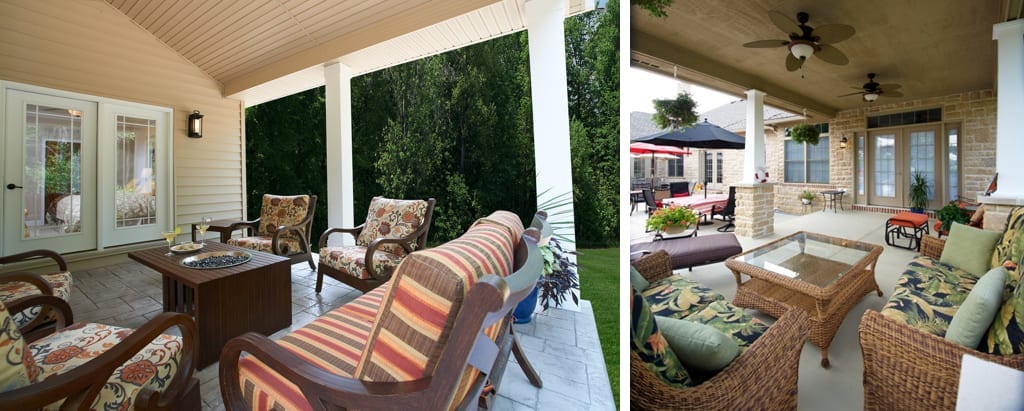 Craft the picture-perfect patio with these tips
Here at Wayne Homes, we like to think of your home as not just within the confines of four walls, but as including your outdoor living spaces, like the porch, patio, yard, and beyond. Many of our families love spending time outdoors, creating beautiful retreats that extend both the usage and the value of their homes. An outdoor space that feels like an extension of your home can bring a lot of enjoyment all season long, so we work with our families to ensure they're able to create both the indoor AND outdoor spaces that fit their needs perfectly.
Today we want to share some ideas for how to create a patio space that reflects your needs, style, and plans for usage, and how to make it functional for your family. Here are our favorite tips and tricks—and, be sure to check out our photo gallery of some Wayne Homes outdoor spaces to get your wheels turning!
Get your seating squared away
The essential to any functional patio is functional seating; you don't want your family and other guests milling around, unable to relax. The whole point of a comfortable patio is to have a place to put your feet up! Depending on the space, your seating will go a long way in defining the look and feel of your space. Small bistro chairs leave room for tables and other decor, while larger, plush couches with outdoor-friendly fabrics encourage lounging or even naps. One hanging piece, like a hanging lounge chair or swing, can add a vertical element as well as a whole new level of comfort.
Choose your lighting
Do you want to create a whimsical atmosphere? Tiny bead lights strung around the entire space could accomplish that. A more romantic space would benefit from hanging bulbs with a dimness adjuster for setting the mood. Lanterns, depending on the style you choose, could add a more traditional or tiki flavor, while spotlights and floor lighting creates a more dramatic air.
Settle on a dining option
The table or tables you choose, and how you arrange them, will create a specific feel to your space, so choose wisely. Small bistro tables are perfect for larger groups and entertaining. A big table or two is perfect for when you want to host a sizable group or want to encourage socialization among family and friends. You could create a bohemian vibe by using low-to-the-ground tables and chairs, encouraging guests to sit and stay a while. And the style you choose for all of these pieces – from rustic to clean and modern and everything in between – will set the mood.
Pick and place some plants
Yes, you're outside, so you're surrounded by plants and greenery, but think of your patio is like an extension of the inside of your home; there, you use greens and plants and flowers to bring life and add color, so you can do the same here, only your options are more varied. Big planters with blossoming flowers create a statement, while vines and creeping tendrils of tiny leaves create a relaxed, romantic feel. Mix and match to add visual engagement and to create even more texture, then use your lighting to highlight what you've created. A spotlight on a beautiful flowering set of vases is like a work of art.
Whatever look and feel you decide to create, we're here to make sure the space itself has the room and function you want, now and into the future. We can't wait to see what you'll build!
From small patio and porch nooks to massive sprawling spaces perfect for entertaining the entire neighborhood, if you can dream it, we can create it. Give us a call today to talk about your future patio!
About Wayne Homes
Wayne Homes is a custom homebuilder in Ohio, Pennsylvania, Indiana, Michigan, and West Virginia (see all Model Home Centers). We offer nearly 50 fully customizable floorplans and a team dedicated to providing the best experience in the home building industry. For more information, Ask Julie by Live Chat or call us at (866) 253-6807.