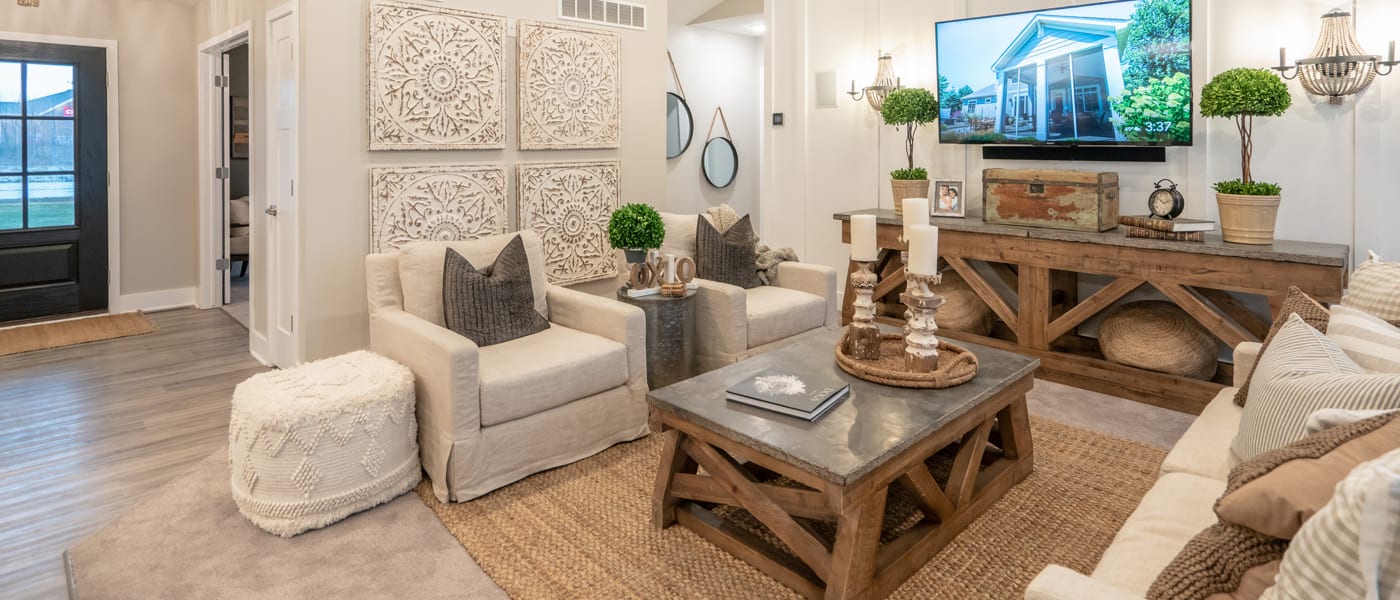 Creating Defined Spaces in an Open-Concept Floor Plan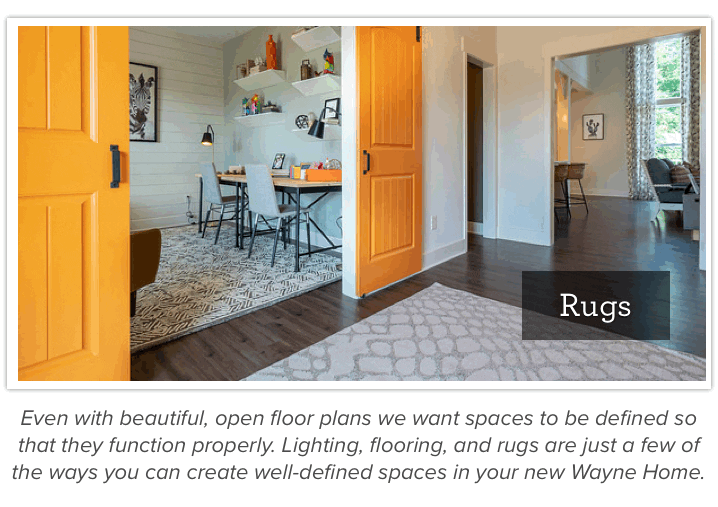 Open floor plans are popular for their ability to make your home feel spacious, promote togetherness and create communication, however, you also want spaces to be defined so your home functions properly. Here are a few tips and tricks from the design experts at Wayne Homes and Mandil, Inc.
Functional Flooring
Use an area rug to ground a seating arrangement. Even though it isn't a separate space, the rug will make the area feel like a destination. Consider the rug a raft that supports all the furniture in the seating area. According to Jennifer Pruett, Senior Interior Designer and Project Manager at Mandil, Inc., "A common mistake homeowners can make is buying a rug that is too small and only sits underneath the coffee table, leaving other pieces floating around it. The rug should connect everything in that space." You can also delineate different spaces in your open floor plan home by changing up the flooring materials you use or switching up the direction or pattern of the flooring. "For example, you could run wood plank flooring throughout the main spaces, then do a chevron wood floor of the same material in the adjacent study," Pruett adds.
Light the Way
You've heard it before, but lighting really is everything to a home. Having multiple layers of light helps to distinguish one area of the home from another in your open floor plan home. There are three main levels of lighting to consider, according to Pruett: "Ambient light, which is your recessed cans and anything that provides general illumination; task lighting which provides direct light for specific uses – these are also used to define space; and accent lighting, which can be anything from and art light to candlelight – these are used to create mood." Try adding a reading lamp in a cozy corner with two comfy chairs to create an inviting spot to chill.
Anchor the Room with an Island
The kitchen island is often the main hangout of the home. Not only does it create separation between the living area and the kitchen, it also provides a casual dining spot. Knowing how much time you'll spend at the kitchen island, consider your design choices with care. Pay attention to how far the lights over the island should be from you when sitting at the counter. Try going bold with your countertop and cabinet color choices for a more special look. "We often finish the island with a cabinet color and top that differ from the perimeter so that it feels more like furniture," Pruett says.
However you choose to separate your space, the design team at Wayne Homes is here to support you and illuminate the possibilities.
Ready to visualize your new space? Need help narrowing down floor plans? Contact us and we can help you customize your Wayne home exactly how you want it.
About Wayne Homes
Wayne Homes is a custom homebuilder in Ohio, Pennsylvania, Indiana, Michigan, and West Virginia (see all Model Home Centers). We offer nearly 50 fully customizable floor plans and a team dedicated to providing the best experience in the home building industry. For more information, Ask Julie by Live Chat or call us at (866) 253-6807.