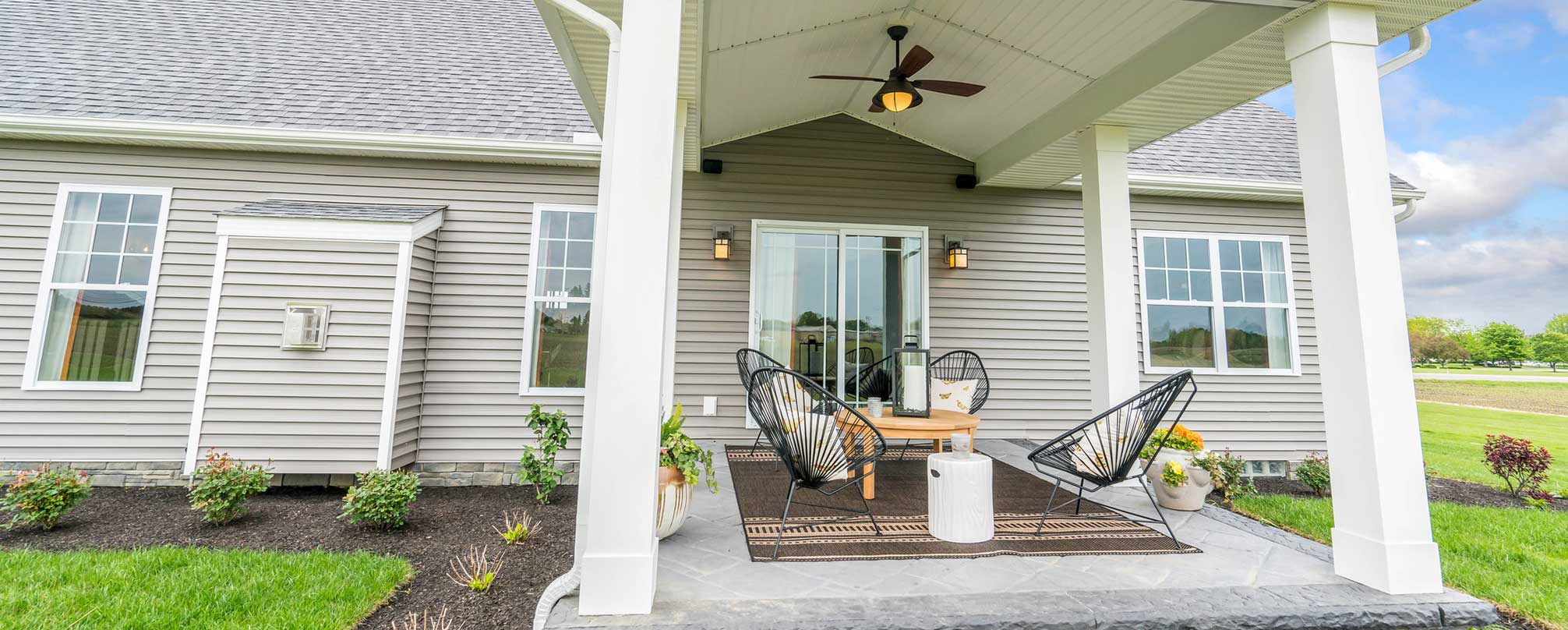 Creating the perfect patio retreat
Summertime is when lots of us start to think about planning trips and vacations, and getting away from the everyday hustle and bustle of our lives. The thing is, though, those trips only come around a few times a year, and sometimes you need a bit of a break in the meantime to reset and recharge.
One way to get into a vacation state of mind without leaving home is by retreating to your very own patio vacation. Now's the perfect time of year to imagine and then create a patio that feels like a getaway, so today we're sharing our top tips for how to do that in your own home. Be sure to check out our Flickr album for more visual inspiration!
Use decorative fencing, plants, and hedges to create your own private retreat. No only will you love the look of flowering blooms surrounding you, but you'll enjoy seclusion and privacy from your neighbors.
Play with shapes to create visual interest and distinct zones. Different geometric shapes and patterns for your patio flooring can go a long way in creating a space that is unique, interesting, and has specific zones for specific activities — a breakfast nook, a grilling station, and so on.
Use one primary style. Like inside the walls of your home, having a clear style vision brings the entire look and feel of a space together. Your patio is no exception. Whether you like modern, traditional, ornate or simplistic, choose a look and feel and stick to it.
Create comfort. A soft outdoor rug invites you to kick off your shoes and put your feet up. A hot tub is a relaxing evening respite. Well-cushioned outdoor furniture is ideal for taking a midday siesta. Don't neglect comfort for style!
Make it easy. Lots of steps, different levels, and narrow walkways might look neat, but they make your patio space less accessible. This is especially a consideration if you have elderly friends or family, who may not want to risk a fall on the flagstone.
Add in flair for a personal touch. Your home is a reflection of your personal style, and your patio should be too. An interesting fence or gate element adds artistic expression, lawn decor and outdoor art add personality. Keep your choices limited so as not to create overwhelming clutter.
Drown out distractions. If you can hear neighborhood or road noise from your patio, create a distraction by installing a fountain. It's soothing bubbles will help you ignore any noises coming in from the street or neighborhood.
You don't need to actually get away to experience a 'getaway' in your own home. Use these tips to create a welcoming space that provides a much needed break from the hustle of life!
There's never been a better time to start planning your dream home, and we want to help. Get in touch with our team today!
About Wayne Homes
Wayne Homes is a custom homebuilder in Ohio, Pennsylvania, Indiana, Michigan, and West Virginia (see all Model Home Centers). We offer more than 40 fully customizable floorplans and a team dedicated to providing the best experience in the home building industry. For more information, Ask Julie by Live Chat or call us at (866) 253-6807.