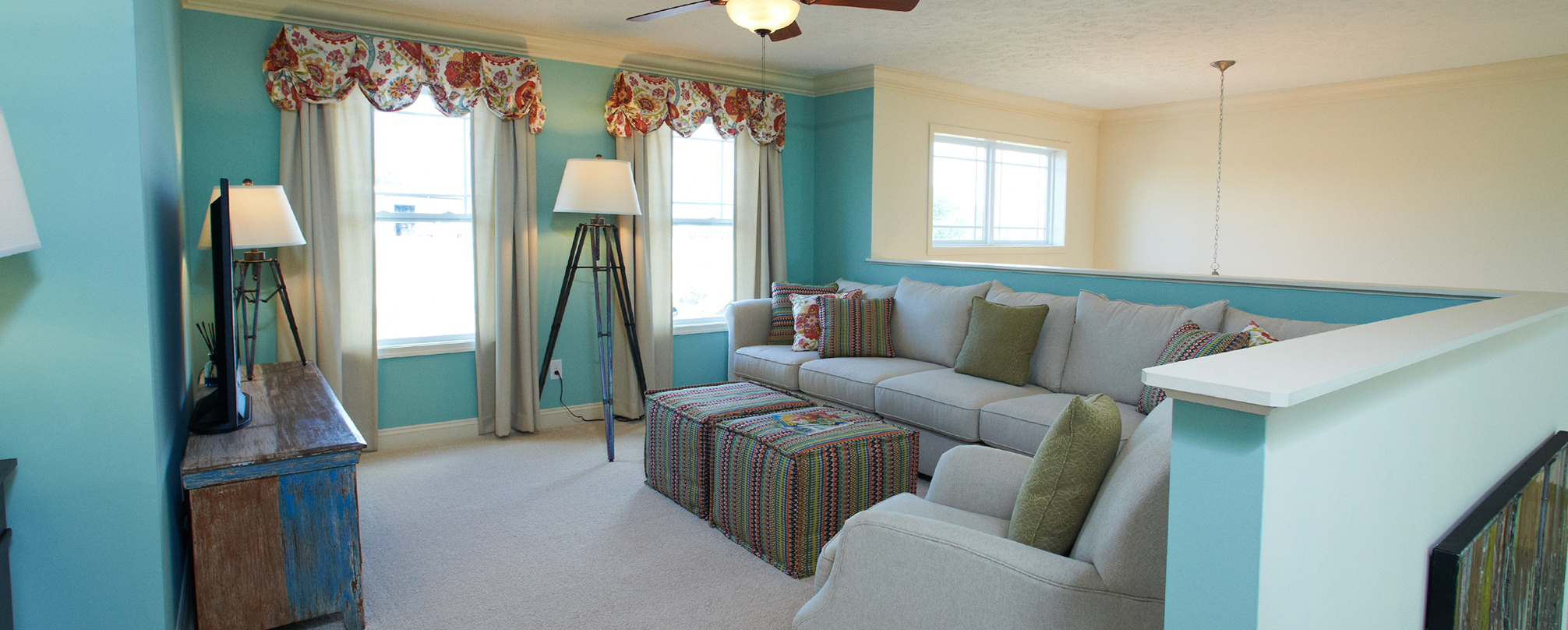 Creating your perfect loft
Lofts are a unique space that add a whole other level and dimension to a home. They're also incredibly adaptable and flexible spaces that can be ideal for a whole host of possibilities, depending on what your family's needs and wants are. Let's take a look at some creative ideas for how to use a loft space, as well as some Wayne Homes floorplans that are perfect for a loft space!
Extra family space: If you have a large family, and kids of differing ages with differing needs, a loft space can be the perfect extra family area. Your main family room might be great for general usage, but a loft family space can serve as an extra area for older kids to get some downtime privacy, for brothers to catch up on their favorite sports, or for the video game fanatic in your family to reach that next level!
Reading nook: Love curling up with a good book and your favorite hot beverage? A loft gives the airy, open-feeling space to do just that. Lots of pillows and textured blankets make the space cozy and comfortable — all you need to add is your favorite cushy chair!
Office space: If you need to get away to take care of some work or household bills, a loft office space can provide the ideal spot. Outfit it with a seating area and a desk space for unstoppable productivity when you need it!
Playroom: Being able to keep toys and playthings confined to a specific location can go a long way in keeping house clutter to a minimum. Utilize your loft as a play space for the young children in your family to keep their toys and activities in a dedicated space and away from the more general use family spaces. The kids will love it and so will you, when you're not tripping over toys lying everywhere!
Game room: Got some older kids who have packed up their toys but still love games? A loft can serve as a fun space for games like foosball or as an entertainment center for TV-based activities. You could even add a mini fridge and bartop area for quick snacks and drinks mid-tournament!
The loft space in the Charleston is set right off the master bedroom, making it potentially perfect as an adult working area or library/reading nook.
The massive dual loft in the Covington, set right off the two secondary bedrooms, would be great for a gaming and playspace for the kids.
Because there's only one (albeit large) main living space downstairs, the loft in the Annapolis is perfect as a secondary family room for more casual relaxing.
The loft in the spacious and family-oriented Columbia is set aside to afford privacy; what better spot for a home office?
The positively massive loft in the classic Hampton is great for a large family looking for a more comfortable spot to sprawl out and relax — together.
Whether you knew you wanted a loft from day one or are just now considering the possibility, we can help you plan our your perfect home; get in touch today!
About Wayne Homes
Wayne Homes is a custom homebuilder in Ohio, Pennsylvania, Indiana, Michigan, and West Virginia (see all Model Home Centers). We offer more than 40 fully customizable floorplans and a team dedicated to providing the best experience in the home building industry. For more information, Ask Julie by Live Chat or call us at (866) 253-6807.