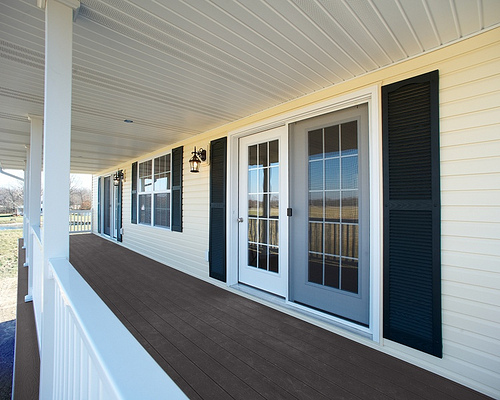 5 Questions to Ask About Builder Quality Before You Build
How do you measure custom home builder quality before you sign the contract to build your new home?
For many families, it's one of the most important questions to ask when choosing a home builder. But how can you feel confident before construction has even begun that you've made the right choice?
Here are five questions to ask when you are choosing a custom home builder to build your family's dream home:
"Are They Experienced?"
Builder experience is typically measured two ways: how long a builder has been in business and how many homes they build per year. The longer a home builder has been in business the more information you have about the quality of construction over time. A high volume builder can be an indication that a builder has a process for consistently replicating that quality for every home they build.
At Wayne Homes, we've been building quality homes for 40 years. We build more than 400 homes per year in Ohio, Michigan, Indiana, Pennsylvania and West Virginia. We are the only home builder in Ohio to have won the National Housing Quality Silver Award twice. Read about the National Housing Quality Award >
"Would Past Customers Recommend Them?"
Ask any customer of a custom home builder if they are happy with their home a week after they move in and it's likely that many will say yes. Ask a customer how they feel about their home five, ten, or even twenty years later and you'll discover a lot about builder quality.
At Wayne Homes, we're proud to say that 9 out of 10 customers would refer us to a family member or friend. You can watch video testimonials on Youtube, ask a Wayne Homes customer a question on our Facebook page, or read about the experience of building with Wayne Homes from one our Raving Fans.  Read a recent testimonial >
"Do They Stand Behind The Homes That They Build?"
When you are choosing a custom home builder to build your dream home, ask about their warranty. How comprehensive is it? If you have a problem after you move in, how easy is it to contact a company representative? How responsive is your builder in resolving issues?
At Wayne Homes, we offer a two year warranty (one of the best in the industry) with a customer service team that is dedicated to making sure you love your home today, tomorrow, and for many years to come. Read about the Wayne Homes warranty >
"Is Their Pricing and Process Transparent?"
When you design a custom home for your family you can build your home any way you want. But what will it cost? How will you feel confident that your home will be built exactly as you envision it, and delivered on budget and on schedule?
When you build with Wayne Homes you will know exactly what to expect before you begin and at each stage of the process from contract to close. View floor plans and pricing >
"Can I See Examples of Their Construction Quality?"
What's really going on under the drywall of your new home? Often builder quality is not defined by what you see once a home is completed but by all of the decisions that are made during the construction process.
At Wayne Homes, you can visit any one of our Open House events before you sign a contract to find out more about how the materials we use can help you enjoy your home longer. See upcoming Open House events >
Have a few additional questions to ask before choosing your custom home builder? Simply Ask Julie by Live Chat or visit one of our Model Home Centers to speak with a New Home Consultant.
About Wayne Homes
Wayne Homes is a custom home builder in Ohio, Pennsylvania, Indiana, Michigan, and West Virginia (see all Model Home Centers). We offer more than 40 fully customizable floor plans and a team dedicated to providing the best experience in the home building industry. For more information, Ask Julie by Live Chat or call us at (866) 253-6807.