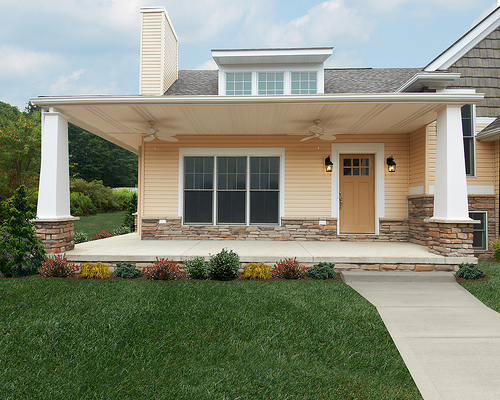 Simple Tips for Financing Your Custom Home
Do you dream of building a custom home, any way you want, but think the process of financing a custom home is too complicated? At Wayne Homes, we believe that every step of building a custom home should be easy, affordable, and fun –  even financing.
In fact, through our preferred lender Home Savings, we've helped thousands of families build and finance the home of their dreams.
If you're thinking about building a custom home in 2014, here are a few tips to make financing your dream home hassle-free:
1. Take a Breath
Read or watch any news outlet and you're likely to hear that rates are expected to rise in 2014. However, each family must consider their own personal economy regardless of whether interest rates are trending up or down. Do rising interest rates mean that buying now makes sense for you? A Mortgage Lending Specialist can help you cut through the noise and determine what rising rates really mean for you.
2. Get the Facts
If you've never owned or built a custom home before, you're likely to gets lots of advice from well-meaning friends and family. This may include information about what type of loan is best, how much you'll need to invest for a down payment, and what kind of credit score you need to qualify. But just like designing a custom home, financing one is different for everyone. Meet with a Mortgage Lending Specialist to find out what's right for your budget. Schedule an appointment >
3. Pay it Down
Is your credit card bill giving you the post-holiday blues? Reducing your debt is a smart move if buying a home is on your list for the new year. Lenders will look at your debt-to-income ratio for qualification purposes, but a lower debt-to-income ratio can give you more peace of mind as a homeowner as well. Talk to your Mortgage Lending Specialist about how your current debt impacts your ability to build the home of your dreams.
4. Talk to an Expert
How much will your custom home cost? That will depend on the floor plan you choose, where you build, and how you customize your home. When you visit any Wayne Homes Model Home Center and meet with a New Home Consultant, we can work with you to create a Personal Value List. Our Personal Value List is your guide to choosing and customizing a home based on what matters most to you.
Completing a Personal Value List with a New Home Consultant will give you a better understanding of how much your completed custom home will cost.
5. Take Action
Once you've gathered the facts and talked to the experts, it's time to take action.  As more and more buyers are building a first home (or selling their existing home to move up), demand for custom homes is at the highest level in years. This means that building a custom home can take six months or more, especially if you do not yet own land. If this is the right time to build your dream home, now is the time to begin the process to take advantage of current interest rates.
Not sure how to begin? We can help. Simply Ask Julie by Live Chat to find out how to speak with a Mortgage Lending Specialist to get started.
About Wayne Homes
Wayne Homes is a custom home builder in Ohio, Pennsylvania, Indiana, Michigan, and West Virginia (see all Model Home Centers). We offer over 40 fully customizable floor plans and a team dedicated to providing the best experience in the home building industry. For more information, Ask Julie by Live Chat or call us at (866) 253-6807.