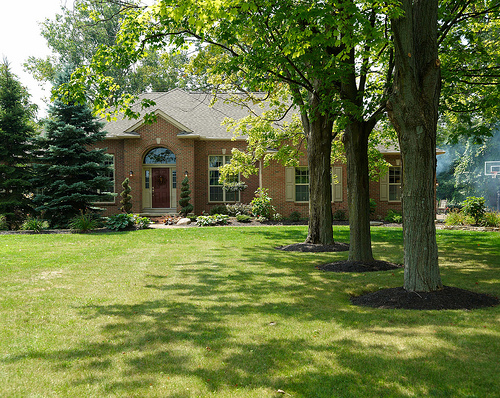 Custom Home Design Ideas for Retirees
Ah, your retirement years. The hard-earned and well-deserved time of your life when you can spend more time doing, well, pretty much anything you want. But if your bucket list doesn't include mowing lawns or cleaning house, you might be thinking that it's time to downsize from your existing home to one that gives you more time to explore new adventures.
Your timing might be just right.
The real estate market is up and that means that more and more active retirees are trading in their large yards and lawn mowers for new homes that allow more time for visiting family, golf, volunteering, or traveling the world.
At Wayne Homes, we think you've earned the right to have a home that is built any way you want. Have you always wanted a room large enough for a pool table? Done. What about a craft room or an entire room to showcase your collection of memorabilia? No problem.
At Wayne Homes we can build the home you've always wanted. After all, haven't you earned it? Here are just a few design ideas to inspire a home that makes your retirement years more carefree:
Single Level Living
You've probably already considered building a single level home for the added convenience and easy maintenance. But did you know that Wayne Homes offers 15 different ranch style floor plans that range from 1,119 to 2,386 square feet? Each and every one can be redesigned just the way you want it.
Little Ones… Again
If your family's idea of "active retiree" means "available babysitter" then you're going to need some space. Floor plans with open kitchens and Great Rooms make it easy to keep an eye on little ones as they wander. Finished basements and bonus rooms provide space for watching movies together, playing games, or creating large play areas that give little ones enough room to run around on snow days. From actively curious toddlers to independent teens, design a home to create the memories that your grandkids will cherish for a lifetime.
Try our interactive floor plans >
Dining Areas (Big and Small)
When it comes to cooking dinner, some nights it might just be the two of you and other nights it could be a large family gathering. Design a kitchen with a casual eating area such as an island with eat ledge, breakfast room, or sun room for quieter evenings, and add a larger dining area when it's time to host the whole crew.
View 80+ kitchen customization ideas >
Find out more about how we make it easy to build the perfect home for your lifestyle. Visit one of our Model Home Centers or Ask Julie by Live Chat.
About Wayne Homes
Wayne Homes is a custom home builder in Ohio, Pennsylvania, Indiana, Michigan, and West Virginia (see all Model Home Centers). We offer more than 40 fully customizable floor plans and a team dedicated to providing the best experience in the home building industry. For more information, Ask Julie by Live Chat or call us at (866) 253-6807.