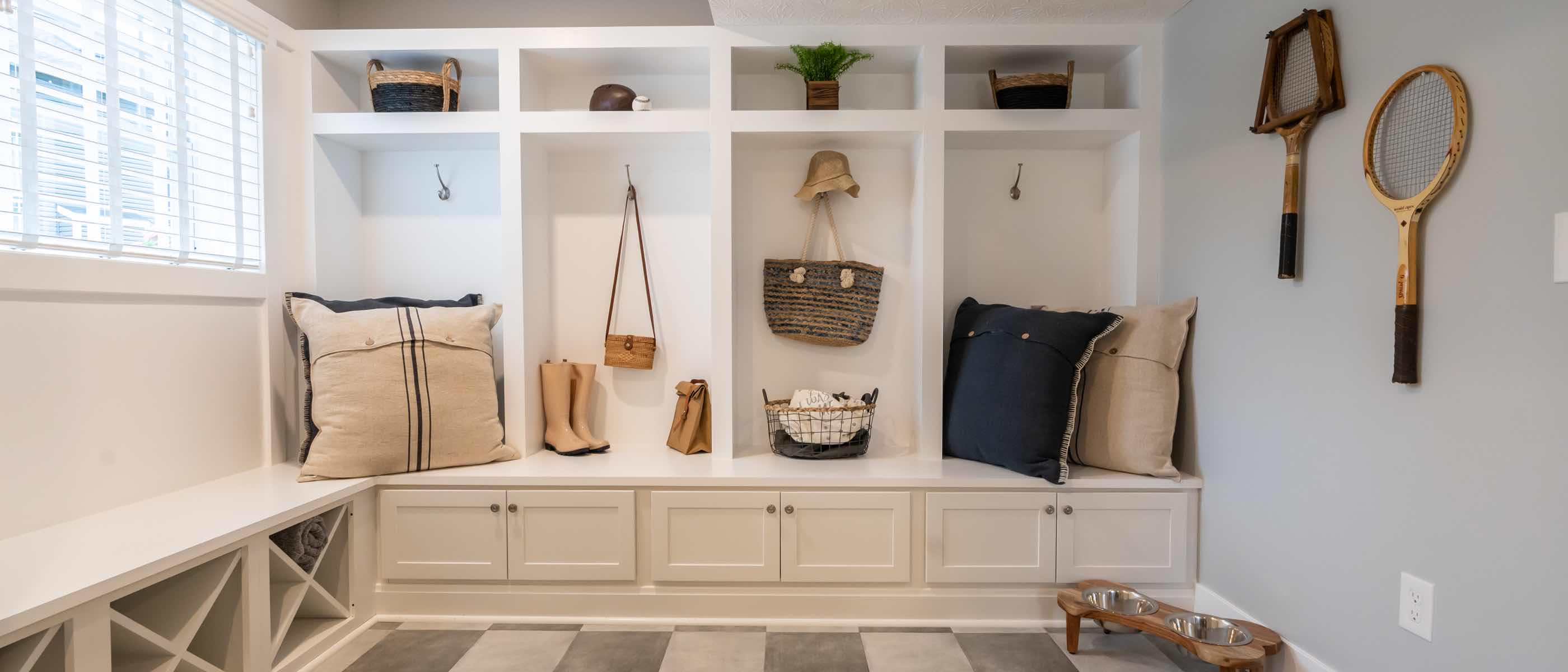 Designing the Perfect Mudroom
The perfect mudroom is at the top of many homebuyers' wish lists.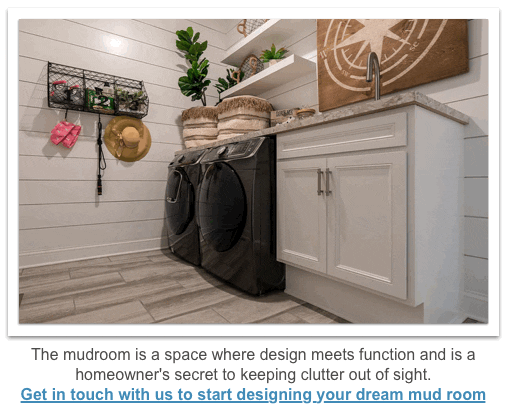 A mudroom is a homeowner's secret to keeping clutter safely stored away and out of sight, so you can enjoy the beauty of an organized home. Typically located close to the garage, the mudroom can be outfitted with cubbies, lockers, hooks, laundry storage, mail organizers and more to create a place for literally everything. For example, the Princeton II mudroom is huge and doubles as a laundry room, craft room, or whatever else you would like it to be!
Ideally, your mudroom should be a drop zone for each family member to put their shoes, jackets, and backpacks. And for your furry family members to have a comfy bed or store their treats and toys. Fortunately, creating a great mudroom doesn't require a lot of effort and is easier than ever with Wayne Homes.
Tips for Designing the Perfect Mudroom
Although the mudroom is arguably one of the most high-traffic rooms, it really is a space to design with you and your family in mind, since few guests will ever set foot in it. Here are a few ideas on how to organize your mudroom, so it looks great and functions exactly how you need it to. Cabinets, lockers or cubbies are a great way to provide storage space, but that's just the start. Be sure to check out our Flickr Gallery to get your creativity flowing.
Room Size Matters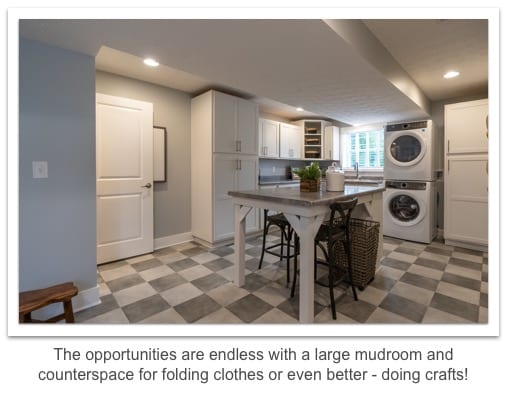 While it doesn't need to be huge, your mudroom does need to have adequate space. Stop and think about how you'll use the space. You'll need space to drop several grocery bags. Perhaps you have a few kids in tow. Or pets. The ideal mudroom should be able to allow at least 2 people to pass with ease. Plus the room needs to be large enough to accommodate vertical and horizontal storage space. Maybe even a place to sit. Explore our fully customizable floorplans here to determine a layout that will work best for you. Our Princeton II, Cedar Hill, and Providence II floor plans all feature generous-sized mudrooms.
Countertop Space With Electrical Outlets
Your mudroom should have some countertop space to store your mail or set your keys or coffee cup down as you enter or exit the door. If staying powered up is important to your family, it should have plenty of electrical outlets or a power strip so you can create a convenient charging station for your phone or iPad so they are ready to go when you are—and best of all, it's within arm's reach.
Coat Hooks or Closets
When it's cold or rainy, the mudroom is the perfect area to keep your coats in one convenient place. Instead of bringing in soggy, wet jackets, hang them on the coat hooks, or perhaps in a closet if you want to keep them out of sight. Installing a few hooks will help to keep book bags, purses, and keys more organized and off the ground. The Cedar Hill floor plan's large mudroom has plenty of space to add a bench and hooks for everyone's shoes and coats.
Half Bath or Sink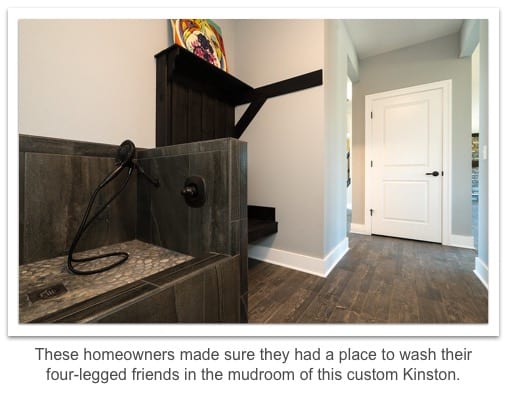 Let's face it. Sometimes we enter the house filthy. Don't track mud and grime into the rest of your home. Rinse off in the half bath adjacent to the mudroom. Or if there is no room for a small bathroom, you can always install an oversized sink to rinse off dirty boots, muddy paws, or whatever else life throws at you. Our Covington floor plan features a convenient powder room just off of the mudroom.
Sitting Space
Sitting space may sound like a luxury, but it's quite the necessity in a mudroom. Something as simple as a chair makes all the difference in the world, especially if you're trying to put on or take off winter boots, or need a place to set something down while you get ready to get out the door. A mudroom bench with cubby space is doubly functional, and the perfect solution if space is limited in your mudroom.
Mirror Mirror on the Wall
Because the mudroom is often a dressing room of sorts, with family members shedding and adding layers of clothes, why not give them the chance to glance in the mirror to make sure they're looking their best. Plus, with their reflective qualities, mirrors are a great way to lighten up a dark room.
Durable Flooring
We can't stress how much your flooring in the mudroom takes a beating, and we encourage you to choose something that can hold up to high traffic while being easy to clean. Tile and linoleum are often top picks. If tile sounds like the most appealing option to you, avoid accidents by making sure you choose no-slip tile.
Just adding a few of these suggestions to your current mudroom can really enhance its aesthetics and functionality. But when you're ready for Wayne Homes to build something for you, we'll be happy to discuss all the possible custom home features available for your perfect mudroom.
Stop by one of our Model Home Centers in your area to learn more about how we can bring your dream home from concept to reality.
---
About Wayne Homes
Wayne Homes is a custom homebuilder in Ohio, Pennsylvania, Michigan, and West Virginia (see all Model Home Centers). We offer over 50 fully customizable floor plans and a team dedicated to providing the best experience in the home building industry. For more information, Ask Julie by Live Chat or call us at (866) 253-6807.