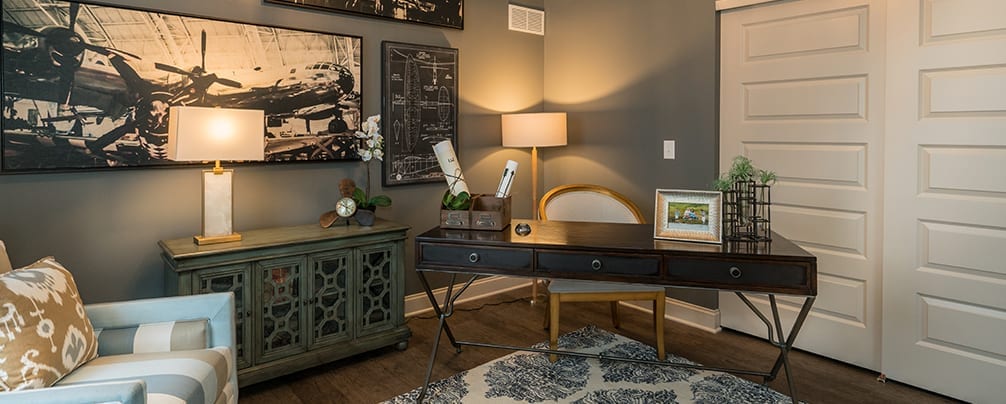 Enjoy an adaptable home with a flexible home office space
One of the things our homebuyers love most about the customized floorplans Wayne offers is the fact that so many of them have flexible spaces that can be adapted to your family's specific needs.
Those needs can change over time, based on the size of your family, your career path, and lots of other variables. A space that was once the perfect spot for a family play room or den can be adapted in later years to serve as an at-home office, or vice versa.
Having a dedicated home office can be useful for a whole host of reasons. If you have a job that affords you the ability to work from home, either part of the time or even all of the time, a space solely for working creates a better work/life balance. Perhaps you feel more productive, and less distracted, sorting through bills and the paperwork of everyday life when you have an office space to organize everything in.
Luckily, several of our floorplans are absolutely ideal for providing a home office space, whatever your specific need may be!
Stafford– The popular 3-bedroom, 2-bathroom Stafford is all about maximizing the use of space. Adapt one of the bedrooms as a private office space without sacrificing the other spacious bedrooms or the generous master suite.
Litchfield – Located directly off the foyer, the dedicated office space in this 3-bedroom, 2.5-bathroom home is tucked away in a nook of its own, with a bright and open view of the front yard.
Montgomery – With a generous amount of space (more than 2,000 square feet!), the Montgomery provides 3 bedrooms, 2 bathrooms, and a flexible office space, also located off the foyer like in the Litchfield model, ensuring everyone has the space they need to enjoy some privacy!
Wilmington – At more than 2,600 square feet, the four bedrooms in this model are all upstairs, providing a nice separation from the roomy front-of-home office space, located directly off the foyer and just steps away from the downstairs bathroom.
Brentwood – Enjoy a smartly placed downstairs master suite in this 2,000 square foot, 4-bedroom home, one that's just a hop, skip, and jump away from the cozy office space next to the foyer.
Vicksburg– Everything is right where it should be with a den conveniently located right off the foyer. With 4-bedrooms, 2-bathrooms you don't have to compromise space.
Even if your family's needs don't include an office space, it's never a bad idea to have a flexible space for a wide variety of uses. Needs change, so if you expect you might need an office space in the future, consider one of these ideal floorplans to ensure your home fits your needs for a long time to come!
Whether your family's needs include a home office, a flexible play space, a den, or a combination of all of the above, we're here to make sure you find a floorplan that works best for you!
About Wayne Homes
Wayne Homes is a custom homebuilder in Ohio, Pennsylvania, Indiana, Michigan, and West Virginia (see all Model Home Centers). We offer more than 40 fully customizable floorplans and a team dedicated to providing the best experience in the home building industry. For more information, Ask Julie by Live Chat or call us at (866) 253-6807.