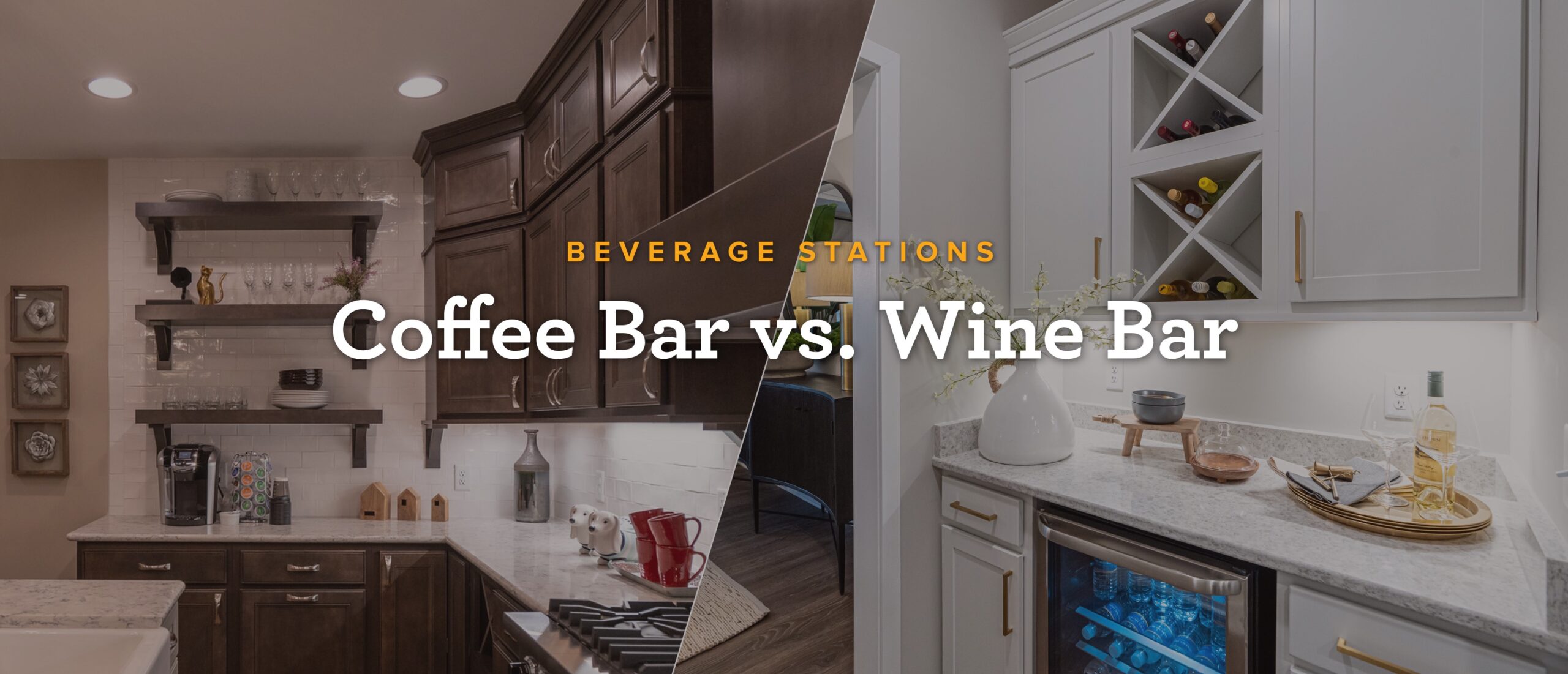 Feature Face-Off: Coffee Bar vs. Wine Bar
Rising Home Trend: Beverage Stations
Everybody has a favorite beverage. Whether it's an iced latte with your signature blend of flavorings or a vintage cabernet, there is no doubt that having a beverage station in your home is an everyday luxury that everyone can enjoy.
The National Kitchen & Bath Association asked hundreds of industry experts to weigh in on what's trending. In their recently released survey, they revealed that one of the microtrends on the rise is having a beverage station in your home. Beverage stations include coffee cabinets, smoothie centers, and wine bars.
Sixty percent of National Kitchen & Bath Association respondents anticipate adding a coffee or wine bar into their design layouts.
The beauty of this trend is that it can be quite simple, with just a little alcove dedicated to your choice of hydration, or it can be built out to include a mini fridge, sink, and other features.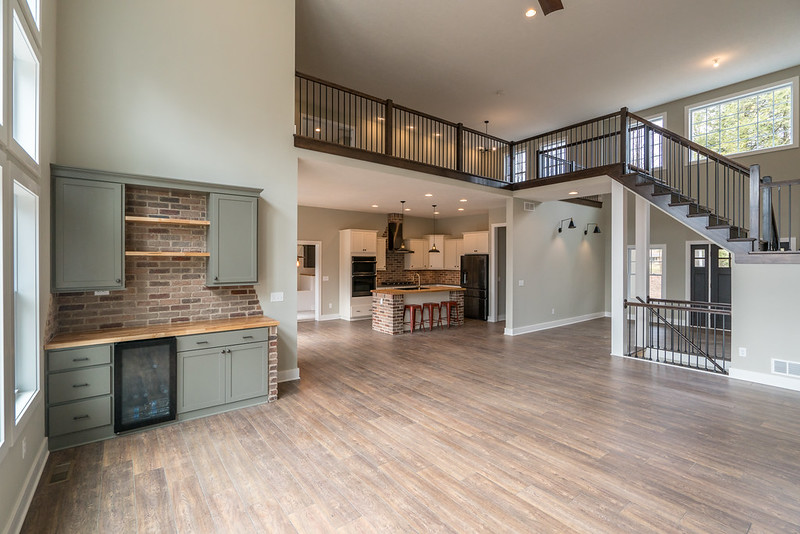 Since so many people love coffee and/or wine, they dream of having an area in their home dedicated to their love of coffee or wine. It can be a place to organize things like coffee mugs, a coffee pot, flavorings, grinders, and spoons for a coffee station. Or, for a wine bar, you can store wine glasses, corks, wine bottles, decanters, openers, and wine charms.
Beverage stations can also work well for gatherings to allow everything to be laid out and convenient for guests. Sometimes a sink is added for quick cleanup or a handy wine fridge for chilled bottles.
There are many variations of this trend–sometimes just a nook in the kitchen or dining room–or it can be a designated space with built-in wine racks, open wall shelving…the sky is the limit!
The Kizer family, who built a Westport Classic, had a coffee bar installed. We love how this coffee station creates a handy spot to not only make the coffee creation of your dreams, but also provides a stylish focal point for the home.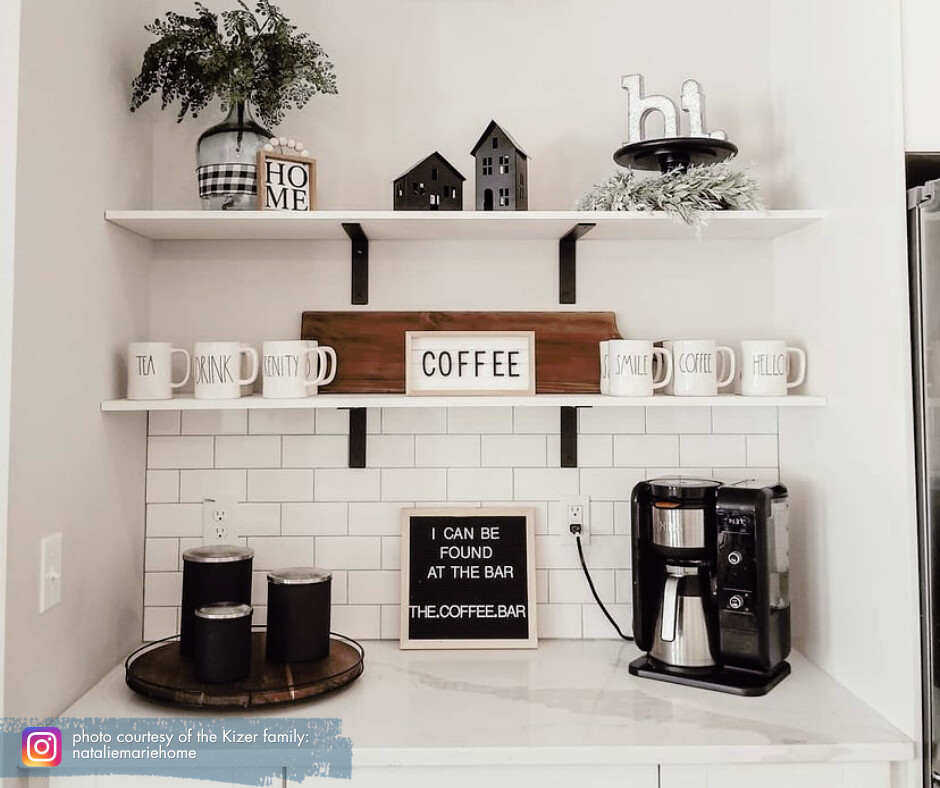 The Winchester II Craftsman model home at the Portage model home center features a wine bar located in the butler's pantry. This is such a classy addition to a home, creating a beautiful area to grab a drink and mingle before dinner.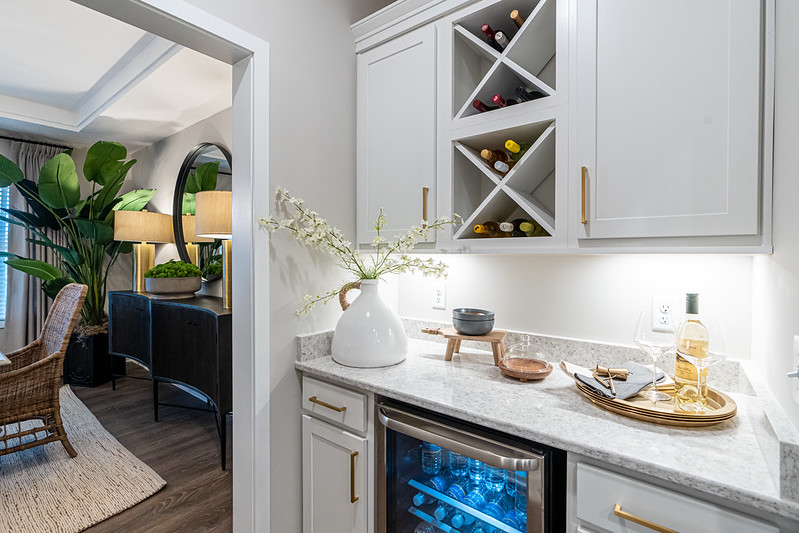 If you want more inspiration, check out our image gallery that shows many variations of coffee and wine bars Wayne homeowners have incorporated into their homes, as well as areas from our model homes.
When building a new home with Wayne, it's easy to incorporate a designated space into the layout of your home and to make it look exactly like you want.
Once you know what you want–a coffee or wine bar (or both!)–then you can work it into your home design. That includes planning for the needed outlets, creating space for a wine fridge, adding plumbing and a sink, etc.
When you plan ahead for special features that are added during the construction phase, you can save a lot of money. Adding in a coffee or wine bar after you've built can easily cost double. Maximize your savings and work with Wayne to build the home of your dreams!
Contact us today and we can show you the possibilities!
---
About Wayne Homes
Wayne Homes is a custom homebuilder in Ohio, Pennsylvania, Michigan, and West Virginia (see all Model Home Centers). We offer more than 50 fully customizable floorplans and a team dedicated to providing the best experience in the home building industry. For more information, Ask Julie by Live Chat or call us at (866) 253-6807.
Disclaimer: The details of this blog are accurate as of the publish date, but are subject to change.