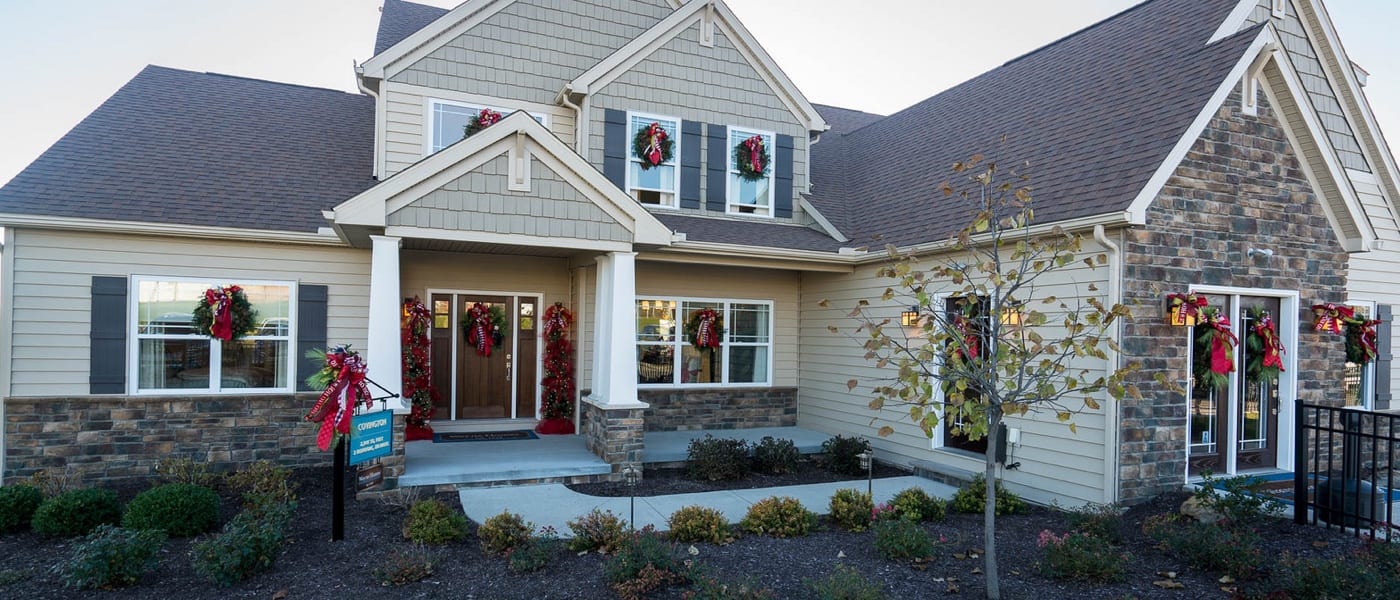 Holiday front door decor ideas and inspiration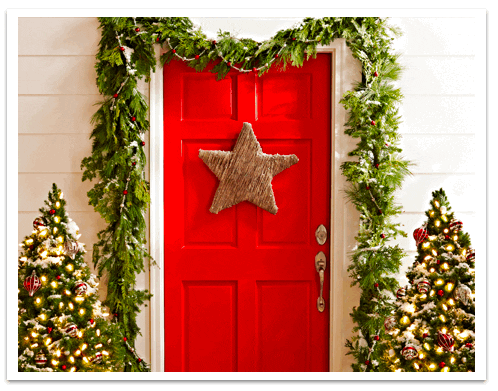 The holidays are just around the corner — they came up on us pretty fast this year, didn't they? November is here, and the rush of holidays will be at our doorstep before we know it… so what better activity to prepare for them than to prepare a stunning doorstep itself?
We're talking about your front door decor, and today we're sharing tips and ideas for making it shine this holiday season. Your front door is your face to the neighborhood and world, so why not help it reflect a happy, cozy, in-the-spirit home? Read on for ideas that'll bring the cheer this holiday season!
A classic wreath
You really can't go wrong with a beautiful classic wreath on your door to welcome family and friends for holiday celebrations. The best part? You can customize it to fit your personal style and aesthetic. Go crazy and colorful with a wreath of holiday ornaments, keep it simple with some sprigs of holly among spruce branches… anything goes!
Lights, lights, and more lights
Get the lights ready and frame your entryway with them for an ultra welcoming (and particularly safe, visible) front door. Pick tiny white lights for a classic, traditional look. Go retro with oversized colorful bulbs. Or combine looks for a style all your own!
Ring the bells
Create some holiday cheer before folks even walk in your home by hanging some cheerful bells on your door. Their jangling will signal the arrival of guests, a happy occasion to celebrate, and with their bright colors and shiny surfaces, they'll catch the light and create a magical look.
Bring the inside, out
So you have a Christmas tree or cornucopia inside your house, right? Why not bring it outside? Mini trees, decorated with lights, create a stately entry. Pumpkins, gourds, and corn stalks evoke feelings of harvest and are perfect for a welcoming Thanksgiving-themed entry.
Safety first
Whatever you decide to do, consider adding some extra lighting to mark your guests' path to your home. A string of solar lights along your walkway to the door is not only welcoming, but they also provide a safe and clear path, especially when the nights are long and there are ice and snow to keep an eye out for.
We love seeing the incredible front doors our customers create each holiday season. Check out our Pinterest pages for more inspiration, including the perfect fall front door; winter door decor; holiday entertaining looks; theming your holiday party, and DIY holiday craft ideas.
Start planning your future home and enjoy the holidays there in 2019; get in touch today to kick off the conversation.
About Wayne Homes
Wayne Homes is a custom homebuilder in Ohio, Pennsylvania, Indiana, Michigan, and West Virginia (see all Model Home Centers). We offer nearly 50 fully customizable floor plans and a team dedicated to providing the best experience in the home building industry. For more information, Ask Julie by Live Chat or call us at (866) 253-6807.