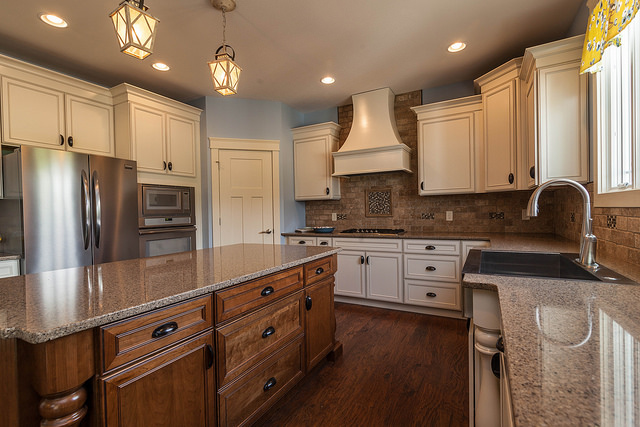 Home Design Trends: Kitchen Cabinets
While some things about home design stay pretty consistent year over year – and even decade over decade – there's plenty of room for customization, and incorporation of the latest trends, when it comes to building your home with the Wayne Homes team.
Today, we're taking a look at trends in the kitchen and, in particular, cabinet design trends. A cabinet is a cabinet, you say? Not so! Cabinets are often the focal point of a kitchen, take up a considerable amount of space, and as such, there are lots of options for choosing a style that suits you. Here are some trends we've noticed in this field, and a Pinterest board for further inspiration!
Flat panel cabinets
Looking for something elegant, yet modern? Flat panel cabinets are favored by those who really love a sleek, contemporary look and clean, simple lines. Unlike more ornate raised cabinet panel doors, flat panels are – predictably! – flat and unadorned. They create a clean, modern look that is perfect for those with a simple aesthetic.
Shaker cabinets
Shaker cabinets are one of the most popular, thanks to their versatile look. It's a five piece door with a recessed center panel, and provides a simple, unpretentious backdrop for your kitchen. It can be dressed up or made more exciting with color, and looks equally comfortable in a country style kitchen as in a more contemporary one. You can't go wrong!
Recessed panel cabinets
Looking for a more traditional, warm look for your kitchen cabinets? A recessed panel cabinet may be right up your alley. Many such cabinets have a design feature outlining the panel, which opens the door to a lot of customization. You can keep it simple with a plain rounded edge, or go more ornate. They're highly customizable, but for the most part, create a more traditional look.
Raised panel cabinets
In this unique look, the raised panel at the center of your cabinet door add an extra element and dimension to the design. The panel floats at the center of the door "frame," and adds character and depth. This is another more traditional style of cabinet, that also allows for a great deal of customization.
Additional trends in kitchen design
While the four options discussed above are a good starting point, it's good to remember they are just that – a starting point! Additional trends in cabinet design include glass front doors, which add an element of modern whimsy to your kitchen; a beaded inset to add an additional element of craftsmanship; and open cabinets, where your cabinets are merely shelves, for a more industrial look.
Whatever your style, we have a cabinet that will work perfectly with your vision. And if you don't know what your style is, we have plenty of experience helping homebuilders discover precisely what fits them! Call us today to talk about how to create a unique kitchen style all your own.
About Wayne Homes
Wayne Homes is a custom homebuilder in Ohio, Pennsylvania, Indiana, Michigan, and West Virginia (see all Model Home Centers). We offer more than 40 fully customizable floorplans and a team dedicated to providing the best experience in the home building industry. For more information, Ask Julie by Live Chat or call us at (866) 253-6807.