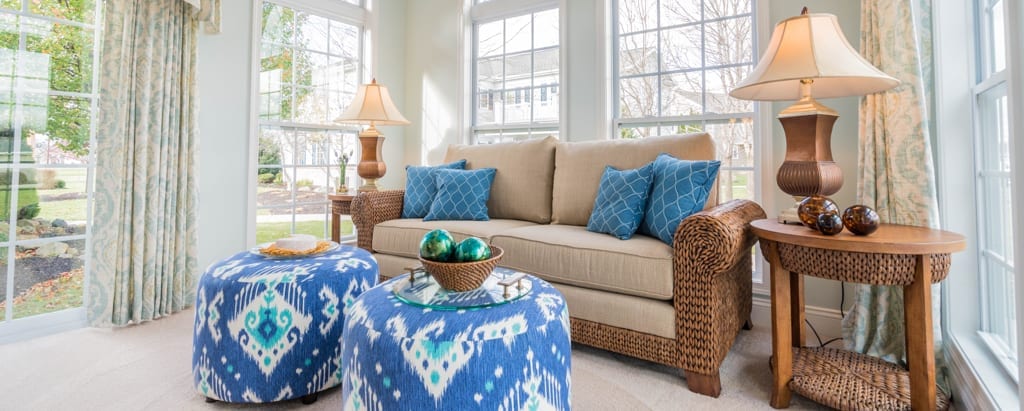 How to create the picture-perfect sunroom
What do you think of when you hear the word "sunroom"? For some, it sparks images of a sun-filled breakfast nook, perfect for a casual meal with family or a brunch with your closest friends and neighbors. For others, it might mean a cozy reading nook, where you can curl up with a book, a cup of tea, and let the day's natural light fill up the space. Others might envision a bright and airy kids playroom, or maybe a space for crafts and art activities.
The great thing about a sunroom in your home is that the possibilities are virtually endless; you can use the space for just about anything, and change its usage as the needs of your family flex and change. Here are some ideas on how to plan out your future sunroom!
The perfect entertaining space—Fill your sunroom with beautiful, comfortable furniture, welcoming pillows and blankets, convenient side tables for drinks, and voila, you have a lovely place to entertain a few friends and neighbors. They'll love relaxing in such a bright, warm space, and you can use it year round, whether you're watching flowers bloom or the snowfall.
A bright and sunny craft room—Do you love creating your own art or building DIY crafts in your spare time? Your sunroom is the perfect place for it because the light streaming in will make it easier to see and focus on what you're creating. Colors will shine vibrantly and you won't need to crouch under a lamp light to see what you're doing. Check out our Alexandria model for some visual inspiration!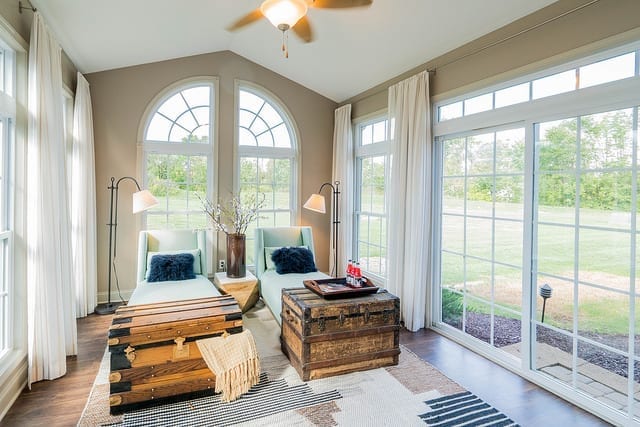 A lovely reading nook—If the idea of a staycation, curled up in your favorite chair with an engrossing book, strikes your fancy, turn your vibrant sunroom into a calm and relaxing retreat full of sunshine, perfect for illuminating the pages of your current read. You don't need a lot of space to make this work, but the warmth and comfort you create with such a space will emanate throughout your entire home.
An extra kids playroom—If you're like most parents, you probably have toys floating around your home in every nook and cranny and on every surface, so an extra space to keep toys organized might be right up your alley. Devote your sunroom to the kids with a sunny play space, where they can get some sunshine while also keeping their toys a little more organized… or at least in one room!
An inspired greenery—What fits better in a sunroom than a whole bunch of plants? If you have a green thumb but prefer to do your gardening indoors, use your sunroom to grow and nurture a whole mess of plants, flowers, and other beautiful greenery. They'll thrive in the warmth and brightness of the room and you'll have a nature-inspired retreat to enjoy solo or with guests.
Whether you want a sunny reading nook, an extra play space, or a beautiful bright area to entertain guests, your sunroom is yours to personalize, and we're here to make sure the vision you have in mind becomes a perfect reality!
We're here to make all your home your dreams, sunroom and all, come true; get in touch today to talk about all the possibilities!
About Wayne Homes
Wayne Homes is a custom homebuilder in Ohio, Pennsylvania, Indiana, Michigan, and West Virginia (see all Model Home Centers). We offer nearly 50 fully customizable floorplans and a team dedicated to providing the best experience in the home building industry. For more information, Ask Julie by Live Chat or call us at (866) 253-6807.