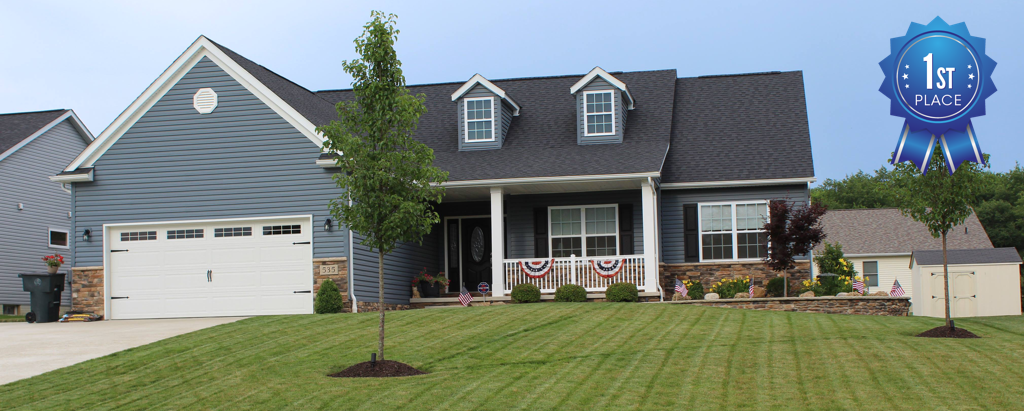 Introducing the 2018 Landscape Contest Winners
We love building stunning, beautiful homes for our homeowners. That said, once we hand the keys over, the reins are in the hands of our customers; it's their home and they can style and design it however they like, both inside and out. That said, you'd be amazed at the level of talent so many of our homeowners have in the gardening realm! To give these talented homeowners a rewarding outlet for their work, we've been hosting yearly landscaping contests, and boy are the results impressive!
We asked you to submit your photos of your beautiful landscaping efforts for our 2018 Landscaping Contest, and the results are in! We hope you enjoy these stunning vistas as much as we did, and congratulations to the winners!
First Place
Kevin Moats, McAllister Floorplan in Wadsworth, OH. Kevin blew us away with the tidy, clean and well-appointed landscaping on both the front, rear, and side of his home, as well as in the driveway. The patriotic bunting he added only created more charm!
Second Place
Fred and Johanna Toma, Washington Custom Floorplan in Marblehead, OH. We loved the stunning rock work this family did, the colorful blooming flowers paired with the adorable Adirondack chairs, and the welcoming feel they created by layering different types and sizes of plants in a smart way.
Third Place
Jackie and Gregory Stockmaster, Providence Floorplan in New Washington, OH
This is what the Stockmaster's had to say about their home and their landscaping designs:
"We have designed our landscaping to captivate the slope of our lot and the design of the Providence. Large boulders were brought in to help hold the dirt in place. A pavered wall was added to assist with the drop off from the landscaping to the driveway. The paver colors were chosen to compliment the colors of our home. Knockout roses, Daisys, Daylilies, Holly and evergreens were chosen to ensure lots of color all year long."
People's Choice
David and Courtney Ricciardella, Wilmington Floorplan in Road Butler, PA
The Ricciardella's stunned our family of Wayne Homes voters with their stunning layout, lighting, beautiful flowering trees and well-planned river walkway:
"We moved into our Wayne Home Wilmington Family home in March of 2017 and quickly went to work planning our landscaping for our new home.
Although our landscaping is relatively young and small we decided to enter the contest because of how beautiful our home looks this year from the lawn to the bushes, trees, and plants."
---
Thanks to all those who participated in this yearly contest; we can't wait to see what you do next year!
We want to help you create a landscape you'll love to come home to every day! Give us a call to start planning how we can make it happen.
About Wayne Homes
Wayne Homes is a custom homebuilder in Ohio, Pennsylvania, Indiana, Michigan, and West Virginia (see all Model Home Centers). We offer nearly 50 fully customizable floorplans and a team dedicated to providing the best experience in the home building industry. For more information, Ask Julie by Live Chat or call us at (866) 253-6807.