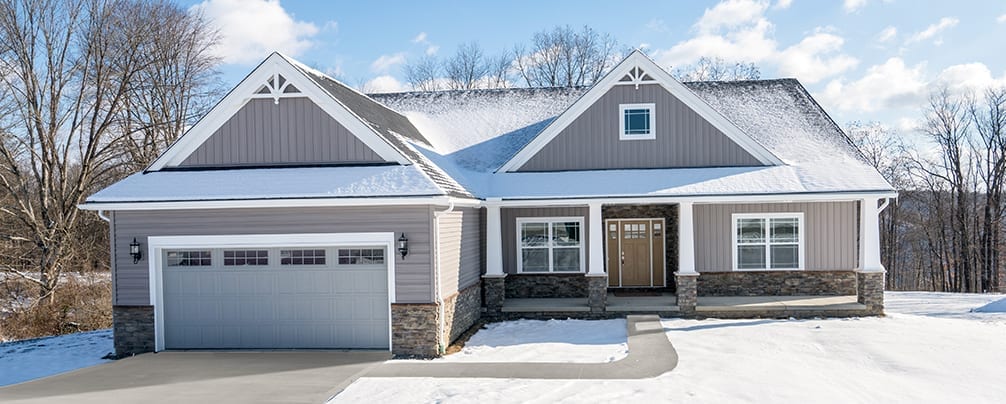 Keeping your home beautiful, even in winter
Just as winter can take a toll on our bodies — chapped lips, dry skin, and the inevitable bugs that show up from time to time — winter also takes a toll on our homes, too. The constant barrage of cold air, precipitation, wind and other tough elements can be really challenging on the exterior of our homes. Then on the interior, less fresh air, sunshine and perhaps a tendency to clean a bit less often can also mean things aren't quite as bright and shiny as they usually are. Just like we have care routines for ourselves, though, we can also have care routines for our homes.
Thankfully, there are plenty of ways to ensure your home stays beautiful, inside and out, all year round. Today on the blog, we're sharing our top tips for doing just that!
Keep things clear. Nothing says "I don't take care of my home" like a walkway and sidewalk covered in snow and ice. Make it a priority to keep all your sidewalks and walkways clear all winter long. A great way to add a touch of beauty is to install walkway accent lighting as well. They not only improve safety, but they look beautiful in the snow!
Don't neglect the landscaping. Keeping your hedges, trees and other shrubbery trimmed back and neat doesn't take a lot, but it ensures you put your home's best foot forward despite the dreary weather.
Update the outdoor decor. That means that if you still have some holiday decorations outside… it may be time to lose them! Replace your decorations with natural, non-holiday themed pieces, such as evergreen wreaths, antique light fixtures, and weather-appropriate plants (evergreen boughs and holly sprigs in flower boxes are a good choice).
Freshen up your window treatments. Sunshine is often at a premium in the winter, so lightening up your window treatments can not only bring a fresh and clean look to your space, it can also allow more natural sunlight into your home. Also, be sure to clean and dust your windows regularly, for the same reasons!
Keep clutter contained. Clutter happens, but it doesn't have to be a plague on your entire home. Keep clutter contained by putting decorative boxes and containers at clutter-prone areas of the home. These spots will naturally fit into your family's rhythm, and will prevent clutter from creeping its way throughout the home.
Winter isn't the easiest time of year, but it doesn't have to be unpleasant! Coming home to a well-maintained, clutter-free home can brighten your mood, and it'll keep your neighbors admiring your home all year round!
Can't wait to have a home of your own to care for? We know the feeling! Give us a call today to learn more about how you might create a home of your own with the Wayne team.
About Wayne Homes
Wayne Homes is a custom homebuilder in Ohio, Pennsylvania, Indiana, Michigan, and West Virginia (see all Model Home Centers). We offer more than 40 fully customizable floorplans and a team dedicated to providing the best experience in the home building industry. For more information, Ask Julie by Live Chat or call us at (866) 253-6807.