Must-haves for a modern laundry room
With people spending more time at home than ever, laundry rooms and mudrooms have become increasingly important to homeowners (along with home offices, of course).
The urge to keep everything clean and tidy is also a concern for homeowners, not only because we're spending more time in our homes, but also to keep everyone safe and healthy.
The laundry room sees a lot of use.
Besides the obvious washing, drying, and folding, the laundry room can do double duty as a mudroom, owner entry, gear closet…or a combination of those! We thought we'd take some time to pay tribute to the laundry room, and highlight some of the amenities and features any modern laundry space should have.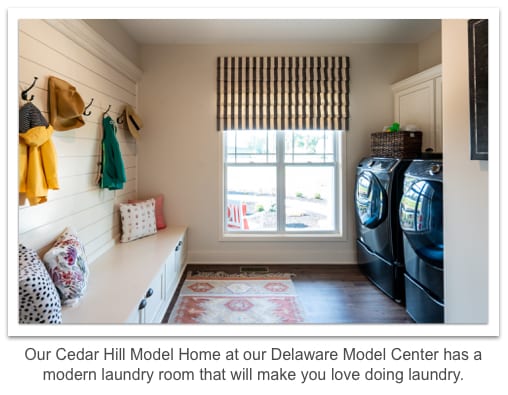 Does yours have these features?
Folding Station
Building cabinets with a countertop for folding is a great idea in a modern laundry room. It creates a stylish space for your washer and dryer, provides storage for laundry items, and of course provides much-needed space for folding. Our Wilsonart HD Laminate countertops are a beautiful and affordable option for countertops in the laundry room.
Drying Racks
Fold-away drying racks are ideal because they store away when not needed and can be installed right above the countertop, so they don't take up space when they are folded out. Win-win!
Concealed Ironing Supplies
Hide your iron and ironing board in the closet or in a cabinet to keep the evidence of this chore tucked away. Many of our floor plans include closets in the laundry room just for this purpose.
Waterproof flooring
Our Luxury Vinyl Flooring is durable and cleans up easily, making wet laundry drips or detergent spills easy to handle.
Laundry sink
Got stains? You need a laundry sink for all that pre-treating! The perfect clean-up station for tough stains, a laundry sink gives you the convenience of scrubbing and treating your clothes right next to the washer, so you can toss them right in afterward without a trip to the kitchen or bathroom sink.
Other must-haves for the laundry room:
Jar to save loose change
Trash can for lint
Baskets for essentials – a cute way to organize and hide all of the clutter
Large and small hampers – keep large hampers for sorting clothes, and a small hamper in the laundry room for dirty dish towels and other small things rather than throwing them on the floor or mixing them with your clothes
Not all homes have ideal layouts for laundry spaces. Here are some of the floor plans Wayne offers that make use of this multi-purpose room.
The Kinston's mudroom and laundry room are separate, allowing plenty of space in the laundry room to do what it is meant for–laundry! Conveniently located upstairs, this second-floor laundry room is next to the bedrooms, so you don't have to lug everything up and down the stairs.
The Covington laundry room is located just off of the mudroom but is a separate room, again providing the convenience of two spaces.
The Providence II features a huge laundry room just off of the garage, which can double as a mudroom.
All four of these popular floor plans feature a laundry room located just off of the garage that also doubles as a mudroom.
Now you know your must-haves for your laundry room, let's start building your must-have home! Contact us to get started building the best home (and laundry room!) for your needs and budget.
---
About Wayne Homes
Wayne Homes is a custom homebuilder in Ohio, Pennsylvania, Michigan, and West Virginia (see all Model Home Centers). We offer over 50 fully customizable floor plans and a team dedicated to providing the best experience in the home building industry. For more information, Ask Julie by Live Chat or call us at (866) 253-6807.