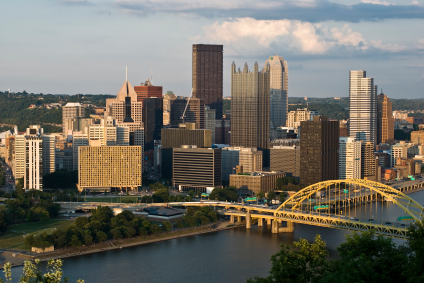 Pittsburgh Named Among 10 Best Cities for Home Buyers
Have you visited our Pittsburgh Model Home Center yet? Lots of families are discovering that this is the perfect time – and Pittsburgh is the ideal place – to build a new home. And apparently, the secret is out.
According to Movoto, Pittsburgh is one of the Top 10 Best Cities in the U.S. for Home Buyers. Here are just a few reasons why Pittsburgh, PA is so buyer-friendly.
Affordability
According the article, Pittsburgh has one of the best Median Income to Median Home Price ratios in the U.S., and that means homeownership is more affordable.  In fact, according to a recent MSN Real Estate article Pittsburgh residents enjoy an annual income that's above the national average. Pittsburgh also has a growing base of colleges, hospitals, and other health-care related companies to fuel job growth. In fact, Forbes recently named Pittsburgh as one of the top 50 Best Places for Business and Careers. A more stable job market means better affordable home ownership for more families.
At Wayne Homes, we're making owning a custom home in Pittsburgh even more affordable with 40 floor plans to choose from starting as low as $117,500. See all custom home floor plans >
Quality of Life
Beyond affordability, the Movoto article also cited several quality of life indicators that make home ownership more attractive in Pittsburgh. For example, several areas in Pittsburgh feature higher quality schools. Pittsburgh was even recently named America's Smartest City. Pittsburgh's quality of life has earned the Steel City past honors including Most Liveable City in the U.S., outranking Los Angeles, New York, and Honolulu.
At Wayne Homes, you can take advantage of Pittsburgh's best neighborhoods by building the exact home that you want, exactly where you want it. Learn more about choosing a homes site>
If you're thinking about taking advantage of historically low housing prices and interest rates to buy a first home, move up to a larger home, or downsize to a smaller home, we invite you to visit our Pittsburgh Model Home Center. At Wayne Homes, there's almost nothing we won't build, so you can build the perfect home for your family, your lifestyle and your budget. While you're at our Pittsburgh Model Home center you can tour our Savannah and Lexington model homes for design ideas, or let our friendly New Home Consultants help you imagine what's possible.
Have a question? Simply Ask Julie by Live Chat or call at (866) 253-6807.
About Wayne Homes
Wayne Homes is a custom home builder in Ohio, Pennsylvania, Indiana, Michigan, and West Virginia (see all Model Home Centers). We offer more than 40 fully customizable floor plans and a team dedicated to providing the best experience in the home building industry. For more information, Ask Julie by Live Chat or call us at (866) 253-6807.