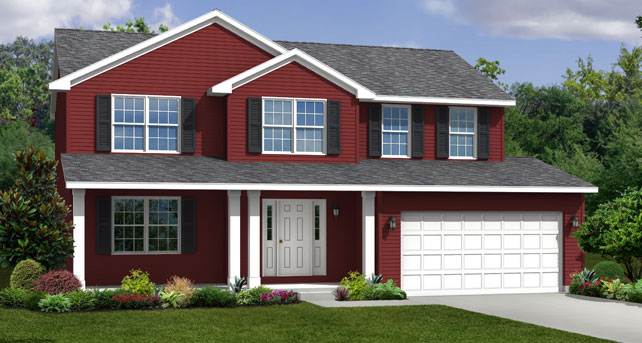 Our Customers Love Us (And You Will Too)
Our customers are our biggest fans. They are often unable to hold back just how excited they are about their new home…and we love it! We have a wide variety of customers who blog about their experiences with finding a custom home builder and why they selected Wayne Homes as their builder. They share their stories with others who are ready to take that big next step into building a custom home to shed a little more light onto what you can expect as a Wayne Homes customer. We thought you might like to hear – in their own words – what it's like to build a new home with us.
Paying It Forward
Ally and Kyle Booher – http://ourjourneybuildingwithwaynehomes.blogspot.com/
These newlyweds from west central Ohio decided to build with Wayne in March. They started their blog to help others make this decision, since reading other peoples' journeys really helped them make their own decision. They saw it as a way to pay it forward. "I felt like I got a lot of insight from reading other peoples' Wayne Homes blogs," Ally said. She also wanted to document this exciting process to keep family and friends up to date. Ally and Kyle had gone the conventional route of house hunting and kept coming up empty handed, so when Kyle's parents generously gave them some of their land and a cash advance to build their own home, they were thrilled! "After a few more months of researching and visiting home builders we decided Wayne Homes was our best choice," Ally said. The Boohers have chosen the Chelsea floorplan, and they are on their way to their dream home. 
Fun fact: Ally got to take the first "bite" out of the ground with the excavator on their homesite. 
The Real Deal
Erien and Bryan West – http://thehousethatbuiltusforever.wordpress.com/
This couple began the process of getting their ducks in a row to build a home in February, and this is about as real as it gets. Erien and Bryan share every challenge they had to overcome before getting to the really fun part: selecting Wayne as their homebuilder and diving into design and planning! Located in the Sandusky area, they worked with Jen from the model home center to find a truly custom solution to fit their needs and their budget. "We were very interested in the Richmond layout," Erien said, "but after talking prices and what it would be to add all of our wish list items we decided that it pushed us over our budget. We mentioned to Jen that we were also interested in the Dorchester but that we just didn't like how the master suite and the other 2 bedrooms were on the same side of the house. At that, Jen read our minds. She rearranged the entire house layout to look like the Richmond but without the signature features so the house was then within our price range." The Wests found their dream home with Wayne, and so can you!
Fun fact: The Wests loved that they were greeted with warm cookies at their first visit to the Wayne office.
The Road (Back) Home
Sharon and Mark Stringer – http://stringerroad.blogspot.com/
After living in the West for about 7 years, Sharon and Mark Stringer decided to move back East to his family's farm in western Pennsylvania to be closer to family. The Stringers chose Wayne Homes as their builder after reading many reviews. "Sharon took the time to look up some blogs of people who have built or are building a Wayne home. We found them useful as a reference, which is one reason I decided to do this blog; kind of a 'pay it forward' philosophy. We felt that the positives outweighed the negatives for us. You get a decent value for what you pay [with Wayne]," Mark said.  As a self-proclaimed tech enthusiast, Mark also enjoyed the interactive floorplan tool on the Wayne Homes website. The Stringers selected the Montgomery floorplan and are making great progress with their spacious new home.
Fun fact: The Stringers had to choose between a well and a spring for their water source. The spring was on the property from when Mark was a child…he used to play in it during the summers
A Custom Experience
Roger Smith and Roger Pitre – https://www.facebook.com/pages/A-Builders-Journey/1433293086887597
When they realized that they could build a new home to their liking, Roger and Roger began looking at land with a three-year timeline in mind. They spent hours and hours researching home plans, visiting open houses, and touring model homes to get design and decorating ideas before settling on the final look and feel of their customized Jamestown Craftsman. "It was an excellent experience! Wayne Homes has made the selection process easy, but most importantly, affordable." Roger and Roger have graciously opened up their home to anyone who is interested in the Jamestown, so if you're interested in seeing this floorplan, head over to their blog to get in contact with them!
Fun fact: The family cat Gracie loves hanging out in her new sunroom, which provides the perfect place to keep an eye on the backyard without getting wet.
About Wayne Homes
Wayne Homes is a custom homebuilder in Ohio, Pennsylvania, Indiana, Michigan, and West Virginia (see all Model Home Centers). We offer 40 fully customizable floorplans and a team dedicated to providing the best experience in the home building industry. For more information, Ask Julie by Live Chat or call us at (866) 253-6807.