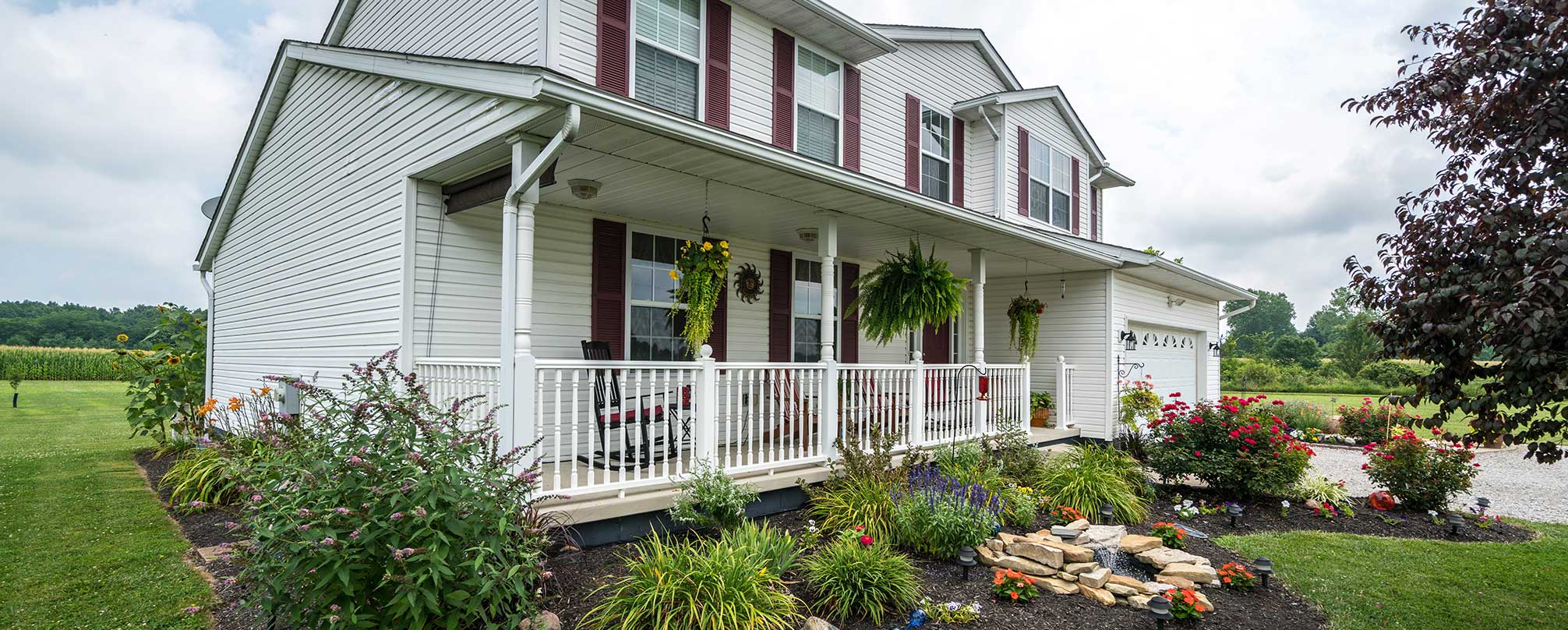 Our top landscaping tips — Plus our annual Landscaping Contest!
Spring has truly sprung, and for green thumbs all over America, that means just one thing: it's time to start planning and prepping for this year's home beautification!
Having stunning curb appeal isn't just a smart tactic for selling a home. It's a point of pride for many homeowners, who wish to put their best "foot" forward in their neighborhood. Plus, there's nothing like coming home after a long day to a welcoming, gorgeous home exterior!
Here are our top tips for making sure your home shines all spring and summer long.
Take stock of what winter may have done. If your neck of the woods experienced a particularly harsh winter, with heavy snow, ice, and other inclement weather, chances are the shrubs, trees and other greenery on your property took a beating. So before you plan anything new, check what you already have for broken limbs, cracks and other damage, and mitigate it.
Rake the lawn. Snow probably did a number of your lawn, and raking it can help it breath, freshen it up, and also expose areas that may need a little extra TLC this spring.
Consider aerating your lawn. If you and your family plowed a popular path across your lawn this winter, that portion of your lawn may need aerating. Aerating your entire space can do wonders to freshen things up, too.
Guard against every gardener's nightmare – weeds! – with a pre-treatment to kill any weed seedlings. It'll make your life easier in the months to come!
Make a plan for your plants. It may be that the beautiful shrubbery you've added to your Pinterest board just won't thrive in your climate or soil type. So choose plants that align with the environment they will be in, and consider things like shade, sunlight, and other environmental factors as you make your plan.
Prep your lawn and flowerbeds with fertilizer and mulch, respectively. A light fertilizing will help your lawn green up beautifully, and adding a light layer (no more than 3 inches) of fertilizer to your flowerbeds now will set the stage for a stunning display in the coming weeks and months.
Follow these tips for early spring landscape prep, and you're sure to have a stunning lawn throughout all the beautiful warm weather months this year. Also, take a look at last year's landscape contest winners for added inspiration. You'll have a leg up on the competition in this year's Landscaping Contest — stay tuned for details!
Excited about building a new home so you can start fresh with some stunning landscaping? We don't blame you! Give us a call today to get things rolling.
About Wayne Homes
Wayne Homes is a custom homebuilder in Ohio, Pennsylvania, Indiana, Michigan, and West Virginia (see all Model Home Centers). We offer more than 40 fully customizable floorplans and a team dedicated to providing the best experience in the home building industry. For more information, Ask Julie by Live Chat or call us at (866) 253-6807.