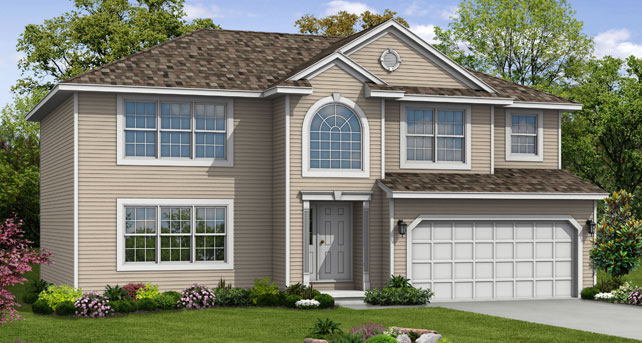 Score a Touchdown with a Winning Game Room
It's that time of year when the first crispness of fall is in the air and you know it can mean only one thing: football season. Now, every weekend will be dedicated to keeping up with the latest games, scores and stats, getting your Fantasy Football up to date and creating the best 7-layer dip your friends and neighbors have ever tasted. From kickoff to final score, Wayne Homes knows that it isn't just the game that matters…it's where you experience every second of the action, too. Can you imagine watching the Ohio State, West Virginia, or Penn State game in, say, your kitchen on a 13" TV? Unacceptable. If you love football as much as we do, take a few moments and dream with us about building your custom home…and the perfect game room.
Feel a Part of the Action
Game rooms or entertainment rooms are different from your family room because it is all about the game. Some might call this a "man cave", but this room is home to anyone who has a love for the game. The main focus? The TV screen, of course! We know that in order to feel a part of the action, it needs to be large and well placed for prime watching. But, that's not all this room needs. Food, drinks and entertainment for commercial breaks are all quintessential parts of your dream game room.
Theater-Style Seating
Consider installing theater-style seating that allows for unobstructed views of the game. This transforms your game room into a home theater as well. Comfortable, upholstered seats with drink holders can recline and even feature small retractable tabletops for snacks or video game controllers. These seats make game day a relaxing experience (as long as your team is winning!).
Built-In Screen(s)
Wall-to-wall built-in cabinetry can make it appear as your TV screen is integrated into the room. This also provides valuable storage for DVD players, game consoles, remotes and movies. If you need to watch multiple games at once, consider multiple screens. Instead of one huge screen, you could tile four screens on the wall so you don't miss out on anything. With this built-in cabinetry, ambient lighting can add to the personality of the room and highlight your pride and joy.
The Best Bar to Watch the Game
No game is complete without game-day snacks and drinks. Whether you choose to install a small refrigerator or go all-out with a kegerator, having a bar and kitchen in your game room is a necessity. Keep the focus on the bar, with ample seating for friends who want to belly up while watching the action. Behind the bar, make sure there is storage for bottles, glasses and tools of the trade. In the kitchen area, your fridge, a sink and storage for plates and silverware is all you need to make this a fully functioning game-day destination.
A Customized Approach
If you're thinking this is all way out of your league, we're calling a time out. When we say custom home, we mean it! We have structured our entire way of doing business to provide you an entirely custom home at a comfortable price. It's true—we do have lots of different floorplans to choose from, but that's just the beginning. You can check out our interactive floorplans to see the kind of flexibility we're talking about. But, you can go as far as you want! We can customize any of our floorplans just about any way you like, while working with you to keep the price affordable.
Get Exactly What You Want with Wayne
Now you've got all these great ideas about your dream game room, there's no better time to stop by the Wayne Homes Model Center nearest you and work with one of our New Home Consultants to complete your Personal Value List. You can call it the "I Got Exactly What I Wanted" Program. The Personal Value List is a tool that lets you tell us precisely what you want in a new home. Then, we put together a game plan for you to have it. We can't wait to see what we can come up with together!
About Wayne Homes
Wayne Homes is a custom homebuilder in Ohio, Pennsylvania, Indiana, Michigan, and West Virginia (see all Model Home Centers). We offer 40 fully customizable floorplans and a team dedicated to providing the best experience in the home building industry. For more information, Ask Julie by Live Chat or call us at (866) 253-6807.