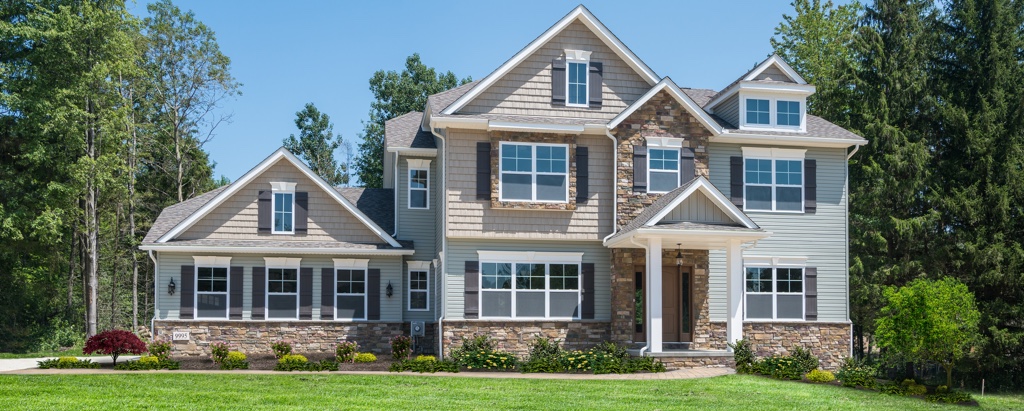 The Great Debate: The Perfect Home Exterior
Building your home with Wayne Homes means making a lot of choices, about your family's priorities, needs, wants, and nice-to-haves in a home. We talk often about the choices that go into the interior of your dream home, but there are also a lot of options for your exterior, each with their own pros and cons. Today we're looking at the various options for the exterior surface of your home, and hope you walk away with a sense of what would make the most sense for you! Let's look at some of your options:
Stone: Usually, stone is used as an accent to the exterior of your home. The term 'stone' is a bit disingenuous because it's actually a manufactured stone veneer. Some of the wonderful positives of this type of exterior include the fact that it's easy to maintain, resistant to mold and mildew, and adds a lot of character and style. One thing to note? It shouldn't be pressure washed, as it can easily damage the veneer of this surface.
Brick: Do you love a timeless aesthetic? Look no further than a brick exterior. We've found that brick is a very specific type of look that homeowners either love or pass on immediately. While brick does take some maintenance, it's worth it for those homeowners who love the look of this classic siding choice. Another benefit? Brick lasts up to 100 years or more with the proper upkeep. That's a long time! Plus, brick tends to lead to an increased home value, and we always love that!
For both of these options, you'll be creating a timeless, classic look that is both fire resistant and increases your home's value. They're also able to endure the damage inflicted by weather and time and will protect your home better than any other siding option.
On the downside, these options can start to weather and change their look, which can make it hard to match if you remodel or expand your home. And, they're a bit pricier to install.
Vinyl: This classic, often-picked option has a ton of options, so you're sure to find exactly what you want. Maintenance for vinyl siding is easy and inexpensive, and it's a durable material too. It won't rot like wood panel siding might, and it adds an insulating and noise-canceling layer too. It's hugely popular for all these reasons, and you can expect it to last for years to come.
Some downsides to this incredibly popular option? For one, it's not terribly environmentally friendly. It is more easily damaged by wind and hail than the other options we described, and it can melt or burn, so be sure to position your fire pits and grills away from it.
At Wayne, we offer multiple exterior options so you can create the precise home you want. We can't wait to see what you choose!
Get started building the home of your dreams, whether it's framed in stone, brick, or vinyl, today: give us a call to talk about your options!
About Wayne Homes
Wayne Homes is a custom homebuilder in Ohio, Pennsylvania, Indiana, Michigan, and West Virginia (see all Model Home Centers). We offer nearly 50 fully customizable floorplans and a team dedicated to providing the best experience in the home building industry. For more information, Ask Julie by Live Chat or call us at (866) 253-6807.