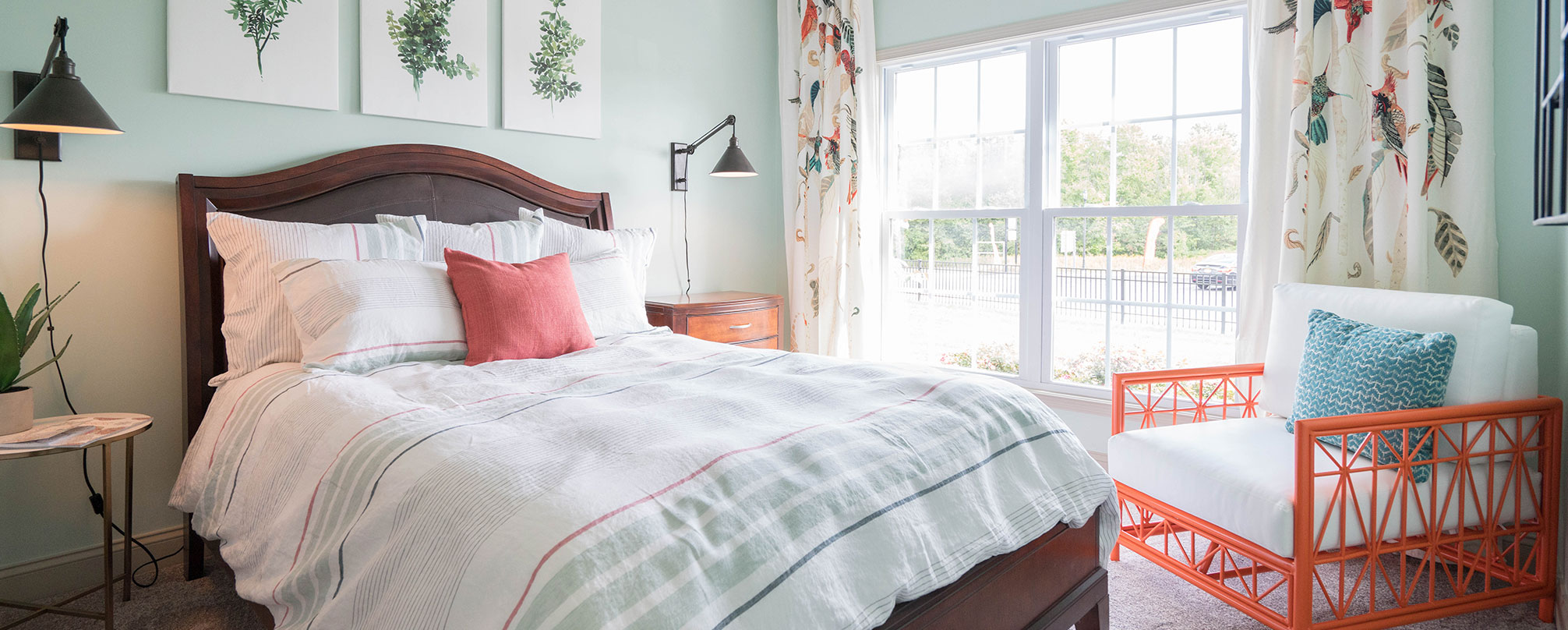 Tips for creating the perfect guest room retreat
No space in your home should go unattended to, but the reality is, sometimes spaces like closets, laundry rooms, and guest rooms get the short end of the design stick, especially when life catches up and there seems to be no time in the day! So many of our families, though, absolutely love to entertain, and sometimes entertaining means having a guest or two over for an overnight visit or perhaps even a few days. For an out of town guest, there's nothing quite so wonderful as having a homey, comfortable spot to retreat to, one that feels about as close to home as you can get. So today, we're sharing some of our top tips for crafting a guest room that your guests may never want to leave!
1. Think about where you want your guest room to be before you even start decorating
For most guests, having a bit of privacy is incredibly valuable. So, when you're working with your Wayne Homes team to build out your home's floorplan, consider putting the guest space in a section of the home that's a bit removed from the hustle and bustle of the main gathering spaces.
2. Keep things simple
When it comes to decorating your guest room space, there's nothing wrong with injecting a bit of personality and style into the room. That said, don't overwhelm your guests with an intense amount of art, bright or strong colors, or ten million decorative pillows! Keep the decor simple. Keep the bedding clean and fresh!
3. Consider implementing a guest bedroom into your home if you have the floor plan space
This goes along with tip No. 1: planning the layout of your guest room space before breaking ground. If you can manage, giving your guest their own bathroom will make them feel even more at home, and prevent them from worrying about infringing on your space either.
4. Think of the little things
For example, one way to make your guest feel welcome is to provide a basket of toiletries in the bathroom in case any were forgotten. If you like, you can even splurge on some high-end touches like an expensive bar of soap or some nice lotions to create a spa or hotel-like atmosphere. Just don't be surprised if they don't want to leave! You should also provide information about the household, like wifi passwords, coming-and-going details, and other things your guest will want to know, but might not want to bother you to ask. Go above and beyond with a little basket of snacks like granola bars and handheld fruit for those late night munchies too!
5. Add in a comfy seating area
Give your guest a chance to kick back and relax without having to recline on the bed. A tasteful recliner or soft chair and ottoman is a perfect complimentary piece to include in your guest space.
6. Don't forget about storage!
Give them a place for their things so they don't have to live out of their suitcase! Provide an empty closet or dresser, so they can unfold their wares and organize their things better. Provide hangers for nicer pieces, a mirror so they can see how they look, and a small clock so they can quickly check the time or set an alarm. All of this will help them feel at home without having to bug you for every little thing.
If you follow these easy steps, you may have a problem on your hands: guests who never want to leave! What ideas do you have for the perfect guest room space?
Creating the perfect guest room starts with planning out your home from top to bottom; we can help with that, so get in touch today!
About Wayne Homes
Wayne Homes is a custom homebuilder in Ohio, Pennsylvania, Indiana, Michigan, and West Virginia (see all Model Home Centers). We offer nearly 50 fully customizable floorplans and a team dedicated to providing the best experience in the home building industry. For more information, Ask Julie by Live Chat or call us at (866) 253-6807.