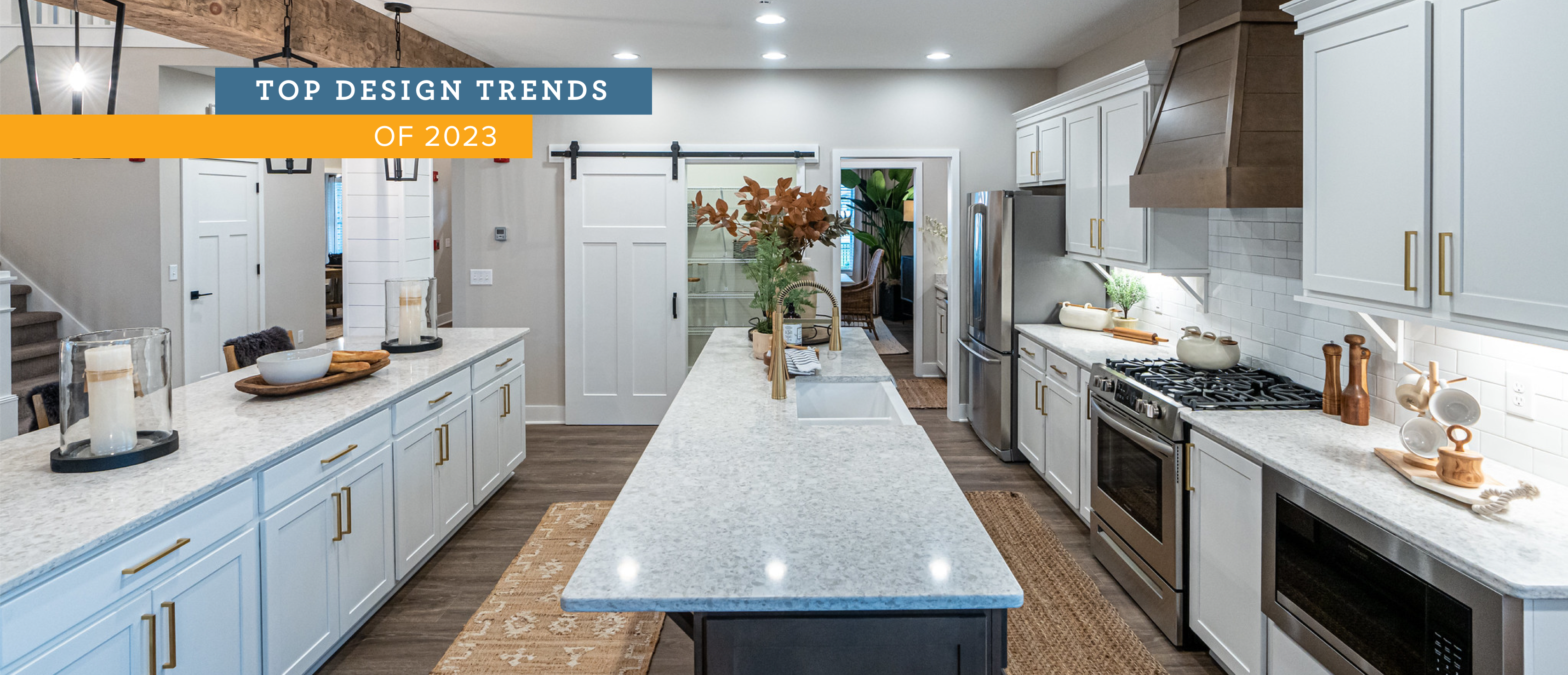 Top Design Trends for 2023
2023 is here, and it's a great time to take a look at your home and decide what you love (or don't love) about it. A new year inspires change in us all…including our homes! If you need some inspiration to make some changes in your home, then you're in luck. We consulted with the Wayne Homes design team to find out straight from the experts what the top home trends are for 2023.
We know there's a lot to choose from when it comes to interior design trends, so we've narrowed it down to just the top few through the lens of classic style. We've chosen to highlight home décor trends that are definitely in style for 2023 but will also be in style for years to come. Think on-trend, yet still classic.
Here are the Top Design Trends of 2023
Farmhouse Rules
Brittany Burkhart, Model & Virtual Design Coordinator at Wayne Homes says that farmhouse style will still continue to be popular…but with a 2023 twist. "I think it's trending toward a more simplistic, modern style than how we saw it 3-4 years ago," Brittany says. Think clean lines and white walls with farmhouse accents, but not over-the-top.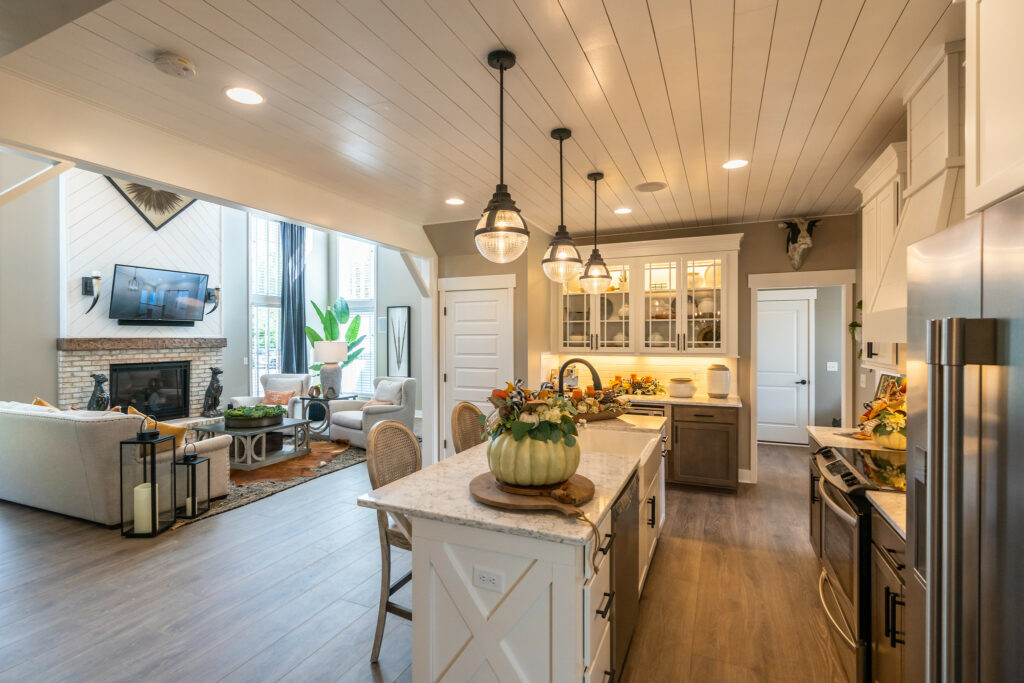 Stay Gold
Our design team says to keep those brushed gold and brass light fixtures and hardware because this home trend will continue to be on the rise. Just remember, it's not the shiny brass fixtures of the 80s and 90s. Think brushed, matte, and muted tones of gold and brass. Bonus points for fixtures that look like they're vintage or have a story.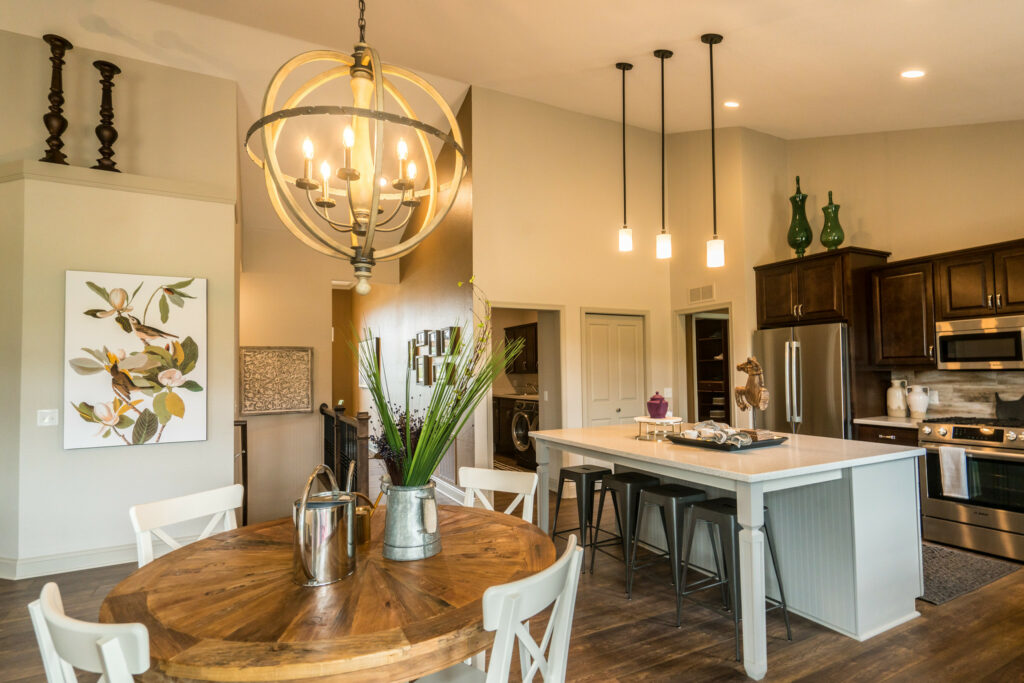 The Bold and the Beautiful
Pops of bold colors (like jewel tones and blues) complimenting more neutral but warm tones are hot for 2023. Neutral tones will never go out of style, but as the Pantone 2023 Color of the Year shows, jewel tones are in. In case you're wondering which neutral will pair well, the National Kitchen & Bath Association (NKBA) has released its 2023 Design Trends research, and it says that in kitchens, whites will be a popular neutral with nature-inspired greens and blues for warmth and inspiration…hints of metallic add glamour or a rustic feel.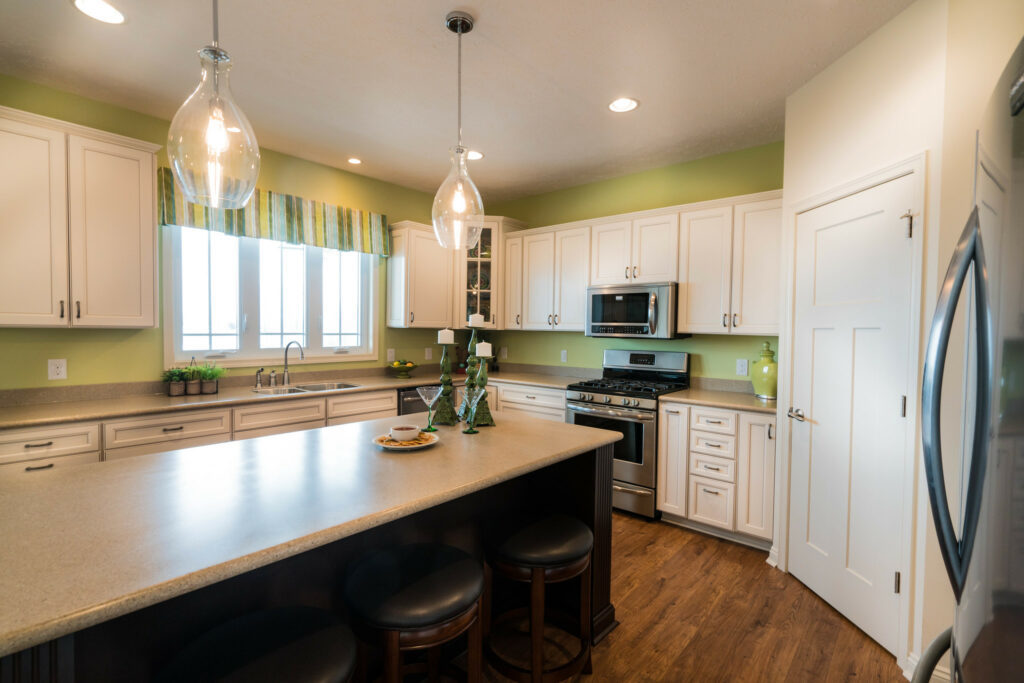 Nordic Wood
Natural, light-colored wood tones are becoming more popular in flooring, cabinetry, and furniture. It's a nordic look, giving those hygge vibes, especially when paired with black and white. According to Apartment Therapy, in 2023, the trend for hardwood is moving away from grainy, rustic wide plank options towards a more subtle grain with clean looks. The color is moving away from gray and into light, natural oak territory, which offers natural, neutral floor colors versatile enough to fit with a variety of living spaces.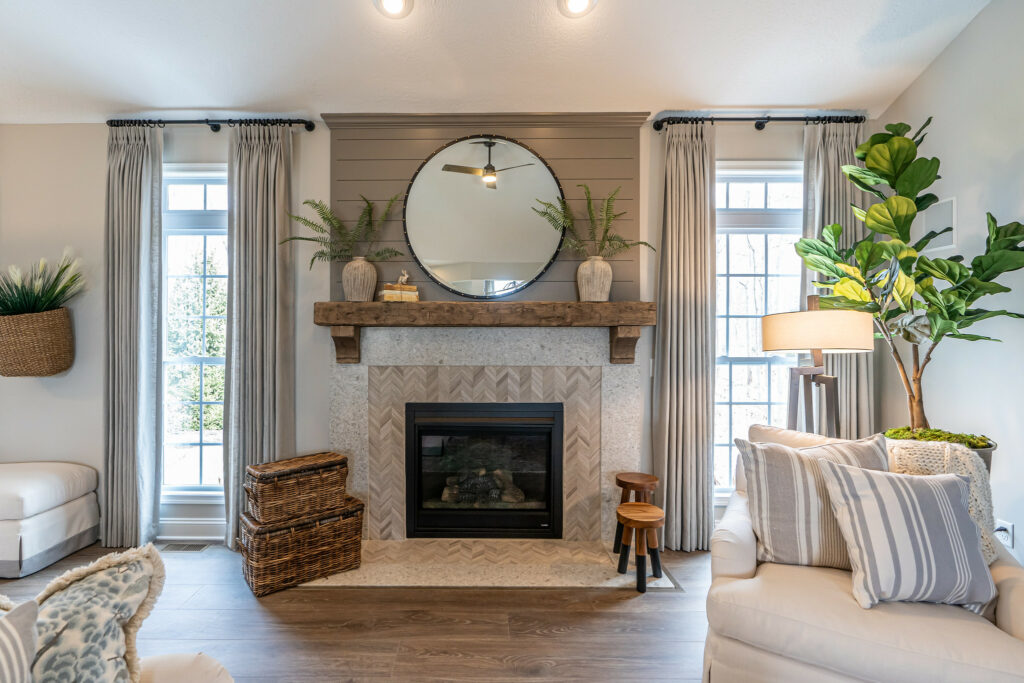 Mixed Metals
If you love gold sink fixtures but want your vanity to have black hardware, you are right on-trend for 2023. That's right–mixed metals are in! Black is the new neutral metal like brushed nickel once was, so you can use trusty black hardware as a base for other metals to shine.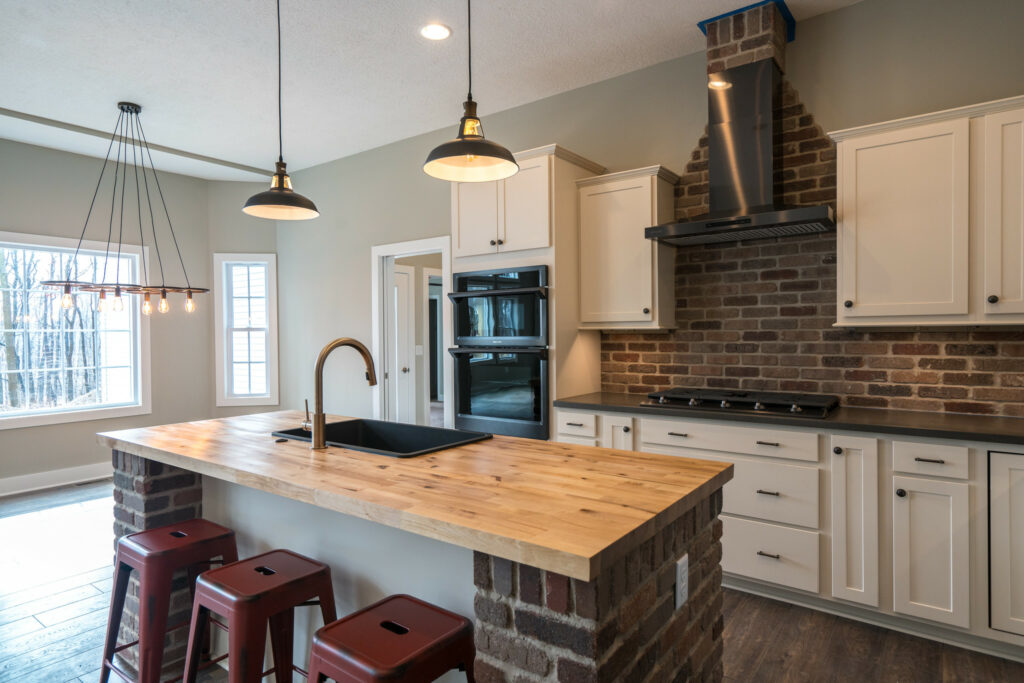 From the gold kitchen faucet to the black light fixtures and farmhouse-style feature wall and fireplace surround, you can see how all these home trends can work together to update your space.
If you'd like to see the Winchester II model home in person, give us a call to schedule a tour.
We can't wait to show you how a new build with Wayne Homes looks anything but "builder grade." With our team of designers behind you, a stylish, quality-built home is easier to achieve than you think. Let's make it happen in 2023!
Would you like to create a stylish, on-trend home with Wayne? Contact us! We are standing by to help.
---
About Wayne Homes
Wayne Homes is a custom homebuilder in Ohio, Pennsylvania, Michigan, and West Virginia (see all Model Home Centers). We offer more than 50 fully customizable floorplans and a team dedicated to providing the best experience in the home building industry. For more information, Ask Julie by Live Chat or call us at (866) 253-6807.
Disclaimer: The details of this blog are accurate as of the publish date, but are subject to change.