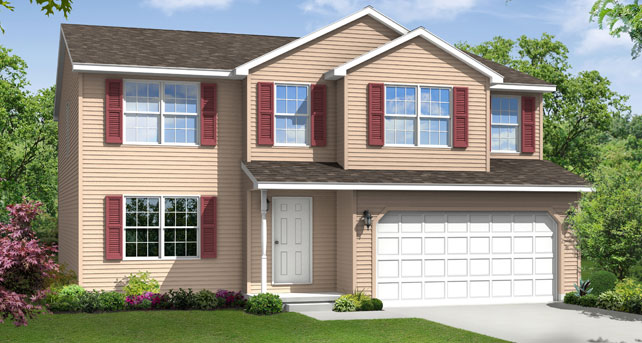 Trend Watch: Most Popular Exterior Features for New Homes
At Wayne Homes, we know that one of the first things people notice about your home is its exterior "curb appeal". Beyond the landscaping of your home, there are other exterior features that are currently trending that not only add value to your home, but also provide convenience and that all-important "wow" factor.
Outdoor Living Spaces
New custom homes are offering options for outdoor living spaces more and more. Covered patios, decks and porches are valuable because they add an easygoing way to get outside and enjoy the weather, while providing space to entertain. Of course, the grill is always a centerpiece of the outdoor space, but there is so much more opportunity beyond barbecues: Outdoor fireplaces, pergolas, landscaping and canopies all create a unique space that encourages rest and relaxation. Raised flowerbeds and vegetable gardens have become increasingly popular, contributing to the farm-to-table movement and encouraging organic dinners al fresco. From gardens to grills, whatever you do to extend living space beyond your back door will add value and enjoyment for years to come.
Find Outdoor Living Inspiration on Our Pinterest Board:
Follow Wayne Homes's board Sunrooms and Outdoor Patios on Pinterest.
Room to Grow with Larger Garages
Adding extra space to your garage can make a world of difference in new custom homes. Now, larger garages are becoming commonplace because they provide a place for recreational vehicles, making it easier and more practical to invest in these fun additions to your fleet. Even if you don't have an RV or motorcycle that requires protection from the elements, most people can certainly use the additional storage space. Adding an extra space in the garage also ensures that if your family grows, you will have room for additional vehicles without having to park them in the driveway or the street.
Statement Entrances That Pack a Punch
These days, entrances are getting personal with punchy colors, standout hardware and new materials. A simple coat of paint in a bright color will get your entryway noticed, and many homeowners are taking it a step further with custom hardware, knockers and house numbers that add a new layer of style to the front door. Glass doors have made a comeback, especially with modern exteriors or craftsman-style homes. There are a wide variety of finishes and styles of front doors available that can instantly add character and dimension to new custom homes to make it uniquely yours.
Pin and Save Our Favorite Entryways:
Follow Wayne Homes's board Custom Home Interior Designs: Doors on Pinterest.
Choosing the Right Color Palette
Just as the color choice of your door makes an impact, the overall color scheme of new custom homes can make all the difference. Ranging from subtle to eclectic, choosing your color palette is important in conveying the personality of the home and the people living inside. There are some color schemes that traditionally work for certain styles. For example: white siding and black shutters with a red door for a traditional home or rich, neutral tones for craftsman-style homes. However, many homeowners balk at what's been done in the past in favor of a fresh new take on traditional home styles. Choose a look that reflects your personal taste and adds energy to the home.
Customize Your Home Inside and Out
Wayne Homes offers perfectly tailored custom homes at a perfectly comfortable price. The floorplan is just the beginning—we offer a wide range of options available that allow you to customize your home just about any way you like. From a grass-green door to a welcoming outdoor living space, we can help you create the home of your dreams. Check out our interactive floorplans to see a few of the options that are available or call us at (866) 253-6807 to discuss what's on your wish list.
About Wayne Homes
Wayne Homes is a custom homebuilder in Ohio, Pennsylvania, Indiana, Michigan, and West Virginia (see all Model Home Centers). We offer 40 fully customizable floorplans and a team dedicated to providing the best experience in the home building industry. For more information, Ask Julie by Live Chat or call us at (866) 253-6807.