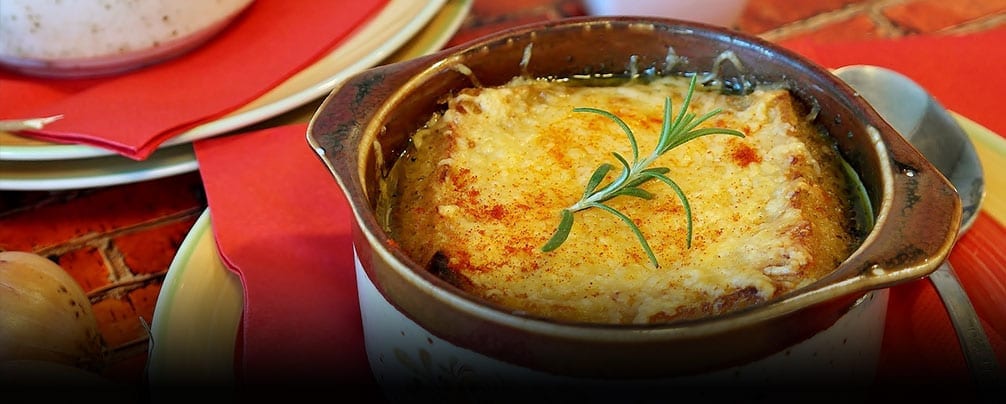 Cold weather recipes for your brand new kitchen
Winter may be some peoples' favorite season, but for most of us, it's a time for hunkering down, getting cozy, and counting down the days to springtime!
There are plenty of ways, though, to make those days go by faster. Enjoying your luxury, open concept kitchen while experimenting with some tasty new recipes is one such way, so to help you do that, we asked our team members here at Wayne to share their favorite cold-weather recipes. We got some pretty delicious results — take a look, give them a try, and let us know how it goes!
French Onion Soup
submitted by: Kelly Pryor, Operations Assistant, Home Office
Ingredients:
2 tbsp olive oil
1 bag (5 oz) seasoned croutons (about 2 cups)
1 cup dry red wine
2 cans (14.5 oz each) beef broth
1 large sweet onion, thinly sliced
4 thick slices swiss cheese
black pepper
Directions
In a deep skillet, heat olive oil medium heat. Add onions to skillet and cook, stirring occasionally until translucent and soft (about 15 minutes). Add wine to skillet and bring to a boil. Pour broth in skillet. Lower heat to low and simmer for 10 minutes. Season with pepper to taste.
Preheat broiler. Divide soup into 4 oven-safe bowls. Top each bowl with 1/4 of the croutons and a slice of cheese. Set bowls on rimmed baking sheet. Broil until cheese is bubbly and golden (about 1 minute).
---
Brown & Bacon Sugar Crock Pot Chili
submitted by Joe Barrett, CAD Coordinator, Home Office
Ingredients:
2 lb ground beef
1/4 lb bacon, fried crispy
2 cans (15 oz each) diced tomatoes, Italian style
2 cans (15 oz each) butter beans
2 packets Tex Mex chili flavoring
4 cloves garlic, chopped
1 small cooking onion, chopped
1/4 cup light brown sugar
Directions:
In a pot over medium heat, saute onion & garlic until onion is translucent. Add grown beef, cook beef through, and drain grease.
in 6 quart or larger crock pot, combine tomatoes (undrained), beans (drained), Tex Mex chili packets, bacon, and brown sugar. Stir well, add the cooked beef mixture and stir again
Cook on low for 6 hours or on high for 3 hours. Best served after allowing to cool after cooking.
---
Creamy Chicken Noodle Soup
submitted by Josh Leach, Estimator II, Home Office
Ingredients: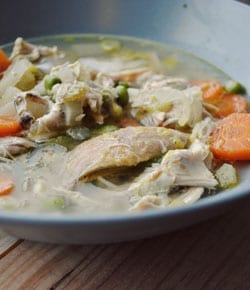 2 cups dry egg noodles
2 large chicken breasts
1-1/2 tbsp olive oil
1-1/2 cups chopped yellow onion
1-1/4 cups chopped celery
1-1/4 cups chopped carrots
3 garlic cloves, miced
2 cans (14.5 oz each) chicken broth
3 tbsp chopped parsley
2 bay leaves
salt & pepper
1/4 cup butter
1/2 cup + 2 tbsp flour
2-1/2 cup milk
1/3 cup heavy cream
Directions:
Cook egg noodles per package. Drain and set aside.
Heat oil in deep pan and saute onions, carrots, and celery for 3-4 minutes. Add garlic and saute another minute. Add broth, parsley, bay leaves, salt, pepper, and chicken breasts to veggie mix. Bring to boil over medium-high heat. Reduce heat to medium and cook covered until chicken is cooked through.
Remove cooked chicken and let cool for 5 minutes. Once cool, shred chicken.
Melt butter in a sauce pan over medium heat. Add flour and cook for 1-1/2 minutes, siring consistently. While whisking, slowly add milk and stir vigorously to smooth lumps. Whisk in heavy cream. Bring to a boil, stirring constantly.
Combine broth and milk mixture into large pot. Stir in shredded chicken and noodles. Serve Warm.
---
Vegan Quinoa Sweet Potato Chili
submitted by: Megan Moncrief, Media Advertising Specialist & Design Center Product Coordinator, Home Office
Ingredients:
1 tbsp + 2 tsp olive oil
1 medium-large sweet potato, peeled and diced
1 large red onion, diced
4 garlic cloves, miced
2 tbsp chili powder
1/2 tsp ground chipotle pepper
1/2 tsp ground cumin
1/4 tsp salt
3-1/2 cup vegetable stock
1 can (15 oz) black beans, drained and rinsed
1 can (14.5 oz) diced tomatos
1/2 cup dried quinoa
4 tsp lime juice
Avocado, cilantro, and vegan cheese, toppings (optional)
Directions:
Heat olive oil in large, heavy bottom pot over medium-high heat.
Add sweet potato and onion and cook for about 5 minutes, until onion is soft. Add garlic, chili powder, chipotle pepper, cumin, and salt and stir to combine.
Add vegetable stock, tomatoes, black beans, and quinoa and bring mixture to a boil. Stir everything to combine.
Cover pot and reduce heat to maintain a gentle simmer. Cook for 30-40 minutes until quinoa is fully cooked and sweet potatoes are soft. Entire mixture should be slightly thick like chili.
Add lime juice and remove pot from heat. Season with salt as needed. Garnish with avocado, cilantro, and/or vegan cheese before serving.
---
Easy Shepherd Pie
submitted by: Jeanette Dye, Design Consultant, Newark office
Ingredients:
1 Italian loaf of bread
16 oz sharp cheddar cheese, shredded
3-4 cups of baby red mashed potatos
1 cup brown gravy
1 bag of mixed vegetables
1 lb ground beef, cooked & drained
Directions
Preheat oven to 375 degrees. Prepare pan with non-stick cooking spray.
Mix gravy, ground beef, mashed potatoes, and veggies together in a bowl.
Cut out top of Italian bread loaf and remove bread inside (creating a "bowl"). Set aside removed bread to serve with pie.
Place meat mixture into bread bowl on prepared pan. Spread cheese on top of bread/meat.
Bake for 20 minutes.
Excited to create your own stunning custom, open concept kitchen with us? We understand completely! Get in touch to get things started this holiday season!
About Wayne Homes
Wayne Homes is a custom homebuilder in Ohio, Pennsylvania, Indiana, Michigan, and West Virginia (see all Model Home Centers). We offer more than 50 fully customizable floorplans and a team dedicated to providing the best experience in the home building industry. For more information, Ask Julie by Live Chat or call us at (866) 253-6807.