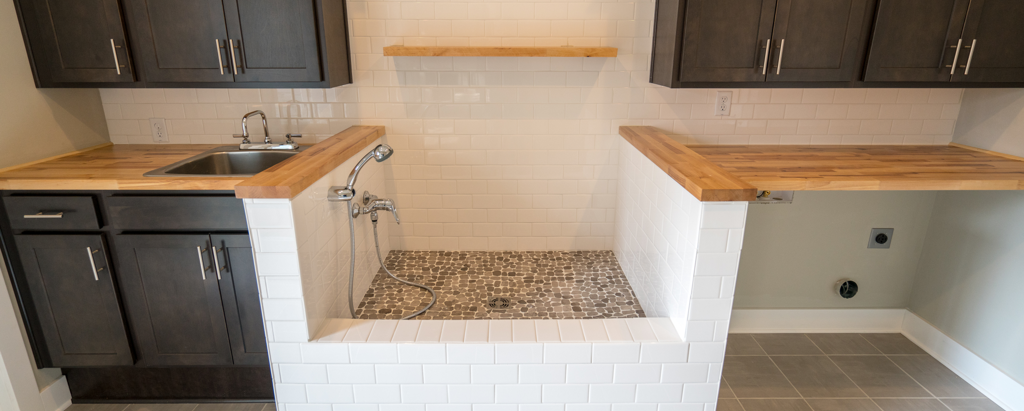 Custom room ideas for your furry family members
When you think of your family, you probably think of the people who make it up, from parents and siblings to aunts and uncles, to cousins and half-siblings or step-parents. But there's one other member of the family, one that usually walks on four legs, to consider when you're planning out your future home. That's right, today we're talking about our furry family members, and the steps you can take to ensure they're comfortable and feel welcome in your new Wayne Homes home!
Setting aside a specific room for your pet may not be practical or possible, but devoting specific spaces in your home to them is definitely a viable option that will not only make their lives better, it'll make your life better too! Here are some ideas for incorporating dedicated pet spaces in your home, both for your pet's enjoyment and your own peace of mind.
A utility station
This type of arrangement fits perfectly in a mud room off the garage – a space many of our floorplans offer. Here, you can keep everything you need for your pet, including perhaps a washing/rinsing station for when playtime gets a little too messy. By installing smart shelving, you can stock the space with the proper cleaning supplies, brushes, treats for good behavior, and more, and keep any messy pets isolated until they're clean again.
A play space
If you have the luxury of some extra space in your home, a dedicated play space where you can keep all your pets favorite toys isn't a bad way to go! By keeping the toys in one spot, you can keep the mess there too, and make it easier to clean up when toys inevitably make their way into your home. The basement can be a great spot for this type of space because you can section off a portion of the space using fencings like baby gates.
A special hideaway for your cat
We recently worked with a homeowner who took the normally unused space underneath their staircase and turned it intoa cozy nook for their cat, with a litter box, a place to curl up and sleep, and more. It gave their pet a quiet refuge from the hubbub of the home, which can be especially useful when you're trying to acclimate a pet to a new home.
Smart organization for supplies
We love installing sliding drawers or, even better, stunning Schrock cabinets in kitchens for dog food bowls, because it keeps the space organized and tidy while saving room elsewhere. Some families we work with opt to dedicate a larger drawer space in the kitchen for storing food, treats, toys, and other supplies, which we think is a brilliant move!
A niche for your pup
Many dogs love nothing more than curling up in their own special space, and often times, that space doesn't have to be very large. In fact, by using a small corner of a room for a cozy hideaway, you're recreating a den-like environment for your dog that they'll love and retreat to when they need some calm time to themselves. We love working with families to identify these little nooks and crannies, and then we can install various features, from shelving to platforms for beds or crates, and much more.
Making your new home yours involves every member of your family, including the four-legged ones. Let us help you design a space your whole family — furry ones included — will absolutely love! In the meantime, check out our Pinterest board of ideas and inspiration to get your creative gears turning.
Ready to plan your furry family member-friendly home? We want to help — get in touch with one of our Wayne Homes team members today!
About Wayne Homes
Wayne Homes is a custom homebuilder in Ohio, Pennsylvania, Indiana, Michigan, and West Virginia (see all Model Home Centers). We offer nearly 50 fully customizable floorplans and a team dedicated to providing the best experience in the home building industry. For more information, Ask Julie by Live Chat or call us at (866) 253-6807.