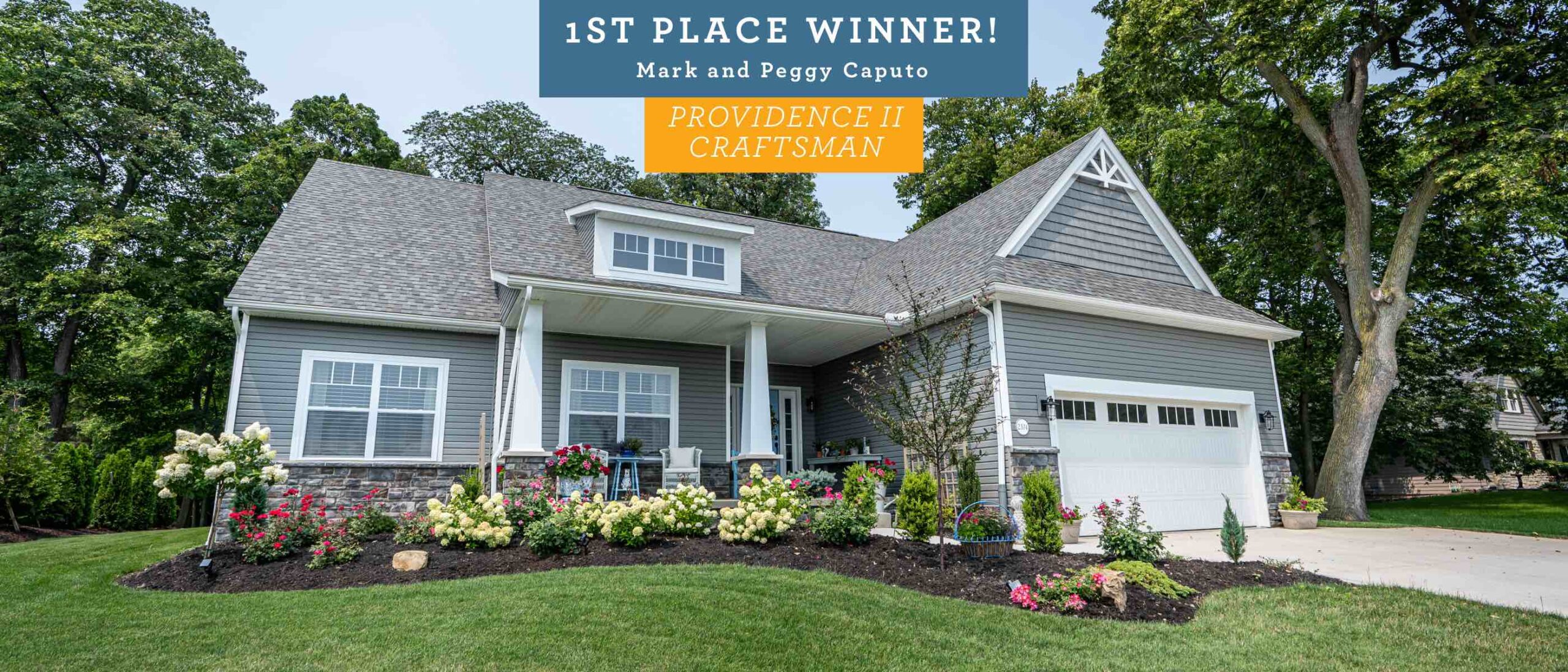 2021 Landscape Contest: The Winners Are In!
We tiptoed through the tulips, and now we're ready to share where the grass is greener.
Honestly–all of the landscaping entries we saw in the 2021 Wayne Homes Landscape Contest were stunning. We loved seeing how you customized your Wayne homes further with your landscaping ideas. Thank you to everyone who entered this year's Wayne Homes Landscaping Contest.
We look forward to this contest every year because we get to admire all of your hard work in your beautiful yards, but we especially enjoyed it this year. With the pandemic, we all looked to our own backyards for a private sanctuary; a little slice of heaven amidst the chaos. While your Wayne home is always your safe haven, there's no denying that landscaping is what really makes your home a true retreat. Whether you have the prettiest perennials on the block or a zen garden that gives you the peace you need to start your day right, your outdoor spaces always make us ooh and ah.
Without further ado, we are proud to announce the winners of the 2021 Wayne Homes Landscape Contest.

Winners:
1st Place: Mark and Peggy Caputo – Providence II Craftsman – Marblehead, OH
2nd Place: Roy and Elizabeth Walker – Covington Tradition – Marblehead, OH
3rd Place: Bryan and Diana Boston – Providence II Family – Ravenna, OH
People's Choice: Rogelio and Annie Garcia – McAllister Legacy – Clyde, OH
Congratulations to the winners! Here's what caught our eye with these winning landscapes:
Where the Wild Things Are: The Caputos' backyard is an oasis of wildflowers and plants. Exploding with color and a great organic vibe, their outdoor space lifts your spirits and makes you feel miles away, right at home.
Inspired by the Lake: The Walkers not only have beautiful landscaping around their home, but they also have a private landscaped space by the lake. Talk about a serene getaway!
Working with the Land: The Bostons really made the most of the grade of their land. Working with their sloped space with stone and plants leading into their backyard patio creates a very intentional outdoor space that beckons you back daily.
The Perfect Manicured Landscaping: The Garcias' home features manicured landscaping that is crisp and classic. Really highlighting their beautiful Wayne home, the groomed topiaries, plants, and pops of color add great curb appeal.
Prizes
$1,000 Lowe's gift card for first place
$500 Lowe's gift card for second place
$250 Lowe's gift card for third place
$500 Lowe's gift card for People's Choice award
Keep an eye on our Flickr and Facebook pages for more pictures of the 2021 Landscape Contest Winners' homes and landscaping. Congratulations again to our winners and thanks to all for entering!
Inspired to build have an expertly landscaped backyard of your own? Let's get started on your plan to build a Wayne home with all the trimmings. Contact us today!
---
About Wayne Homes
Wayne Homes is a custom homebuilder in Ohio, Pennsylvania, Michigan, and West Virginia (see all Model Home Centers). We offer more than 50 fully customizable floorplans and a team dedicated to providing the best experience in the home building industry. For more information, Ask Julie by Live Chat or call us at (866) 253-6807.