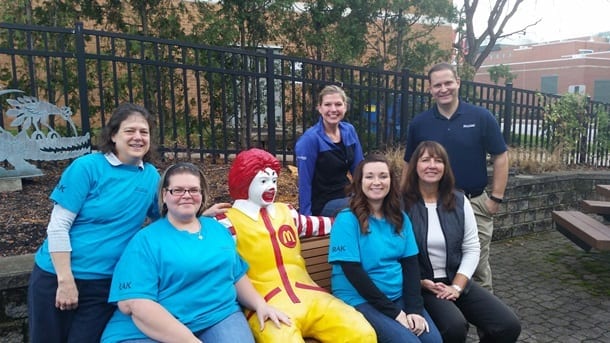 Giving back this holiday season with Wayne Homes
Building homes is a rewarding field to be in. Handing the keys over to a brand new homeowner and watching them walk into their completed custom home for the first time is a pretty amazing experience, and is one we get to enjoy regularly here at Wayne Homes.
We've enjoyed making our customers' dreams come true for a long time, and as a way to pay it forward, we re-instituted our Not-So Random Acts of Kindness campaign again this year. We've been participating in this charity program since 2008, and really enjoy creating an opportunity to show our customers how much we appreciate them, and how much their personal values matter to us. That's also why we have our Raving Fans program, and enjoy meeting up with families regularly, but that's a topic for another blog post!
In part, the Not-So Random Acts of Kindness campaign stipulates that for every home we sold between November 23 and December 30, 2015, we'll donate $150 to the buyer's favorite charity. By doing that, we get to spread the love and appreciation around to as many charities as possible, learn about our customer's values, and learn about charities we may not have otherwise heard of.
Since starting this program in 2008, we've donated to more than 100 charities, big and small, some local and some worldwide. The grand total for how much we've donated? A whopping $48,000! We had an especially great year in 2015, donating over $15,000 that year alone. Wow!
As part of our campaign, team members also spent part of their holiday volunteering at the Ronald McDonald House of Akron, OH. The house provides a temporary home for families when their loved ones are being treated at Akron Children's Hospital. Our team members prepared dinner for over 50 residents at the home.
As one of the top choices in homebuilding, we're blessed to work with so many families and to be able to give back in such a tangible way. Homebuilding may be a business, but it doesn't have to feel like one.
We'd love to make you part of the Wayne Homes family, and learn more about the values you hold dear when it comes to creating your custom home. Talk to us soon about turning your dreams into a reality.
About Wayne Homes
Wayne Homes is a custom homebuilder in Ohio, Pennsylvania, Indiana, Michigan, and West Virginia (see all Model Home Centers). We offer more than 40 fully customizable floorplans and a team dedicated to providing the best experience in the home building industry. For more information, Ask Julie by Live Chat or call us at (866) 253-6807.